15.00: A well received speech from Miliband but little new in terms of content – more significant for it taking place than anything else. I'll be writing a full review later.
But for today, the liveblog comes to an end. I'm off to grab a beer and listen to some brass bands – thanks for sticking with us.
14.43: Miliband says clean coal must be part of our future.
14.40: Miliband gets a prolonged ovation before he's even started. Says he's proud to be here and follow in the footsteps of so many other Labour figures.
14.23: But before Ed, guest speakers from Spain. What might have been a friendly crowd for Ed might be a bit tougher now they've been standing still listening to speeches for 90 minutes.
14.18: Ed Miliband up next as the final speaker.
14.12: Serwotka calls for a rent cap. Ed Miliband applauds – will Labour back a rent cap?
14.05: Next up – and speaking directly before Ed, is Mark Serwotka from PCS. Not sure who decided PCS directly before the Labour leader was a good idea…
14.00: Kenny also calls for more working class MPs.
13.56: GMB Gen Sec Paul Kenny up next. He calls for a Crackdown on tax avoidance.
13.34: Did you know? Of 49,000 unfair dismissal claims, only 8 (EIGHT) were reinstated …
13.24: Next up is Liberty's Shami Chakrabarti, who talks again about the historic nature of the Gala,.
13.19: Seems unlikely that Ed Miliband didn't know about the RMT/FBU element of Watson's speech. They are sat next to each other.
13.09: Watson's speech focused on the history of the "Big Meeting", and makes a  Defence of the union link – even calling on the RMT and FBU to rejoin the Labour Party
13.04: Massive ovation for the first speaker Tom Watson
12.30: After much marching, we've arrived at the cricket field ready for the speeches. They should start at 1pm.
11.07: Most of the bands backing up next to the County Hotel, but some have reached the cricket ground now. Speeches will probably start in an hour.
10.55: We missed Ed Miliband on the balcony – but we hear he got a good reception.
10.37: Tony Benn and GMB General Secretary Paul Kenny up on the balcony of the County Hotel – I'll be trying to get up there later (unlikely…):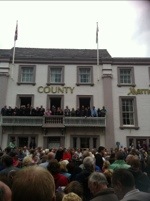 10.29: Community, working class culture and pride in place. Maurice Glasman would love this…
10.24: The brass band ahead of me have just started playing "The Great Escape" – make your own jokes…
10.10: Morning everyone from a packed Durham. There are brass bands as far as the eye can see and more banners than you can shake a Davy Lamp at. I'll be bringing you periodic update throughout the day – including speeches from Ed Miliband and Tom Watson.
And to get us started – here's a view of some of the marchers crossing the River Wear: