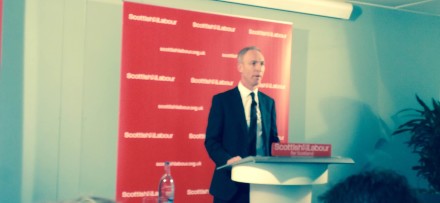 Jim Murphy will today announce that Labour plans means the NHS in Scotland will receive an extra £1 billion over the course of the next parliament. Through the introduction of a Mansion Tax and a clampdown on tax loopholes, Murphy says the money will be raised to pump into the health service over the course of the next five years.
The Scottish Labour leader will say:
"The NHS is Labour's greatest achievement and we will protect it if we win in May. The poor and the middle classes won't foot any more of the bill. We will introduce a mansion tax on properties over £2 million across the UK to bring new money into Scotland's health service. And I make no apology for using money gathered from the south east of England to invest in the NHS in Scotland. This is part of the UK's strength, sharing resources across our islands."
Murphy will say there has been an "SNP A&E crisis this winter" – last week was the 285th week in a row that the SNP Government had missed its A&E waiting times target – and that "only a Labour Government has the plan to rescue the NHS".
"But to elect a Labour government you need to vote for Labour MPs. A vote for anyone else helps David Cameron stay in power and starve our NHS of the funding it desperately needs."
Former Prime Minister Gordon Brown will also be out on the campaign trail today, attacking the SNP over their unambitious spending plans, labelling them the "Spend Nothing Party, Sort Nothing Party".

Brown will say that the SNP have revealed they will not increase spending at all for the 2015-16 period, and that across the whole of the next parliament they have not factored in funding to abolish the Bedroom Tax. He will say their plans "would not only break up the United Kingdom but break the hearts of the poor."
Brown is expected to say:
"They would not only break up the United Kingdom but break the hearts of the poor. Not one pensioner, unemployed man or woman or disabled person or family would be better off according to their figures for spending on the welfare state. They have not even factored in money in the UK social security budget to end the Bedroom Tax."
In a challenge to Nicola Sturgeon he will ask: "Is it not amazing they will end austerity but not if the financial year has already started?"