You might recall Ed Miliband pledged to abolish the non-dom tax status back in April. The policy was attacked by the right wing press, with The Telegraph reporting it as "cataclysmic".
However, that didn't stop George Osborne nabbing the idea for his Budget: he has today announced the Tories will abolish the permanent non-dom status.
But the question remains: will the Evening Standard (whose owner, Evgeny Lebedev, reportedly benefits from nondom status) give front page prominence to the "London backlash"?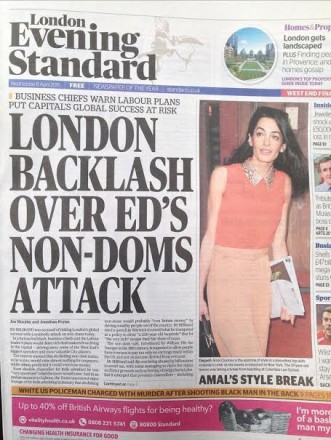 UPDATE: Funnily enough, it doesn't seem to warrant a mention on the front page.
Our second edition is rolling … A new Nat Living Wage and a big welfare squeeze pic.twitter.com/S2ETEKGyVI

— Joe Murphy (@JoeMurphyLondon) July 8, 2015
¯\_(ツ)_/¯