Below is our full events listings for this year's Labour conference in Liverpool. To find any of the event's located in the LabourList space, ACC Liverpool Lower Level 2G (secure zone), this map should help you get there.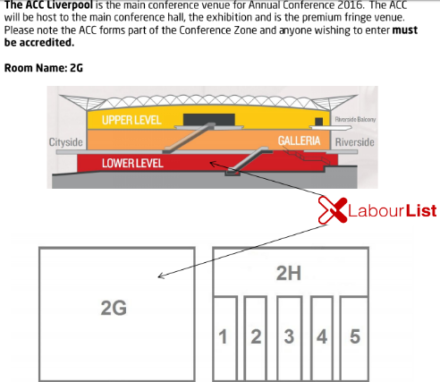 Political Blogging: Women's workshop
LabourList, Left Foot Forward and the Labour Party
ACC Liverpool Meeting room 13, Sunday, 9:00-10:00
Speakers:
Chair: Casey Calista, Political Pixel

Niamh

Ní

Mhaoileoin, Editor, Left Foot Forward

Maya Goodfellow, Columnist, LabourList, Media Diversified

Emma Burnell, Political blogger and writer
Politics needs more women's voices. You don't have to be a political expert to get published. Blogging is an effective way to break into politics and is an opportunity to get involved in the important debates going on now.
We're hosting a women's-only workshop where we will help you write your first pitch, share tips and take questions. All self-defining women are welcome.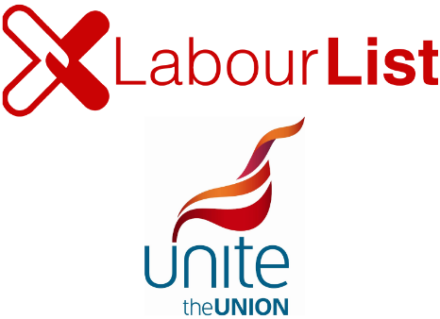 LabourList Rally: Labour and the future
LabourList and UNITE, Sunday, 19:00-20:30, LabourList Space: ACC Liverpool Lower Level 2G (secure zone)
Free drinks!
Our most popular event returns with a lineup of speakers from across the Labour Party. The LabourList Rally is a forum for everyone in the party to come together to be inspired, and we've got a line-up you won't find anywhere else!
SPEAKERS
Rosena Allin-Khan MP

Jon Ashworth MP

James Asser, NEC

Ivana Bartoletti, deputy director Fabian Women's Network

Yvette Cooper MP

Sarah Hayward, leader of Camden Council

Caroline Hill, chair Young Labour

Eddie Izzard

Dan Jarvis MP

Owen Jones

Liz Kendall MP

Clive Lewis MP

John McDonnell MP

Abena Oppong-Asare, Bexley councillor

Lucy Powell MP

Sam Tarry, Jeremy for Labour

Emily Thornberry MP

Wes Streeting MP

Steve Turner, Assistant General Secretary UNITE

Chuka Umunna MP

Rhea Wolfson, NEC

LabourList Reception
Sunday, 21:00-23:00 , LabourList Space: ACC Liverpool Lower Level 2G (secure zone)
LabourList in partnership with EDF bring you think year's LabourList reception.
Join Deputy Leader Tom Watson, GMB General Secretary Tim Roache, Lisa Nandy MP, Paul Spence, Director of Strategy and Corporate Affairs at EDF Energy, and LabourList editor Peter Edwards immediately after the popular LabourList Rally.
What is the future of energy policy? Given amount of employment in the energy sector how do we ensure job sustainability?
There will be refreshments and a chance to meet other delegates and LabourList staff who will be sharing their exclusive look ahead at what to expect from conference.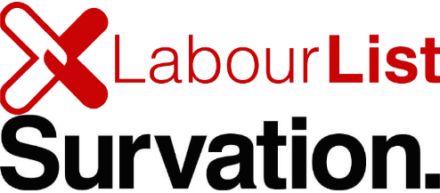 A year in polling: Labour's progress after a year of change
LabourList and Survation, Monday , 8:00-9:30, LabourList space: ACC Liverpool lower level 2G (secure zone)
Is Labour closer to winning again? Join LabourList, Survation and senior MPs to discuss exclusive new polling on Labour's performance since the last annual Conference.
Chair: Peter Edwards, Editor, LabourList

Damian Lyons Lowe, Founder, Survation

Graham Jones MP

Polly Billington, 2015 PPC Thurrock

Paul Hilder, Crowdpac
England in 2030: Towards a New English Socialism
Monday, 10:00-11:00 , LabourList Space: ACC Liverpool Lower Level 2G (secure zone)
For Labour to win, we need to win in England and show we own the future. Yet, while Labour has been looking inward, the world around us has been changing fast. Huge mega-trends – in trade, technology, work, security, and identity – have been re-shaping the challenges – and opportunities of the future.
Now that we have voted to leave the European Union, understanding those trends – and getting our response right – is more important more than ever. Defining a new politics – and a new political economy for England is now critical to Labour's future.
Join LabourList and Red Shift to talk about Red Shift's new report England In 2030: Towards a New English Socialism brings together months of research into the key trends reshaping our country to pinpoint the answers Labour needs to offer to win in England once again.  
Speakers:
Liam Byrne MP

Shabana Mahmood MP

Nic Dakin MP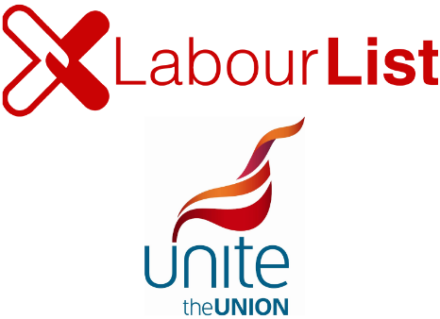 How do we get politicians who look like us? Devolution and backing diversity in our elected representatives
LabourList with UNITE , Monday, 12:30-13:30, LabourList Space: ACC Liverpool Lower Level 2G (secure zone)
Speakers:
Chair, Maya Goodfellow, Columnist, LabourList

Cat Smith MP, Shadow Minister for Voter Engagement and Youth Affairs

Steve Turner, Assistant General Secretary, UNITE

Judith Blake, Council Leader, Leeds

Wayne Blackburn, Councillor Clover Hill, Labour Campaign for Mental Health

Marvin Rees, Mayor, Bristol (invited)
One of the most talked about fringes at Labour conference now enters its fourth year. This year we turn our focus on devolution and how we can get more mayors, council leaders and council members who better resemble the variety of the electorate including class, gender, age, disability, race and LGBT.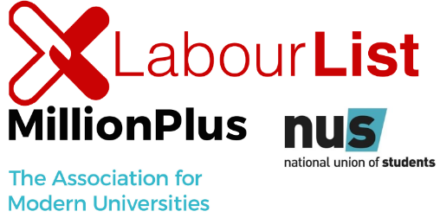 What does Brexit mean for students, universities and the government's higher education agenda?
LabourList, MillionPlus and the NUS , Monday , 17:30-18:30, LabourList Space: ACC Liverpool Lower Level 2G (secure zone)
Higher education is an important British industry, and a global success story. Our world-leading universities are an essential component of the UK economy – bringing in students from across the globe and applying high quality research and innovations to the important issues in our ever-changing world. Universities are also fundamental to successful regional economies, as vehicles for greater social mobility and providing opportunities for individuals to succeed in the workforce.
As an integrated component of Britain's economy what does Brexit mean for higher education, and what does it means for the Tories plans to radically reorganise the sector?
Due to Brexit there is a far greater level of uncertainty for both universities and students about what the future will hold. The possible loss of EU-funded research grants or collaborative working relationships, a potential reduction of EU students coming to study in the UK, and question marks over the recruitment and retention of the best staff. How can we safe-guard higher education and retain our place as a world-leader in higher education, and what impact will this change have on the Higher Education and Research Bill that the government is taking forward?
Chair: Conor Pope, Senior reporter, LabourList

Gordon Marsden MP, Shadow Minister Education, Shadow Minister BIS

Dr Roberta Blackman-Woods MP

Malia Bouattia, President, National Union of Students

Professor Dave Phoenix, Chair of MillionPlus and Vice-Chancellor of London South Bank University, recently awarded the

Friendship Award

by China

Socialist Societies Karaoke with LabourList
Labour's socialist societies and LabourList, Modo Bar 2 Concert St, Liverpool L1 4NR, Monday, 9:00-3:00 AM
£10 entry
Join all of Labour's socialist societies who have banded together with LabourList to throw our popular annual karaoke party. Come out and support Labour's onside news outlet and don't miss the surprise singers who show up!