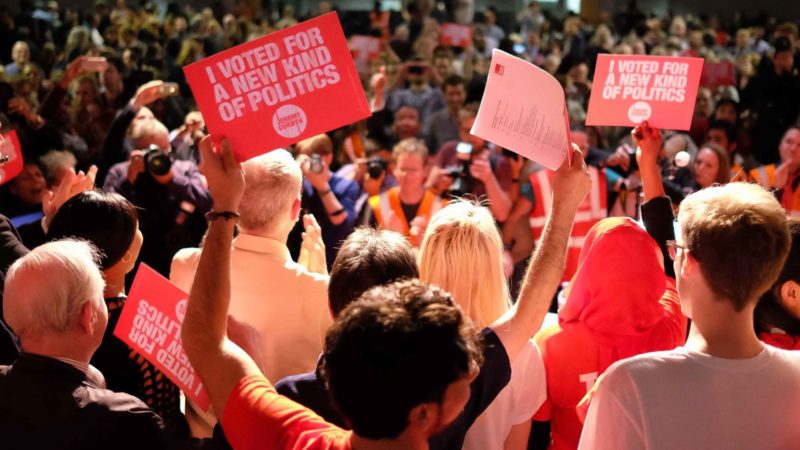 The public's verdict on Jeremy Hunt's Budget was simple and accurate: the rich will get richer and ordinary people will be left behind. In this context, with millions struggling to make ends meet and our public services in the gutter after 13 years of Tory austerity, Labour has an opportunity to lay out a transformative programme. As in 1945, the time is ripe for a new social settlement, based on public ownership, universal services and a new political and economic model that puts power in the hands of the many, not the few. With this prospectus, backed by members, unions and conference, Labour could not just win the election but the enduring loyalty of millions.
But despite being elected on such a programme, the Starmer leadership has now abandoned it. Instead, we're given reheated Blairism: increased private sector involvement in the NHS; an illogical, ideological and unpopular commitment to maintaining the privatisation of our public services; fiscal conservatism; and vague, management-speak 'missions'.
Policy pledges aren't the leadership's only untruths. We were also promised party unity and an end to factionalism, yet Keir Starmer and his team have set about hounding the left out of the party. With Starmer outrageously promising to block Jeremy Corbyn from standing for Labour in the constituency he has represented for 40 years, selections stitched up to exclude the left and a mass bureaucratic operation to suspend or expel left-wing members, this purge of the left is unprecedented in modern British politics.
All of this leaves Momentum in a contradictory position. The ideals we strive for are more popular than ever, within and beyond the party. Yet we face a battle for survival against an authoritarian, anti-socialist leadership. No wonder many on the left have questioned: is there a point to staying in Labour?
Our answer is unequivocal: yes, there is. We must and will be prepared for all eventualities, but our response to Starmer's threat is clear – we won't despair, we will organise. Labour was founded as a socialist party to represent the interests of working-class people. We will not fulfil that mission by severing our links with the trade unions that have inspired us so much in the past year. And, as 2017 showed, the left can inspire a movement and rally millions upon millions to a bold socialist programme.
Our strategy, though, must adapt to a new political context. In the short term, there is limited potential for advance at the national level within Labour. So Momentum is moving into a new phase, aimed at strengthening our local and institutional bases, within and through Labour. To this end, Momentum's national coordinating group has tasked our staff team – now led by our long-term organiser Rachel Godfrey Wood – with rolling out a series of new initiatives.
Firstly, we will celebrate and build on our socialist success stories locally. From community wealth building in Preston to council housebuilding in Wandsworth, socialist Labour councillors are delivering for the many through local government. And we are making strides too. Despite purges by the Labour machine, last year more than 100 socialists were elected as Labour councillors for the first time, while Momentum co-produced an in-depth community wealth building toolkit.
In the coming weeks, we will be holding a series of 'organising roadshow' events with Socialist Campaign Group MPs, highlighting and building on the successes of this municipal socialist approach in advance of May's local elections. The first event will take place with John McDonnell in Worthing, where socialists such as our co-chair Hilary Schan have helped turn a Tory council red, powered by a radical policy agenda and an energised grassroots.
Secondly, we will strengthen our institutional bases within Labour. With left majorities on Young Labour and Labour Students, youth leaders like Nabeela Mowlana and young parliamentarians like Zarah Sultana, Nadia Whittome and Apsana Begum, among many others, we have huge potential to build for a socialist future.
And whether it's votes in Labour Students to abolish tuition fees or victory in the Socialist Health Association on a platform of full NHS renationalisation, the left is still securing victories. Momentum will focus on boosting these bases, while building up the socialist organisers and leaders of the future through our cutting-edge political education programmes.
Finally, we will campaign for bold, transformative policies in the run-up to Labour's next manifesto, working closely with SCG MPs and other allies. From the right to food to wealth taxes, our policies have never been more urgent or popular. We have already started this work around the party's national policy forum process  and will shortly unveil an adapted process for policy ahead of conference 2023. No one expects Corbynomics reborn, but it is also true that the leadership's best and most popular policies, like public ownership of rail, enhanced trade union rights, and public control of buses, draw from the left. We must extract every concession we can.
We are not naive about the struggle ahead; we are not expecting Keir to undergo a Damascene conversion and revert back to the programme on which he was elected leader. But we will not dance to his tune either; Labour is bigger than one man. What the anti-democratic clique at the top of the party want gone are our values: public ownership, class politics and migrant justice. But we know that our progressive vision has huge support in the party and in the country. We will not allow ourselves to be driven out of Britain's public sphere. Instead, we're getting organised at the grassroots, and we urge all socialists to join us.
More from LabourList
News
Frontbencher Gerald Jones has been selected as the Labour candidate for the new seat of Merthyr Tydfil and…
Comment
The Women Against State Pension Inequality (WASPI) campaign has always had a pragmatic and collaborative approach to securing…
Daily email
Good morning. We can expect the results of the selection contest between Socialist Campaign Group backbencher Beth Winter…