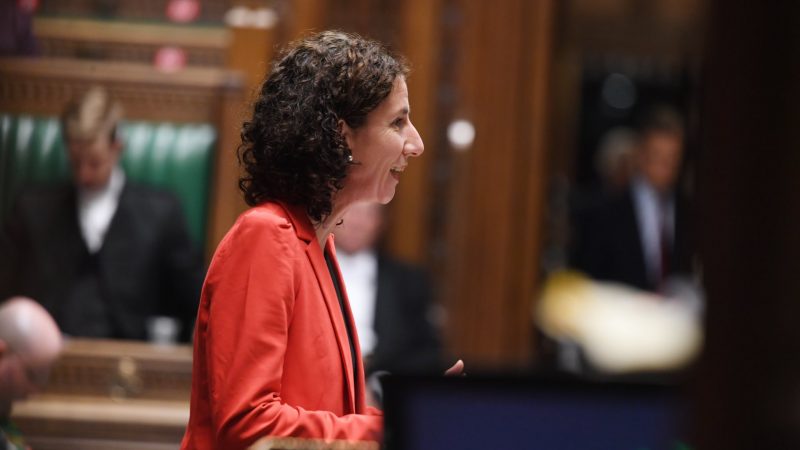 Labour Together's Ellie Cumbo writes in the first of a series of pieces by authors with different perspectives on Labour's new stance on gender recognition…
As Westminster returns, we are gearing up for an election that will see the Conservatives seek to divide the nation on questions of culture and identity. In recent months, however, the Labour Party has shown that we need not tear ourselves apart, on even the most contentious issues. Labour's balanced and evidence-based position on gender identity shows that there is room for grown-up government in Britain, even on the most hotly debated topics. We can, as Sunder Katwala put it in a recent Labour Together report, still bridge our divides.
Following July's meeting of the National Policy Forum, Anneliese Dodds, the Shadow Secretary of State for Women and Equalities, announced a clear new approach to the process of gender recognition. A longstanding commitment to reforming this process remains, but "self-identification" – which would allow a person to change their legally recognised sex in a similar way to changing their name by deed poll – has been ruled out.
The Gender Recognition Panel which decides on individual applications, made up of doctors and lawyers, will be abolished. Evidence will now be needed from only one doctor instead of two, but a diagnosis of gender dysphoria will still be a prerequisite for a Gender Recognition Certificate to be issued . Labour also restated its commitment to single-sex spaces in unequivocal terms: "there will always be places where it is reasonable for biological women only to have access".
Responsible politics isn't about doing what's easy. It's about doing what's right.

That's why Labour will act where the Conservatives have failed by modernising, reforming and simplifying the outdated gender recognition law.

Here's how ⤵️ 🧵https://t.co/McXrSzuJtK

— Anneliese Dodds (@AnnelieseDodds) July 24, 2023
'This debate has spiralled…into one of the most unpleasant and self-destructive rows'
In taking this considered position, Labour has shown that it has no intention of repeating Scotland's chaotic recent example. The Scottish Government's Gender Recognition Reform Bill, drafted and rushed through without any apparent interest in resolving the complexities of the issue, became the first Scottish legislation to trigger challenge from the UK government under the Scotland Act.
While the case is yet to be heard, the real verdict came in the court of public opinion.  The Scottish electorate was appalled to learn that a convicted double rapist, who identifies as a woman, had been remanded to a woman-only prison.
The row did not just significantly damage the SNP. Much more importantly, it failed to deliver either any workable reforms for trans people, or any reassurance for those concerned about vulnerable women.
Anneliese Dodds clearly acknowledged the impact of this dismaying episode on Labour's own thinking. "We will not make the same mistakes," she wrote. She also noted- with some understatement- that the new position will not please everyone.
The debate on this issue has spiralled wildly beyond questions of law and policy into one of the most unpleasant and self-destructive rows that contemporary British politics has witnessed. And it is in Labour's decision to confront this that the true political significance of its proposals lies.
Good government and good law is not about pleasing everyone. Instead, it is about making the best possible decisions on the available evidence. In grasping this particularly vicious nettle, Labour is not only – or even primarily – seeking to end a distracting and painful internal dispute. It is also making an important statement about how it intends to govern.
Compromise must never be allowed to become a dirty word. In the last few years, even acknowledging the need to mediate between competing rights in this area- between more dignified treatment of those who wish to change their legal sex and maintaining protections for those born female– has been treated as akin to hate speech.
But prospective governments must be clear that managing competing rights is part of what it means to run a country. These conflicts are not only the everyday business of our law courts. They also underpin Labour's own Equality Act 2010.
'Policy fine-tuning should be done in government, not opposition'
Instead of simply listing the characteristics that must not give rise to discrimination- such as race, disability, gender reassignment and sex- this flagship legislation dedicates considerable space to the relationships between them, and the exceptional circumstances where people can be treated differently in order to preserve the rights of others. This is why the Act was such an important achievement. Labour should be proud of having written this deep and thoughtful understanding of equality into our law.
There is still much detail to be worked through in Labour's plans. This remains a highly complex area of law and policy. It is still not clear exactly how single-sex spaces will be protected, when providers report mounting confusion about when it is legal to exclude trans people from a service designed for the opposite sex.
There is likely to be continuing controversy over the "spousal consent" mechanism in the current gender recognition process, which Labour has suggested it will remove. Often misrepresented as the ability for a person's spouse to block their transition itself, it is in fact an opportunity for the spouse to say they don't consent to their marriage becoming a same-sex one in law (or an opposite-sex one, where it was originally between two men or two women) and want it to end first.
Labour must be sure the public doesn't value this ability to give consent, if its new gender recognition system is to be more durable than its predecessor.
But this fine-tuning should be done during a future Labour government, rather than in Opposition. It needs the benefit of proper public consultation, civil service support, and engagement with key stakeholders. For now, Labour has demonstrated a determination to balance rights, and to fill a policy vacuum which has allowed confusion and vituperation to flourish.
It has also shown exactly what differentiates our party from the Conservatives. Where a tired and desperate government is seeking to exploit divided views, Labour is now carefully and confidently bridging them.
More from LabourList
Daily email
With the Tories doubling down on anti-green attacks, Ed Miliband gave Labour's 'green jobs and lower bills' messaging…
Comment
I was on day four of my honeymoon in Suffolk when I got the call to say Peter…
News
Andy Burnham has said "there is an argument for a basic income" and proposed overhauling inheritance tax to…