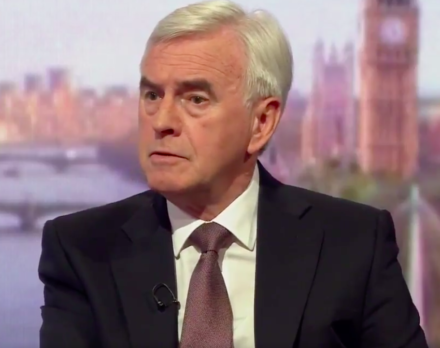 Labour stepped up its attack on the Tory manifesto today as John McDonnell branded Theresa May's cuts to pensioner benefits as "sick and sneaky" and Jon Trickett accused her of forgetting the parable of the Good Samaritan.
McDonnell ridiculed "60 uncosted commitments" from the Tories after their published their policy offer in Halifax, in West Yorkshire yesterday, and sought to put Labour on the side of pensioners.
May confirmed she will drop the "triple lock" guarantee on pensioner incomes after 2020, if re-elected, as well as setting out plans to hike social care charges for older homeowners and scrap winter fuel payments for at five to ten million retired people by introducing means-testing.
Today McDonnell said a lot of pensioners are "having a hard time" and said the removal of the winter fuel allowance – introduced by Gordon Brown in 1997 – was "sick and sneaky".
"They have not said where the means test will lie," the shadow chancellor told the BBC's Today programme.
Labour has repeated its vow to "stand up for older people" by maintaining the triple-lock on state pensions, protect winter fuel payments and free bus passes and spend an extra £8bn by 2020 to tackle the Tories' social care crisis.
McDonnell was upbeat about Labour's prospects on June 8 as he branded May's decision to repeat the Tory plan to cut net migration below 100,000 – an aim failed twice already – as a "joke".
"I think we are going to win and we are going to win it on the basis of the positive hope we are giving people," he said.
Meanwhile Trickett used a LabourList article to attack the Tories for leaving voters "on your own" compared to a Labour Party that is "on your side".
The shadow cabinet office minister cited the parable of the Good Samaritan as he said Labour would stand up for the health service.
"If we see someone in difficulty on the other side of the road, we don't just walk by. We stop to help. In recognition of our common humanity…
"It is because we know that one day we may need someone to stop and help us rather than passing by on the other side of the road. This is the core belief of which is at the centre of the NHS."