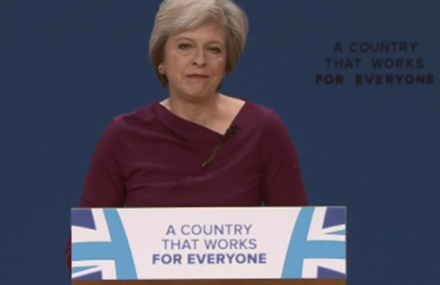 This election suddenly clarified itself. Yesterday's Tory manifesto makes it clear: We are faced with a binary choice. Two totally different world views.
With the Tories you're on your own. With Labour we're on your side.
They think that all that is necessary is for government to get out the way. That is to say that if you have the misfortune to be ill, or to need long term care, it is the task of the rest of us to bear a part of your burden.
And this is for two reasons. The first reason can be illustrated by the parable of the good Samaritan.
If we see someone in difficulty on the other side of the road, we don't just walk by. We stop to help. In recognition of our common humanity.
And the second reason, is connected to the first. It is because we know that one day we may need someone to stop and help us rather than passing by on the other side of the road.
This is the core belief of which is at the centre of the NHS.
And it is how we have always handled our system of care for the elderly. As families, we want to help our loved relatives. But we may also need the help of the care system. It is how we in Britain have handled this issue. We play our role as family members but the council, or other provider, bears part of the responsibility the cost of which is borne by every taxpayer in the country.
As taxpayers, we don't mind – as long as the money is spent wisely and efficiently – because we won't walk by on the other side of the road. And, besides, we might need care ourselves at some time in life.
What the Conservative manifesto promises on social care epitomises an entirely different ethos. Their pledge amounts to a death tax. You will foot the total bill of all your care costs because a charge will be placed on your house for the full amount.
If you have the misfortune of needing care in later life, you cannot give your home to your children. No matter how much you save throughout your life, they will take all but £100,000 of the value of your house.
To add to this, Theresa May has added the less-than-reassuring promise that you can take a year off from your job to care for a relative. Great, if you've got a year's living costs to spare.
The whole cost of care passes from the community to the individual.
So there you have it. Two entirely different value systems.
And you can see evidence all around the country of people rejecting the Tory ethos and embracing the Labour ethos of mutuality and reciprocity.
I saw an example of this ethos just today in my area. I met the volunteers of Dr Jackson's Cancer Care Charity in Featherstone. They raise money to pay for equipment to treat those suffering from cancer. The cost of the equipment, for any individual sufferer, would have been impossible. The charity has bought the first CT scanner in West Yorkshire and paid for the software updates. It cost hundreds of thousands of pounds. This made treatment available within the county available for the first time.
They also provide transport for those suffering from cancer who previously would have had access to an ambulance in order to take them to hospital. In one case, they drove a woman all the way from Yorkshire to London every week so she could have specialist treatment. If she had had to pay for trains, the cost would have meant she could not go.
It makes me proud to represent an area where people work so hard to support each other. An area that values communities coming together rather than leaving people on the scrap heap to face life's difficulties alone.
So. Forget all the doubts, anxieties or nitpicking details you may harbour.
Britain stands at a crossroads. Which side are you on?
Jon Trickett is Labour's candidate for Hemsworth and shadow minister for the Cabinet Office.
Value our free and unique service?
LabourList has more readers than ever before - but we need your support. Our dedicated coverage of Labour's policies and personalities, internal debates, selections and elections relies on donations from our readers.
If you can support LabourList's unique and free service then please click here.