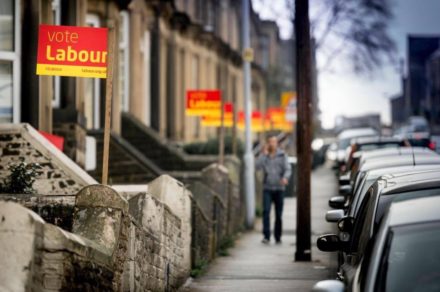 Labour have lost a council seat to the government by four votes in last night's council by-elections.
The 0.2 per cent difference in votes in the Waltham Cross, Broxbourne ward amounts to just four votes, but Labour saw their vote share drop 14.8 per cent, to 40.8 per cent, compared to the previous election. The Conservatives saw their vote share also fall slightly, by 3.5 points to 41 per cent. These results have come via Britain Elects.
Last night was a bumper night for by-elections, with seven wards up for grabs. Labour were defending two, and held the other seat in Roxbourne, Harrow, with a 13.7 point increase in vote share. There was no independent Labour group standing, unlike in the 2014 elections.
The Conservatives gained another seat, in Derwent, Derby from UKIP, and the Lib Dems gained one seat in West Oxfordshire from the Tories with a 34 point increase in vote share.
In every ward where Labour stood, their vote share decreased.
Derwent (Derby) result:
Conservative gain from UKIP
Conservative: 37.1 per cent (+28.1)
Labour: 28.7 per cent (-2.4)
UKIP: 25.2 per cent (-7.2)
Liberal Democrat: 9.0 per cent (-15.4)
Waltham Cross (Broxbourne) result:
Conservative gain from Labour
Conservative: 41.0 per cent (-3.5)
Labour: 40.8 per cent (-14.8)
UKIP: 12.6 per cent (+12.6)
Liberal Democrat: 5.6 per cent (+5.6)
Red Horse (Stratford on Avon) result:
Conservative hold
Conservative: 53.4 per cent (-9.0)
Liberal Democrat: 29.8 per cent (+20.3)
UKIP: 10.3 per cent (-4.8)
Green: 6.5 per cent (+6.5)
Hailey, Minster Lovell & Leafield (West Oxfordshire):
Liberal Democrat gain from Conservative
Liberal Democrat: 46.7 per cent (+34.0)
Conservative: 41.5 per cent (+3.8)
Labour: 5.8 per cent (-4.5)
Green: 3.1 per cent (-2.8)
UKIP: 2.9 per cent (+2.9)
Hertford Castle (East Hertfordshire) result:
Conservative hold
Conservative: 49.0 per cent (+8.2)
Labour: 17.1 per cent (-2.9)
Liberal Democrat: 15.5 per cent (+15.5)
Green: 13.0 per cent (-4.7)
UKIP: 5.4 per cent (+5.4)
Exton (Rutland) result:
Conservative hold
Conservative: 59.5 per cent (+6.5)
Liberal Democrat: 30.8 per cent (+11.6)
UKIP: 9.8 per cent(-5.0)
Roxbourne (Harrow)
Labour hold
Labour: 62.8 per cent (+13.7)
Conservative: 21.5 per cent(-0.5)
Liberal Democrat: 9.7 per cent (+0.7)
UKIP: 6.0 per cent (+6.0)
(No independent Labour group, as in 2014)