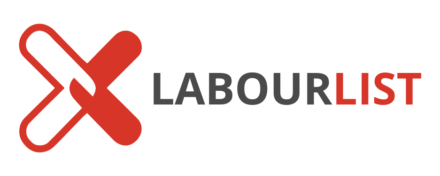 We host panels and parties at Labour Party conference and occasional events at other times throughout the year. At Labour conference 2018 in Liverpool, we put on a series of events with refreshments provided at all of them.
Sunday 23rd September 2018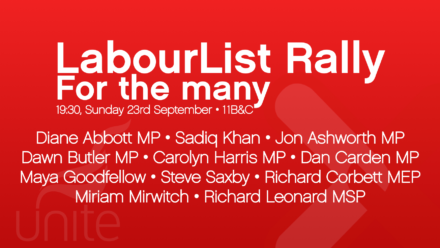 7.30-9pm – LabourList rally: For the Many
Our flagship rally, held in conjunction with Unite, is back and better than ever. With speakers including Sadiq Khan, Jon Ashworth MP, Dawn Butler MP, Carolyn Harris MP, Maya Goodfellow, Diane Abbott MP, Steve Saxby, Richard Corbett MEP, Dan Carden MP, Miriam Mirwitch, Richard Leonard MSP and more.
We'll be talking about how to get Labour into power, what the party will do in government and how to work for the many, not the few.
A large drinks order has been placed. Join us in ACC, Room 11B&C.
Monday 25th September 2018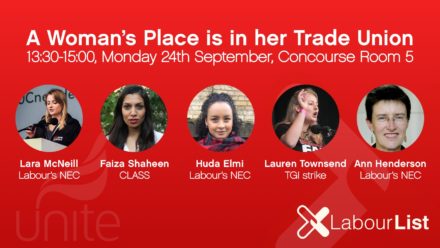 1.30-3pm – A woman's place is in her trade union
With Unite, LabourList is exploring the role of women in the wider labour movement. Speakers include Faiza Shaheen, Lara McNeill, Huda Elmi, Ann Henderson and Lauren Townsend of the TGI strike. They will discuss how we can boost engagement amongst women, what they're already doing as activists, and future initiatives/campaigns to make the work of unions relevant to women's lives and needs.
ACC, Concourse Room 5.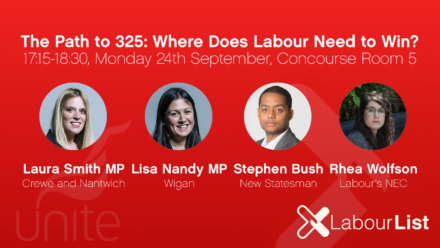 5.15-6.30pm – The path to 325: Where does Labour need to win?
LabourList has partnered with Unite to offer a panel event exploring the Labour Party's path to power. Laura Smith MP, Lisa Nandy MP, Stephen Bush and Rhea Wolfson will talk about how Labour can keep gaining ground with Remain voters in metropolitan seats as well as win over Leave voters in Mansfield, plus make progress in Scotland.
ACC, Concourse Room 5.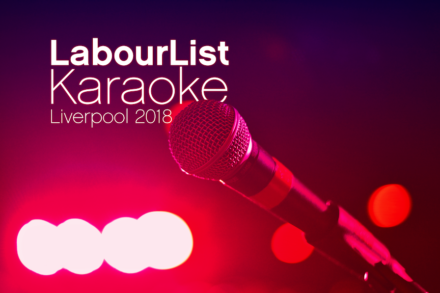 9pm-late – LabourList Karaoke
Don't miss LabourList's legendary conference karaoke night… back this year in Liverpool! Book now for group discounts and cheaper online prices. Who knows which Labour figures you could duet with?
23 Fleet St, Liverpool, L1 4AR.