After a successful Labour party conference of jam-packed LabourList events in Liverpool in October, we're busy working on our events programme for the year ahead. If you are interested in working with us on an event, get in touch at [email protected].
Here's some of what we have in store: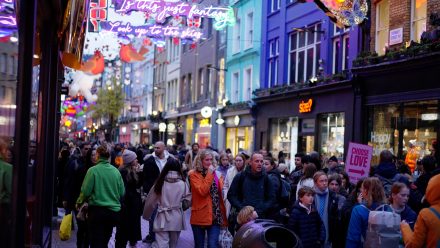 Sign up here to join shadow minister James Murray MP and other special expert guests at our online panel event on Wednesday 29 November (3-4.15pm).

The Autumn Statement was a key moment for the Conservatives to outline how they'll support the shops that make up our high streets, and for Labour to set out their alternatives.
Join leading Labour news platform LabourList, partners The Shopkeepers' Campaign and special guests to analyse both main parties' plans once the dust has settled. We'll review not just the headlines, but the small print too.
Our high streets are the lifeblood of cities, towns and villages across the UK, providing a focal point for communities and easy access to vital goods and services.
But retailers, shops and cafes are facing major challenges, and many want to see business rates – the rate at which a business is taxed based on a property's rateable value – reduced to a fair level to stop communities losing them altogether.
The panel discussion, including an audience Q&A, will feature:
Tom Belger, LabourList editor and a former business journalist

Stephen

Bethel, Corporate Affairs Director at the British Retail Consortium
Vivienne King, a real estate industry leader and Chair of The Shopkeepers' Campaign
James Murray MP, shadow financial secretary to the Treasury

Jerry

Schurder, Business Rates Policy Lead at chartered surveyors and property consultants Gerald Eve
Liz Twist MP, co-chair of the All Party Parliamentary Group on the Future of Retail
To get in touch with any queries about this event, email us at [email protected], including 'Autumn Statement Event' in the subject line.
Tickets are now available here.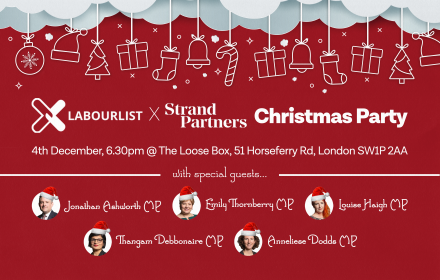 We're fast approaching the season to be merry, and we thought – what better way to mark the count-down to Christmas than by bringing Labour folk together?
The leading Labour news site LabourList and advisory firm Strand Partners are co-hosting a Christmas Party at a wonderful SW1 venue – The Loose Box – and we'd love you to join us, from 6.30pm to 10.30pm on Monday, 4 December. You can buy tickets here.

Whether you live and breathe the Labour party, you're curious about the party or you're just up for a party, bring your best self along (bonus points for festive jumpers/hats/ties/anything).
We'll have some festive tunes, a special festive cocktail and special shadow cabinet guests Jonathan Ashworth, Thangam Debbonaire, Anneliese Dodds, Louise Haigh and Emily Thornberry mingling and speaking.
There'll also be some festive fizz on arrival and a few hundred pounds behind the bar, so grab a ticket and grab a drink on us – but get there quick  in case tickets go fast and the drinks go faster. If you have any questions, get in touch at [email protected], with 'Christmas Party' in the subject line.
LabourList is an independent platform providing authoritative, non-factional news, comment from across and beyond the party, and a must-read daily email summarising all things Labour.  Strand Partners is an advisory firm in London providing policy, communications and research advice to businesses.
Tickets are limited, so sign up here now for the Labour Christmas Party not to miss.