Labour lost the Bradford West by-election thanks to a combination of "The Galloway Effect" and a lack of community engagement – that's the verdict of LabourList readers. Another reason which resonated with you was "Failure to engage with the Muslim community", but there's some relief for Ed Miliband, as "Leadership" was one of the least widely cited explanations.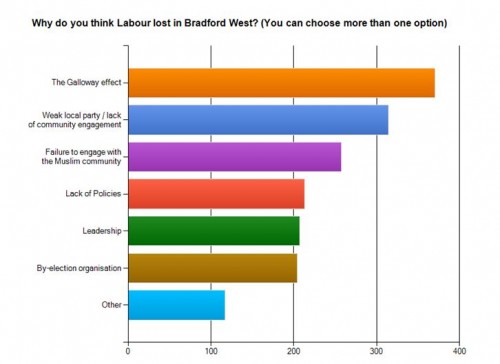 We also asked LabourList readers how they thought Labour had handled this year's budget response. The response was positive for the party, with 63% believing that the response had been "Excellent" or "Good".
As for Miliband's personal performance over the last month, readers are still divided – albeit slipping back from last month. 39% of you think that Ed has done an Excellent or Good job as leader (down from 41% last month). Meanwhile 37% believe that his performance has been Poor or Very Poor (up from 30% last month). But after an extremely volatile few months, Labour supporters views on Miliband seem to be firming up – both for and against.
656 LabourList readers voted between April 5th and April 10. Thanks to everyone who voted. Don't forget to check back later this week for the latest shadow cabinet rankings – and your MP of the month.