Back in the Bubble with Alex Smith
A year ago this morning, I was one of a small team of about ten people who awoke in the corridor of hotel rooms inhabited by the brand new leader of the Labour Party.
Somewhat bleary-eyed – we'd only finished emails to the party membership and preparations for the next day's interviews after 1am, and only a small handful of us managed a celebratory beer in the Midland Hotel bar after that – we began our first day "as Leader" with a 7am team meeting.
We were aware of the tense atmosphere around conference and the acrimony resulting from the result of the leadership election. But the overwhelming emotions within the Ed Miliband camp that morning were excitement, and one or two nerves, about what was to come next, and about a positive new direction for Labour.
Ed had promised during the campaign to:
"change the Labour Party in order to win; change policy, replacing tuition fees with a graduate tax; change our movement so that every party member, every trade unionist feels they have a voice; and move on from New Labour – more of the same won't win us the next general election".
A year on, it's clear from those words alone that Ed Miliband has had mixed fortunes as leader. Just this morning, to the disappointment of many Labour members and students, news broke that Miliband will abandon his long-held preference for a graduate tax and accept the status quo on tuition fees, albeit at a lower maximum rate.
Some of his other tactics have been challenged as triangulation: attacking Ken Clarke from the right on crime, for example, which he pledged to avoid in his leader's speech a year ago, and even calling for his resignation.
And the party still has deep, deep challenges in its organisation. A year on, there's been a little positive symbolism – a clause 1 moment on community organising, a movement towards registering supporters and developing price differentiation to encourage people to join the party – but on the ground there is no real sense that the party is more accessible or vibrant than it was before Miliband was elected. Indeed, most of the momentum of the leadership election has been lost. Contacting the party is still a nightmare. A friend of mine recently tried to get in touch with Victoria Street; two emails and three phone calls later, he's still waiting for a response. Party emails and notifications are weak. The way we communicate with our members still needs drastic change if it is to enable the sort of movement organising Miliband speaks of and that will be required to win the next election.
And when it comes to Miliband's own presentation, there is self-evidently work to be done. The weight of responsibility Ed has felt at being elected has at times stifled arguably his greatest asset during the leadership election: his ability to connect, to "speak human". That quality and likeability is still evident in person, and polls indicate that the public think Ed is a nice guy, but his radio and, in particular, his television performances need to improve and Ed needs to demonstrate more of the vital qualities the public look for in a potential Prime Minister – trust and strength. David Cameron still comes out on top in polling in each of those categories.
So there have been disappointments. But there is also much to be proud of.
Categorically, Ed has been best when he's been boldest. I disagreed with him on Libya, but he made one of the most passionate cases for intervention I have seen anywhere. His stand on the Murdochs and News International, informed by Tom Watson's inspiring work behind the scenes over many months previously, was brave and true. His response to the disorder on the streets in August was too slow, but nuanced and progressive when it did arrive. The party has not pulled itself apart or dissolved into extreme factionalism – at least not yet, though signs of factionalism are beginning to emerge. And there have been some impressive performances in the Commons. David Cameron is generally not as comfortable at the dispatch box as he was a year ago.
Miliband's team are seeking to position him as the leader of a newly constituted people's party, on people's side, against vested interests wherever they hold people back. It is the beginning of a potentially powerful strategy. In the general election leaders' debates in 2015, Miliband will have a strong case as the only leader making a distinctive offer for an alternative to the coalition's agenda – on the levy on bankers' bonuses, on higher education, on trust in the media.
Even still, it may not be enough. The country has shifted right on some of the big issues, including the economy. Polls show that the government's deficit reduction plan is still largely seen as painful but necessary. Tentative but perpetual growth over the four quarters before a general election – by no means a certainty, of course, given current events, but not impossible either – could kill Labour dead even before it's had a proper hearing. In the right circumstances, a Tory campaign reminiscent of Reagan's "it's morning in America" could be devastating for Labour. If an election were held next month, I have a feeling the leader with the blue rosette would carry the day and gain a majority.
But in spite of those challenges, this week is an opportunity for Ed Miliband to stake out his case as never before. He has a big speech to make on Tuesday which, barring economic catastrophe in the coming hours, will be at the top of every evening news broadcast in the country. His team are very happy with it: they say it's bold, radical and contains sharp new analysis of the state of Britain in 2011. Perhaps, finally, the shackles will come off, and that bold new direction so promised during the leadership election will be better expressed – and better heard – at last.
Alex Smith is a former aide to Ed Miliband, former editor of LabourList and consultant to Champollion Digital. He'll be writing a "Back in the Bubble" column every day of conference.
More from LabourList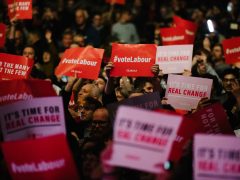 Comment
Labour did not have a good set of May 6th elections, though there were positive results, especially in…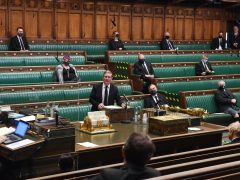 News
Labour leader Keir Starmer has completed his appointments to the main opposition party frontbench today, after announcing the…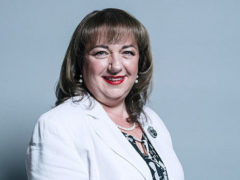 News
Sharon Hodgson has been appointed as Keir Starmer's new parliamentary private secretary, replacing Carolyn Harris who resigned from…