ITV have finally uncovered Liam Byrne's infamous note written to his successor as Chief Secretary to the Teasury in 2010. It's not especially surprising that they've come across given that David Laws gave it to them. We know this because he also gave them a smug interview whilst holding it. It was accompanied by the Lib Dem Press office tweeting the image below.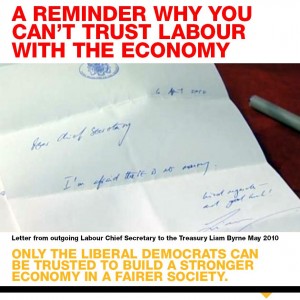 This is ridiculous on a number of levels and also manages to encapsulate a number of the wider problems with the Lib Dems. The best way to summarize the problem with David Laws' behaviour is to keep things simple. Because it really is as easy as A, B, C…
Accuracy
The most important thing to have come out yesterday is that the Lib Dems have been misquoting the note for the last three years. Back in 2010, we were told by Bloomberg, the Telegraph and the Guardian that the note said "I'm afraid to tell you there's no money left." It turns out it simply read "I'm afraid there is no money." Some might not think this important but the former certainly implies some culpability and also comes across as glib. The latter is merely a statement of fact. Far from Liam Byrne admitting that Labour spent all the money and destroyed the public finances – as spun by the Lib Dems for the last 3 years – it merely states that there is no money. Given that there had been a global financial crisis, this shouldn't have been surprising. Nor does it imply guilt. The note was only one line long, Laws should have managed to quote it accurately.
Betrayal
Of course politics involves some "rough and tumble" as Laws puts it. Perhaps Byrne's note was naive. But it really lacks class to reveal private correspondence for cheap political points scoring. Byrne had a reasonable expectation that the note would remain private because these notes always do. This was the culture and tradition that allowed outgoing ministers to be frank in their advice and honest in their opinions. Laws' behaviour was not that of a statesman. It was cheap. It was partisan. It was a betrayal of history, tradition and trust.
Charlatan
Perhaps the most galling thing about the whole episode is – as we have come to expect from the Lib Dems – the two-faced, duplicitous, deceptive nature of it all. Take a step back. David Laws was Chief Secretary to the Treasury for just 17 days. Why? Because he stole £40,000 of taxpayers' money. That's nothing to do with global financial markets or other external factors beyond his control. He was an expenses cheat. Yet he tries to take the moral high ground on issues to do with public finances? Spare me. Let him who is without sin cast the first stone and all that. And if you need further proof that he's a charlatan, there's a very detailed report from the Standards and Privileges Committee.
Value our free and unique service?
LabourList has more readers than ever before - but we need your support. Our dedicated coverage of Labour's policies and personalities, internal debates, selections and elections relies on donations from our readers.
If you can support LabourList's unique and free service then please click here.