With the passing of a federal law in Russia to ban the 'promotion of nontraditional sexual orientations to minors' and Stephen Fry's typically eloquent calls for a boycott of next February's Winter Olympics in Sochi, the world's attention has turned to the issue of LGBT rights in Russia. Pink News has documented recent acts of violence there, some quite horrific in detail, and the Kaleidoscope Trust has said that the new law is fostering a growing climate of fear within the LGBT community in Russia.
Russia has been moving in this direction for some time. Although homosexuality was decriminalised in 1993 – it was illegal in Soviet times – Russia is still very much a socially conservative country and the Orthodox church wields considerable influence, as we saw during the Pussy Riot trial.
It's now a year since I was in Moscow for that trial. Madonna was performing in the city on the Tuesday night, and attracted international attention by scrawling "Free Pussy Riot" on her back in black ink, and calling for the three members of the punk rock feminist art collective to be released. Two days later she was performing in St Petersburg, where a law had just been introduced banning public actions aimed at "propaganda of sodomy, lesbianism, bisexuality and transgenderism," that could "damage the health, moral and spiritual development of the under aged." (It is this law which has now been picked up at a federal level). Pink wristbands were handed out to the audience as they arrived and Madonna again spoke out from the stage against the Russian authorities, this time criticising the law she had branded "a ridiculous atrocity" on her Facebook page. Some people are cynical about celebrities venturing into the field of political commentary, but I can only applaud her for speaking out.
As shadow Human Rights Minister within Labour's FCO team, I have called on our Prime Minister David Cameron to raise the issue of LGBT rights with President Putin at the G20 summit next month. The IOC says it has received written assurances that the new law will not be used against anyone attending or taking part in the games, but is seeking clarification from Putin as this is still ambiguous. The Russian sports minister said last week that everyone had to abide by the country's laws and now their Interior Minister has apparently confirmed that Russia will enforce its anti-gay laws against athletes in Sochi. Cameron needs to press Putin on this as a matter of urgency. President Obama has already called off a bilateral with Putin this month, primarily, of course, because of the Edward Snowden case but he has also cited LGBT rights as a cause for concern.
It remains to be seen whether Putin will be swayed by international opinion. The precedents for this are unpromising. Pussy Riot became an international cause celebre, but Nadya and Masha are still serving their sentences in harsh penal colonies. And the 2010 ruling by the European Court of Human Rights that the Mayor of Moscow had acted unlawfully in banning  Pride marches in 2006, 2007 and 2008 was met with defiance; Moscow has now banned Pride for the next 100 years.
Calls have been growing for a boycott of the Winter Olympics, or for an alternative venue, such as Vancouver, to be found. Others, such as the Kaleidoscope Trust and some leading LGBT organisations in Russia (according to Stonewall), have argued that we should use this as an opportunity to demonstrate support for LGBT people in Russia. Alistair Stewart from the Kaleidoscope Trust told Pink News that "we think the Games will be an amazing platform to have this issue heard on the international stage". It would be wrong however to focus solely on the Winter Games or to make athletes feel the onus is on them to speak out. Sochi is still six months away. The debate over Russia hosting the games has put LGBT rights in Russia in the spotlight right now, and we should be looking at ways in which we can work with concerned citizens, public pressure groups and international activists to press the Russian authorities to act.
We also shouldn't forget that there are other countries where the situation is even more dangerous for LGBT people. Homosexuality is still illegal in 76 countries, and carries the death penalty in a handful of countries, including Iran, Saudi Arabia, and Yemen. Countries such as Uganda, Ethiopia and Nigeria have been debating making their laws more draconian. And to cite just two examples amongst many, the gay rights campaigner David Kato was beaten to death in Uganda in 2011, and Cameroon's leading gay activist Eric Lembembe was tortured and murdered last month. In Belize the activist Caleb Orozco has received death threats for pursuing a case seeking to overturn that country's anti-gay laws. In many countries, including the UK, we have made real progress, step-by-step, towards ending discrimination against LGBT people, and changing cultural attitudes too. We need to show our solidarity with those in other countries where such progress has yet to be seen.
More from LabourList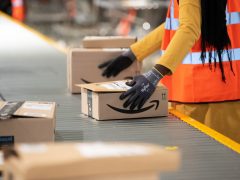 Comment
Our brilliant NHS and GP staff, scientists, lab technicians, nurses and volunteers are giving the whole country some…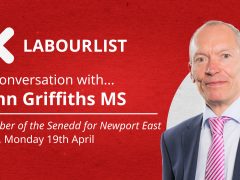 Video
Join us at 5pm on Monday, April 19th, for our latest 'In conversation with…' online event with LabourList…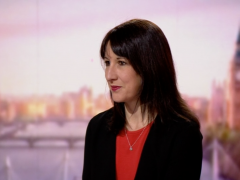 Video
Andrew Marr Show Rachel Reeves, the Shadow Chancellor of the Duchy of Lancaster who leads on Tory cronyism…