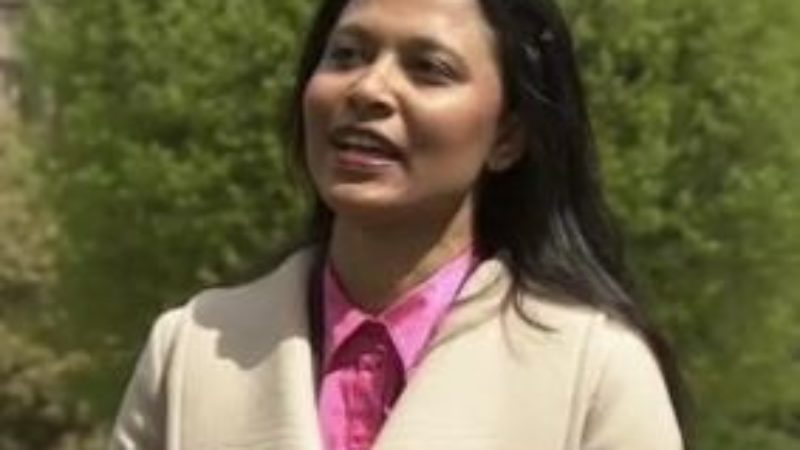 The Commons has voted for air strikes against ISIL in Iraq. There were 24 Labour rebels but there has been one Shadow Ministerial resignation – Rushanara Ali has resigned as Shadow Education Minister after refusing to vote with the party whip on the vote. Ali abstained. Shadow Defence Secretary Vernon Coaker's PPS Iain McKenzie was sacked for his No vote.
Ali is the MP for Bethnal Green and Bow. The last Labour MP for that seat – Oona King – lost her seat after voting for the 2003 Iraq War. The other Tower Hamlets MP Jim Fitzpatrick resigned over plans to launch airstrikes on Syria last year. It seems local concerns may have driven Ali from office.
Update: Here's Rushanara Ali's resignation letter in full – and Miliband's response (click to enlarge):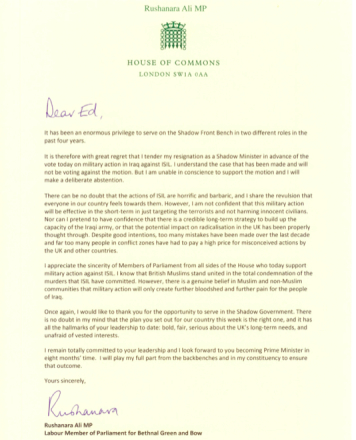 Dear Ed,
It has been an enormous privilege to serve on the Shadow Front Bench in two different roles in the past four years.
It is therefore with great regret that I tender my resignation as a Shadow Minister in advance of the vote today on military action in Iraq against ISIL. I understand the case that has been made and will not be voting against the motion. But I am unable in conscience to support the motion and I will make a deliberate abstention.
There can be no doubt that the actions of ISIL are horrific and barbaric, and I share the revulsion that everyone in our country feels towards them. However, I am not confident that this military action will be effective in the short-term in just targeting the terrorists and not harming innocent civilians. Nor can I pretend to have confidence that there is a credible long-term strategy to build up the capacity of the Iraqi army, or that the potential impact on radicalisation in the UK has been properly thought through. Despite good intentions, too many mistakes have been made over the last decade and far too many people in conflict zones have had to pay a high price for misconceived actions by the UK and other countries.
I appreciate the sincerity of Members of Parliament from all sides of the House who today support military action against ISIL. I know that British Muslims stand united in the total condemnation of the murders that ISIL have committed. However, there is a genuine belief in Muslim and non-Muslim communities that military action will only create further bloodshed and further pain for the people of Iraq.
Once again, I would like to thank you for the opportunity to serve in the Shadow Government. There is no doubt in my mind that the plan you set out for our country this week is the right one, and it has all the hallmarks of your leadership to date: bold, fair, serious about the UK's long-term needs, and unafraid of vested interests.
I remain totally committed to your leadership and I look forward to you becoming Prime Minister in eight months' time. I will play my full part from the backbenches and in my constituency to ensure that outcome.
Yours sincerely,
Rushanara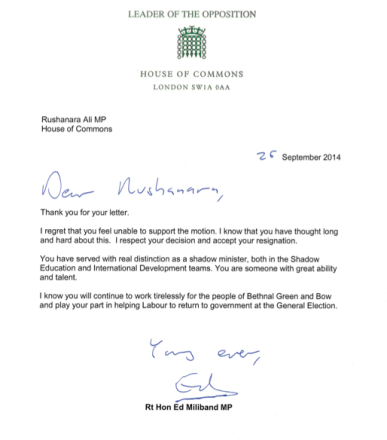 Dear Rushanara,
Thank you for your letter.
I regret that you feel unable to support the motion. I know that you have thought long and hard about this. I respect your decision and accept your resignation.
You have served with real distinction as a shadow minister, both in the Shadow Edication and International Development teams. You are someone with great ability and talent.
I know you will continue to work tirelessly for the people of Bethnal Green and Bow and play your part in helping Labour to return to government at the General Election.
Yours ever,
Ed
More from LabourList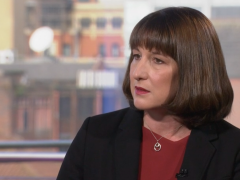 News
Rachel Reeves has argued that banning emergency service workers from going on strike is the "wrong solution to…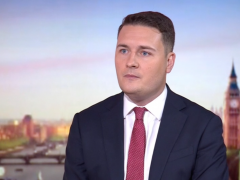 News
Wes Streeting has pledged to maintain key standards for patients and argued that targets are "vital" to ensure…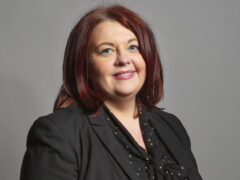 Comment
"We've had 12 years of a Conservative government who, quite frankly, are failing the people of this country…