Today Labour activists will be out in force across the country to campaign on the NHS.
They'll have the wind in their sails after Conference, buoyed by the fact that the Tories are rattled and now on the back foot.
You can always tell when Jeremy Hunt is rattled. He starts sending out dodgy tweets.
When most people might reasonably have expected the Health Secretary to be focused on sorting out the A&E crisis, he instead took to Twitter this week to provide a running commentary on Labour Conference.
On Tuesday, responding to Ed Miliband's pledge of an extra £2.5 billion extra for the NHS, Jeremy tried to claim that the Coalition had provided a large spending increase.
This was not a good idea. Embarrassingly, a Professor of Health Economics replied moments later to tell him he was talking nonsense.
Undeterred, Jeremy was back online on Wednesday. Responding to my claim that NHS services are being forced out to tender, Jeremy tweeted that privatisation of the NHS "isn't happening".
Try telling that, Jeremy, to the group of mums from Darlington who just walked 300 miles to protest about it. Or to the GP surgery who tweeted this in reply: "@HonitonSurgery: privatisation isn't happening? Really? Our school nurses & health visitors now work for Virgin & not the NHS!".
Now, most people in this situation might have entered a period of online silence. But not our Jeremy. He was back at his computer again yesterday writing a blog listing "six questions for Labour".
This is classic Hunt. When in a corner, quickly point at someone else.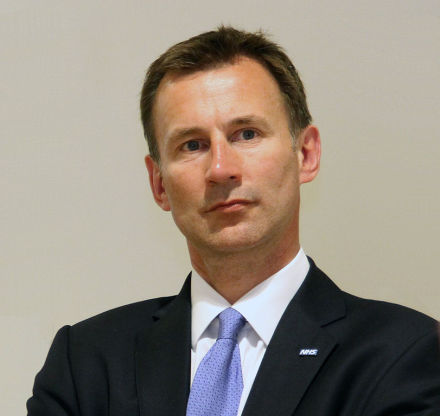 When people say it's getting harder to get a GP appointment, it's the fault of those lazy GPs. When people say there aren't enough nurses, he says  these modern nurses just don't care any more. And when people point out that hospital A&Es have not hit his A&E target for over a year, it's all the fault of NHS England.
But when he's in a really big hole, Jeremy's failsafe is to blame the last Labour Government.Anticipating a tough week of questioning at Tory Conference, it was no surprise when Thursday's blog appeared. So that he's got no excuses, I am sending Jeremy an early reply and setting him six questions of my own. He really shouldn't be allowed to leave Birmingham until he has answered them all – in full.
Hunt's six questions for Labour
1. How can people trust them to increase the NHS budget?
The last Labour Government proudly corrected the chronic under-funding of the NHS in the Thatcher-Major years. We were able to do this because of the strength of the Labour economy in the ten years before the worldwide financial crash. We have now reaffirmed the NHS as our No1 funding priority and people will trust us because of our track record.
Trust on NHS finance is, in fact, a bigger issue for the Tories. The last Tory manifesto promised "real-terms increases" for the NHS but they actually delivered a real-terms cut early in the Parliament. It must always be remembered that, from within this flat budget, over £3 billion has been diverted from the front-line to pay for back-office reorganisation. This helps explain the growing financial problems in the NHS.
2. Where would £2.5 billion really come from?
The new money for the NHS will come from a new Mansion Tax, measures to end tax avoidance and a new levy on tobacco companies. Labour has conservatively pitched the proceeds of the Mansion Tax at £1.2 billion – half a billion pounds less than the Lib Dem estimated at the last Election. If the Tories want to clear up any questions about our spending plans, then they should let the independent Office of Budget Responsibility audit them as we have requested.
3. Is Andy Burnham proposing an NHS reorganisation?
No. Unlike Andrew Lansley, I will work with the organisations I inherit. There will be no structural reorganisation. But the way we provide services will need to change. Hospital trusts are already looking to provide more and more services out of hospital and we will encourage that.
4. Why no apology for Mid Staffs?
Gordon Brown and Alan Johnson both issued full apologies to the people of Stafford when the care failings were first revealed. I repeated that apology when I received the first Francis report in February 2010 and Ed Miliband did so again when the second Francis report was published in February 2013.
Robert Francis concluded that the principal cause of the appalling care was the failure of the trust board to ensure adequate staffing levels. It is now time for the Conservative Party to stop trying to politicise this tragic failing and commit to increasing nurse numbers like Labour has done this week.
5. Where is the detail to support Labour's health and social care integration policy?
On Wednesday, we issued a number of detailed steps that we would take to put the NHS on a path towards full integration. We will start by repealing the Health & Social Care Act which is fragmenting services, by forcing doctors to tender them, and wasting millions on competition lawyers. We will reinstate the NHS as our preferred provider. We will ensure a single commissioning plan for those with complex needs, bringing together budgets at local level, with a year of care budget to create a powerful incentive to provide better care outside hospital. These proposals are based on the recommendations of Sir John Oldham's Commission for Whole Person Care which sets out even more detail on how our plans for integration will work in practice.
6. What is Labour's justification for saying the NHS is on its knees?
Wherever you look, there are signs of an NHS in serious distress:
Hospital A&Es have missed the Government's lowered A&E target for over a year;
NHS waiting lists are now at a six-year high, with the number of people waiting topping three million;
The NHS recently missed the National Cancer Target for the first time;
The Government's own GP taskforce says "there is a GP workforce crisis" and people are waiting longer and longer to get appointments.
Given the above, Jeremy Hunt's claims that the NHS is in fact doing well may well strike people as dangerously complacent.
Six questions for Jeremy Hunt
Will you match Labour's plan to raise an £2.5bn extra for the NHS and, if so, how will you pay for it?
Will you match Labour's plans to recruit 20,000 more nurses, 8,000 more GPs, 5,000 care workers and 3,000 more midwives?
Do you deny the huge decline in A&E, cancer & GP services on your watch? Will you now repair the damage you've done, and do you support giving patients the right to an appointment within 48 hours?
If you claim that NHS privatisation "isn't happening", how do you explain the fact that almost £6 billion of NHS services are currently out to tender and will you commit to making the NHS the Preferred Provider?
Do you support full integration of health and social care as a single service and, if so, how is that compatible with the competition regime of the Health & Social Care Act?
Will you apologise to the NHS and to the public on behalf of the Tory Party for breaking the pledge in the Coalition Agreement of "no top-down reorganisation"?
Without a credible answer to these questions, you will understand why people simply do not trust the Tories with the NHS.
Andy Burnham is the Shadow Health Secretary
Value our free and unique service?
LabourList has more readers than ever before - but we need your support. Our dedicated coverage of Labour's policies and personalities, internal debates, selections and elections relies on donations from our readers.
If you can support LabourList's unique and free service then please click here.