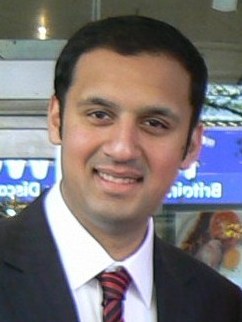 Anas Sarwar has announced he'll be stepping down as Scottish Labour leader. Speaking at Scottish Labour's Gala Dinner, Sarwar – who had previously refused to be drawn on whether he'd resign from his post – told attendees at tonight's dinner that he was triggering a Deputy Leadership contest that will run alongside the leadership contest, but would stay on as interim leader until December 13th. Before tonight's dinner, he told the Daily Record:
"After thinking about it long and hard over the last few days I have decided that I believe Scottish Labour should be represented by a leadership team that is focused on the Scottish Parliament. It has been a privilege to serve as deputy leader for the last three years and a honour I never thought I would receive. But I think the leadership contest that is going on now is a time for everybody to reflect on what is best for Scottish Labour. And after much soul searching I have come to the conclusion that I believe the Scottish Labour leadership team should be focused on Holyrood."
"I have spoken to Ed Miliband and informed him of this decision and told him I want to devote my efforts to securing a Labour victory at next year's general election and help make Ed Miliband Prime Minister. The coming period offers the opportunity for the Labour membership to decide on the new leadership team. I will remain focused over the next seven weeks on ensuring Labour hold both the UK and Scottish governments to account and on getting the best outcome for Scotland out of the Smith Commission process for more powers for the Scottish Parliament."
In terms of candidates for the Deputy Leadership, Kezia Dugdale MSP has already been talked of a candidate for the role. The Daily Record suggests that MSPs Jenny Marra and James Kelly (who are the chairs of Jim Murphy's leadership campaign) might also be in the running.
Inevitably this will heighten speculation that Sarwar is being lined up for a job in the Westminster Shadow Cabinet in an upcoming reshuffle – especially as he announced his resignation at an event attended by Ed Miliband, who he had spoken to in advance.
Update: Sarwar has released a full statement confirming his resignation today, here it is:
"Last night, I announced my intention to hand over the leadership to a new team on the 13th of December. Three years ago I had the honour of being elected your Deputy Leader. Almost 75% of party members put their faith in me, but 100% of you got behind me. I put myself forward as a young, enthusiastic, modest and shy – OK I'm pushing it a bit –  28 year old, first time parliamentarian. That someone from my background, my faith and my colour could even consider being in this position, never mind be elected into it, without even comment of it, tells you something amazing about our Labour Party and our Scotland. It says everything about the values of opportunity and hope that we all hold."
"While I will remain in post until the 13th of December as Interim Leader, I think it is right that we have a concurrent Leadership and Deputy Leadership election. This will allow the Scottish Labour Party, its members and affiliates, the opportunity to not only elect a new leader, but a new leadership team focused on winning in 2016. Whoever is elected can be guaranteed of my every support and effort."
"Friends, it has been an honour and privilege to serve you, particularly as the party's Referendum Co-ordinator at the heart of the biggest political campaign in our history – a campaign we must never forget we won! More than two million Scots supported Scotland staying part of the UK. We won the referendum because of our Labour values, not despite them.
"I make this promise to you – we will go forward from here emboldened. That we will come through the other side of this process more unified in purpose, more confident of our argument and stronger in will than we have ever been. I will be playing my full part in helping to elect a Labour Government and Ed Miliband as our next Prime Minister.
"Let's start the job of changing our country."
Value our free and unique service?
LabourList has more readers than ever before - but we need your support. Our dedicated coverage of Labour's policies and personalities, internal debates, selections and elections relies on donations from our readers.
If you can support LabourList's unique and free service then please click here.