Since the coalition government came to power almost five years ago, child poverty has increased to 3.5 m. Nationally, around a third of children live in poverty, with levels as high as four in ten children in London. Most of these children (around 63%) live in working households. If the coalition policies continue, Barnardo's predict another 1 million children will be pushed in to poverty by 2020.
According to new research published by Kellogg's, four in ten teachers say they see children arriving hungry at school every day. The vast majority – almost 7 in 10 – of these teachers said this was due to families struggling financially and over half linked hunger to changes to benefits. The overall picture of child hunger looked bleaker to the teachers surveyed now than it did a year ago and only one in five teachers said they never saw children arrive hungry at school.
This is what poverty means to all too many children and in London an earlier survey for the London Food Board found that 74,000 in the capital of the sixth richest country in the world often or always went to be hungry. If a country can't ensure its children are fed, it does not deserve to be called civilised. Feeding Britain, the cross party investigation in to food poverty led by Frank Field MP and the Bishop of Truro, highlighted the significant issues facing our society. The report's introduction states that 'it is time to look again at the state of our country and to review the fundamental values that led to the creation of our welfare state.'
One of the greatest confidence tricks of this government has been the demonisation of the poor and the remarkable feat of setting people on low income against each other while overseeing a continued rise of inequality. This inequality means that just two days in to the working year, on 'Fat Cat Tuesday' as it was dubbed by the High Pay Centre, top executives had earned £27,000, the equivalent of a year's average earnings. Meanwhile, the number of people in work but earning poverty pay is rising.
After a week when some commentators have suggested there is little difference between the main parties, it is worth reminding ourselves of the need to place our Labour values to the core of what we say over the next few months. Not just for those conversations we will be having on the doorstep but to remind ourselves why we have to fight for a Labour victory.
This week's political message from the Labour Party was about the NHS. It is clear that this will be a central theme of the election campaign, however, it cannot be the only issue on which we fight. We need to present a values based vision of what we want the country to be like in five years' time – a country that is fairer, more equal and in which people have enough money to feed themselves and their families.
Part of this vision needs to reflect the values that are clear from some of the successes we had in government. The Conservatives and the Liberal Democrats are not going to do this for us but it is an important part of demonstrating how our values and our record underpin where we want the country to go.
Child poverty is not inevitable. It is possible to reduce it. Labour reduced the numbers of children living in poverty by 800,000 when we were in power. Not only does the Government have a statutory duty to end child poverty by 2020, from a moral perspective as well, it has to be our goal to eliminate it.
It's easy to be despondent about where we are headed in the polls. I am tired of people debating which party they would rather be in coalition with. I am tired of people suggesting that it might not do us any harm to be in opposition for a few more years. It might not do some of us harm individually but it would do massive harm to the most vulnerable in society. If we are unhappy at what has happened to the fabric of our society in the past five years, we need to be clear that a future Conservative-led government or coalition would take us further down their road to ruin.
Last week, I visited Pecan foodbank in South London and was reminded about the individuals, many of them children, who are being left behind by the current government. Parents skipping meals so their children can eat. People down on their luck through no fault of their own who use up their savings when they lose their job and then have to wait months for benefits claims to be processed once their savings have run out. Individuals with mental health issues sanctioned – in some cases for years – when they get turned down by ATOS and can't cope with the benefits system.
It serves the current government for people to be despondent and cynical about politics. They don't want people to see the difference between the main parties. It is up to us to make sure they do. To do this we need to be hungry not just to do reasonably well and maybe scrape in as the largest party but to do everything in our power to win an outright majority.
The legacy of poverty in childhood stays with people throughout their lives. With millions of children already living in poverty, and all indications showing that many more are likely to join them unless the political direction of travel in this country changes, we are facing the fight not just for a Labour victory but for these children to have a better future.
More from LabourList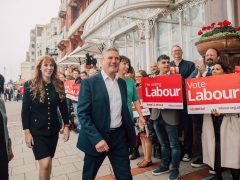 News
Keir Starmer's Labour Party is on track to secure a 56-seat majority in the House of Commons, exclusive…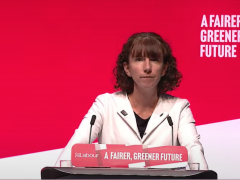 Comment
Below is the full text of the speech delivered to the Labour Party conference by deputy leader Anneliese…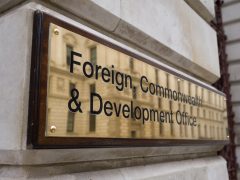 News
David Lammy will announce to Labour conference delegates a new "green dimension" to its foreign policy as he…