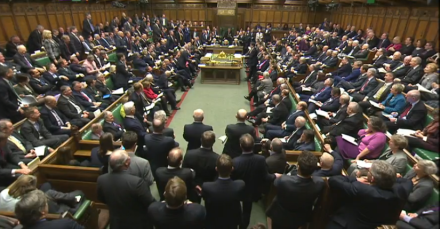 Last week Ed Miliband was quite candid about PMQs, when he said:
"Watching me and David Cameron shout at each other once a week on Prime Minister's Questions isn't very enlightening for anybody, let's be frank about it. It probably massively puts people off politics if they're watching it because they think: 'It's two blokes shouting at each other, what's that got to do with my life?'"
This week Miliband and Cameron headed to the chamber to prove how accurate that statement was. In nearly five years of writing about PMQs – who is "up" who is "down" who is shouting the loudest and who "won", this was by some distance one of the worst I've sat through.
As the Telegraph's Stephen Bush said during the early stages of the encounter:
God, #PMQs is terrible. "So, the Holocaust. That was bad. Anyway, let's shout at each other about the NHS for a bit."

— Stephen Bush (@stephenkb) January 28, 2015
I probably shouldn't admit this, but I largely hate having to watch PMQs. It's one of the worst parts of the job, because – the occasional interesting debate or great question aside – it's utterly turgid, insular, "what on earth is this for?" nonsense. It seldom moves the political dial in any significant way (Hague was great at PMQs, where did that get him?) but it gives those of us who are in Westminster on a Wednesday something to talk about. Newspapers (and even blogs) give the sessions far less coverage than they used to. To be honest I watch and write about these sessions out of habit now, and because I'm clearly the kind of obsessive who is happy to submit himself to the ritual of trying to write about something he increasingly loathes each week.
And I suppose I'll keep on doing so until they finally cancel them – giving up the pretence that these sessions are useful or are in any way a reasonable way of scrutinising the government (Cameron refuses to answer questions, doesn't do press conference and hides from the debates – he doesn't do scrutiny) – or I lose the will to live. A few more sessions like this one and the latter could easily come first.
But for those of you who are still passionate about PMQs (a huge number no doubt) lets talk briefly about what happened at today's session. It was on the NHS. I know, I was as shocked as you are. Ed Miliband wanted to talk, quite reasonably, about the A&E departments that Cameron campaigned to save before the election but did precious little about in government. Cameron did what he does best – not answering the question and going on the attack. He asked Ed Miliband if he'd ever used the word "weaponise" about the NHS. Ed Miliband refused to answer, and harangued Cameron for not answering questions. If there must be a winner (and both press and MPs dictate there always must be) then Miliband won, because he asked Cameron substantive questions about major incidents at hospitals and A&E closures. But when debate is as turgid as this, there are no winners, only degrees of loser.
It was like being in one of Kafka's nightmares.
So here's a solution.
David Cameron – you said you'd protect those A&Es. But once in power you didn't. Admit it and move on. You might even get some credit for your honesty, even from me.
Ed Miliband – I don't know if you said "weaponise" or not. Frankly I don't really care and doubt whether many people watching today will care either. If you said it, then say so – and say why. Say that the NHS is worth fighting for and that you're going to club Cameron around the head his health service failings until he owns up. If you didn't say it, then just say you didn't say it. But if you didn't say it you'd have said so by now – you see the conundrum here – and whether you like it or not, Cameron is going to keep on asking like a red-faced, irony-free stuck record. So be the bigger man and speak plainly and simply.
Did anything else happen today at PMQs? Well both leaders said that it was 99 days to go until election day. So we know that they can count and/or read their notes. 99 days more of this. And 7 more PMQs until election day. Christ alive. And I'm the kind of person who enjoys politics – so what must the unengaged and floating voters think?
Oh yeah, they're not watching. Because… why would you?
Humbug.
Value our free and unique service?
LabourList has more readers than ever before - but we need your support. Our dedicated coverage of Labour's policies and personalities, internal debates, selections and elections relies on donations from our readers.
If you can support LabourList's unique and free service then please click here.