As UKIP launch their election manifesto, it's easy to poke fun. The last one was disowned by their own UKIP leader Nigel Farage as "drivel" and while this manifesto was unveiled two senior UKIP spokespeople were falling out over their flagship pledge on immigration.
But the roots of UKIP's appeal are largely economic rather than personal, so our answer and argument must be economic too.
The Britain that the Tories have built over the last five years in the wake of a global economic crisis is summed up in one word: insecurity. Insecure employment, faltering living standards and uncertainty about the prospects for the next generation.
In these circumstance populist right parties have done well across Europe.
But to rebuild our country, the question for people at this election is clear: do you want to change our country by holding the powerful to account, or do you just want to blame the powerless?
Amongst the trade unions where I spent most of my working life before coming into Parliament, this is well-trodden ground.
Divide and rule is the hallmark of bad management. They play one section of the workforce off against the other by downgrading the pay and conditions of new employees but maintaining them for current workers or making staff on casual contracts compete for scarce hours.
We've now seen the UKIP vision where immigrants bear the blame while bankers and bosses are let off the hook and a mansion tax is described as being as bad as the bedroom tax.
But it wasn't immigration that trebled tuition fees and meant fewer young people in my part of South Yorkshire going to university. And it wasn't immigration that introduced the cruel bedroom tax or led to a Britain of food banks and bankers' bonuses.
It was Tory minsters, as deliberate acts of policy and ideology.
UKIP show in their manifesto that their priorities are not the priorities of working people. The UKIP election candidate who was set to stand against me in May was mysteriously stood down after he told that Times that when it comes to UKIP policy "if you've got a big enough chequebook anyone listens to you". Today we saw the results.
UKIP changes to the personal allowance and new higher rate income tax bracket will overwhelmingly benefit the better off. When the Resolution Foundation analysed an earlier incarnation of this policy they found that the richest 10% will gain over £1000 a year, the poorest 10% just £35. And their move to scrap inheritance tax will only help the UK's 40,000 wealthiest households according to the OBR.
Nigel Farage has made clear, and the UKIP manifesto confirms, UKIP want to go further than the Tories and give an extra £1bn tax cut to millionaires by dropping the top rate of income tax to 40p. Their manifesto also commits UKIP to backing the Tories' further deep cuts to social security benefits and public services, saying: "This current Treasury plan is a reasonable target …UKIP MPs in the next Parliament will make sure the Treasury sticks to this latest plan".
UKIP claim they're patriots but they don't offer a better Britain, just a broken Britain. A divided, sink-or-swim Britain where the powerful thrive and the powerless struggle to keep their heads above water. This is stale Tory ideology, dressed in fresh purple colours.
So now, over the last three weeks of this election, everyone can be clear. Only Labour will give Britain the leadership and government that works for everyone, and not just a privileged few.
More from LabourList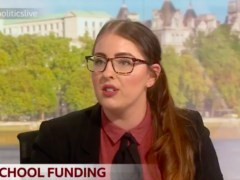 Video
Brandishing a UN report on 14m UK people in poverty, Labour's Laura Pidcock turns on Tory front bencher…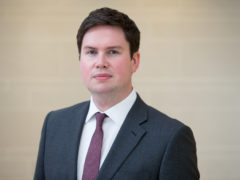 Comment
In the middle of the 19th century, my family sailed across the Irish Sea to Liverpool. Like so…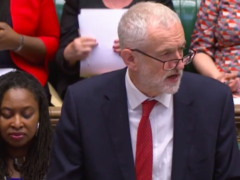 News
Jeremy Corbyn called for a general election in his response to the Prime Minister's Brexit statement today. Outlining…