It's the final countdown – just one day left to register to vote and make sure you will get your say in May's General Election – and lots of brilliant people are working hard to make sure everyone knows that time is running out. Check out Bite the Ballot, Unite's #NoVoteNoVoice campaign and the women-focused #RegistHERtoVote for advice, tips and encouragement to get yourself and your friends registered. It's all the more important this time round – and not just because this is such a close and hard-fought election – thanks to changes made under the Coalition there are thousands of people who have dropped off the electoral register and may not even know it. I don't want anyone to be disappointed on May 7th – even if they were planning on voting for the wrong people!
We all know why it's essential to register and to vote if you want to have a say in our politics – but for some people, using this simple democratic right is a real dilemma. Some people don't want to register, not out of apathy but out of fear. Fear of being tracked down and hurt by their abuser. And I think we need to do much, much more to ensure that being a survivor of domestic abuse or stalking doesn't make it dangerous to use your vote.
We all know someone that has suffered domestic abuse. You may well be thinking you're an exception to that rule, but it's likely that you do. Around a quarter of women and one in six men will experience domestic violence in their lifetime. Even more depressing, a million children will also be affected, either as victims or witnesses. And yet there is still stigma, still people suffering in silence. We cannot turn a blind eye – domestic abuse should be everyone's business.
That's why I so welcome the way that the Labour's Women's Manifesto, launched by my friends Harriet and Gloria on Wednesday, tackles this issue head on.  Our pledge is to appoint a new commissioner to enforce national standards, strengthen the law and provide more stable funding to women's refuges and Rape Crisis Centres. This approach will help to hold police services to account and require them to respond safely and effectively to survivors and their children.
This pledge is a tribute to the work of many people – from my colleague and friend Seema Malhotra, the Shadow Minister for the Prevention of Violence Against Women and Girls, to One Billion Rising activist, Lynne Franks and our brilliant candidate in Bristol West, Thangam Debbonaire who's been working in this area for many years. We also need to support organisations like Respect, who are working with the perpetrators and trying to address root causes, and Broken Rainbow who respond to domestic violence in same sex relationships.
We cannot allow domestic abuse survivors to face a lottery when it comes to their safety and that of their children. How does this relate to registering to vote? Well many people who flee abusers need to feel secure in their anonymity and in their safety from future discovery. And registering can mean the risk of exposure and the risk that an abuser will be able to track you down. Many survivors have told me that it puts them off registering, it silences people at the ballot box – people whose experiences we absolutely need to hear in our politics.
Under the current rules, it is sometimes possible to register vote anonymously – you can get more information here and I urge anyone with fears about registering to use this resource. But it isn't easy enough – and I want us to change the rules so that it is simpler and more straightforward to register anonymously. For many of the survivors that I've met, the barriers are just too high.
At the moment people wishing to vote anonymously have to pass a 'safety test', which assesses the risk to the individual, and are often required to provide evidence of a Court Order against a previous partner or abuser. These are far too many hoops through which to expect vulnerable people to jump, just to exercise their democratic rights. Individuals are best placed to know whether they have genuine fears about their names and addresses becoming public and the presumption should always be that survivors are telling the truth about their concerns. In the future, I would like to see the Electoral Commission work to make this process easier for survivors so that their voices can be heard without threatening their safety.
With only one day left to register to vote, please do share this piece – let's get more people registered to vote. And beyond the ballot box, let's work together to make sure we do everything we can to help protect the survivors of domestic abuse.
To find out more about registering to vote anonymously, please visit http://www.aboutmyvote.co.uk/register-to-vote/how-to-register-to-vote
More from LabourList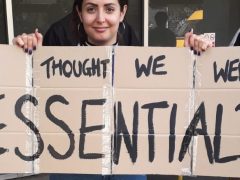 Comment
The pandemic has forced us to evaluate how we think about work, what is and isn't essential work,…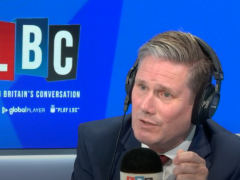 News
Keir Starmer has told an LBC caller who raised concerns over his recent comments on the Black Lives…
Daily email
Momentum is now chaired by a climate activist living in New York and a firefighter working for the…