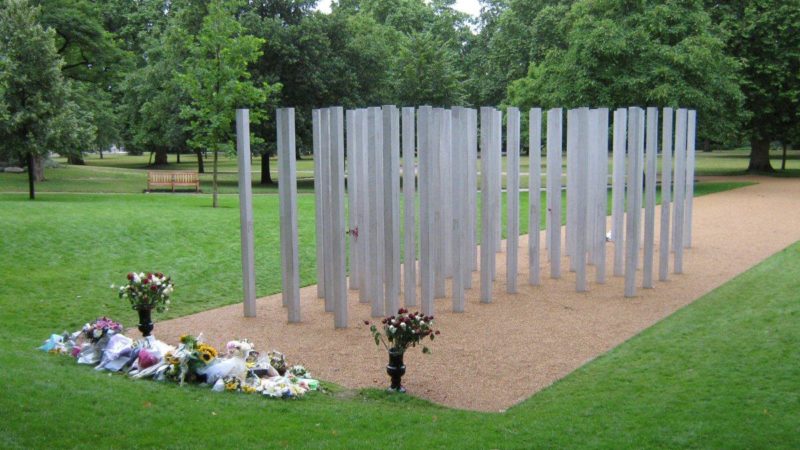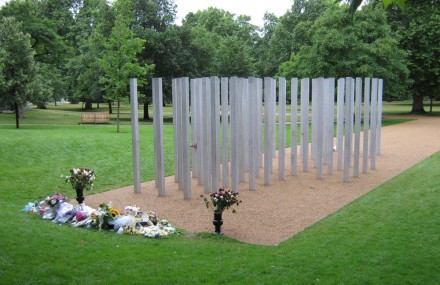 Today is 10 years since the 7/7 terrorist attacks in London, in which 52 people were killed and hundreds were injured.
We'll be collating words and tributes from across the Labour movement today.
Ken Livingstone who was Mayor at the time and gave a moving speech which you can read here, has said the following:
Thinking of those killed and hurt 10 years ago and the brave people who helped London respond. London did not let the bombers succeed.

— Ken Livingstone (@ken4london) July 7, 2015
A decade ago our members across London transport were at their posts helping passengers. Within hours they were saving lives #7thJuly2005 — TSSA (@TSSAunion) July 7, 2015
We should never forget the strength that Londoners showed after 7/7. A strength we should be proud of. https://t.co/QDboXVwTnv

— Sadiq Khan MP (@SadiqKhan) July 6, 2015
Response to horrific 7/7 attacks showed London at its best. Today 1000's of Londoners #WalkTogether in remembrance pic.twitter.com/8WDEID09dr — Diane Abbott (@HackneyAbbott) July 7, 2015
While Tessa Jowell tweeted out the names of each of the 52 people killed in the attacks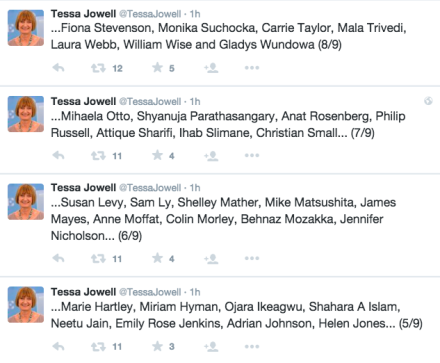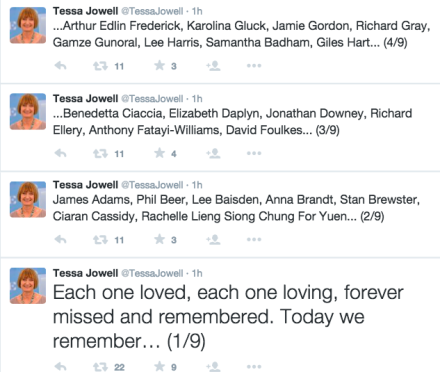 Thoughts with the family and friends of Anna Brandt,Arthur Frederick,Lee Harris,Samantha Badham and Ciaran Cassidy.Haringey victims of #7/7

— David Lammy (@DavidLammy) July 7, 2015
Quiet ceremony to mark 10 years of 7/7 at Tavistock Square. I remember it all too well pic.twitter.com/1vQVswqJgZ

— Wolmar for London (@wolmarforlondon) July 7, 2015
Can recall 7/7/05 as if it was yesterday. One of the darkest days of our times. Thinking today of all those affected by the London bombings.

— Andy Burnham (@andyburnhammp) July 7, 2015
Yvette Cooper has said today:
"Is a day for us to remember those who lost their lives, those who were injured in the bombings and those who felt scared in the city they live in."
"But it is also a time to recognise the strength, solidarity and resilience of London and the people who live here – including those working for the emergency services who were at the scene. On the day of the attacks, we saw acts of immense bravery, with people risking their own lives to save others. And as commuters made their way home without public transport, they shared food, water and helped each other along the way.
"And today Londoners will once again show their solidarity and remember those who died in these attacks as they #WalkTogether to work. We face new and changing threats, but London will continue to stand shoulder to should against terrorists who seek to divide us with extremism and violence."
Similarly Jeremy Corbyn has offered words of commemoration:
"Today we remember the victims of those killed and hurt in the July bombings ten years ago, and all of those affected by them. Our thoughts are with them. Twelve of those who died were from my own borough of Islington. This was an act of murderous violence carried out against Londoners of all backgrounds and walks of life, going about their daily business. It was the worst terrorist attack in our city's history. I want to pay tribute to the families and friends of those caught up in these events and who have had to deal with the trauma of it.
"It is also worth sparing a moment for the public service workers, the men and women who work on public transport and in the emergency services, whose humanity and bravery on July 7th must not be forgotten. In the face of terror, transport workers got our buses and Tube running again and restored some normality in terrible times.
"Ken Livingstone's words that day spoke to us all and inspired us with the best of our capital city and what we are capable of.
"Finally we must reflect on the extraordinary unity shown by Londoners as a whole in the aftermath of these bombings – their refusal to turn on each other and their inspiring example of faith in the power of standing together. The bombers did not succeed because Londoners stayed united."
In an article in the Independent, Liz Kendall struck a similar chord, writing:
If the aim of the killers was to intimidate the country or change our way of life, they failed.  The country mourned the senseless loss of life, but carried on.  Neither our great capital city nor the country as a whole allowed mass murder to destroy co-existence.  We continue to enjoy a level of religious freedom that is admired around the world,  Millions still travel on the underground every day.  London is an even more diverse and outward looking city today than it was a decade ago.  Not for our capital the prospect of living in fear.  Instead it stands as a global city of all nationalities and faiths, more concerned with what you can contribute than where you came from.
She also went on to argue that Britain must not "run away" from the threat of terrorism:
We have learned – or at least we should have – that seeing Islamist extremism purely as a reaction to what we do is fundamentally mistaken. Indeed that view – Western centric as it is – belittles the threat we face.  It implies we can somehow opt out of this fight, that if we hide maybe they will leave us alone.
That view may be tempting but it is wrong. In foreign policy terms, the world is not divided into adults who act and children who react. Those who pursue the ideology of Isil are not children – they are responsible for their own actions, driven by their own ideology…If we have learned anything in the past 10 years it should be that this is not a battle of choice – it is a battle of necessity. We cannot run away from it.  The Prime Minister has been right to term it a generational struggle.  But definition must be matched by willing the means to fight it.  That must be done ideologically, politically and with tougher means where necessary.
More from LabourList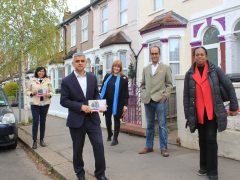 Comment
As Londoners head to the polls tomorrow, Labour sources are warning that they are "expecting a considerably worse…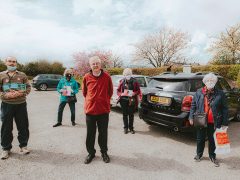 Comment
"People have realised that Wales can use its powers independently," Jane Hutt explains to me. "But Welsh Labour…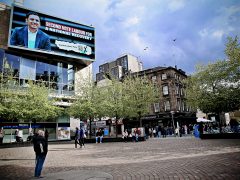 Comment
Labour started off in 1999 with every constituency seat in Glasgow, and it stayed that way until 2007,…