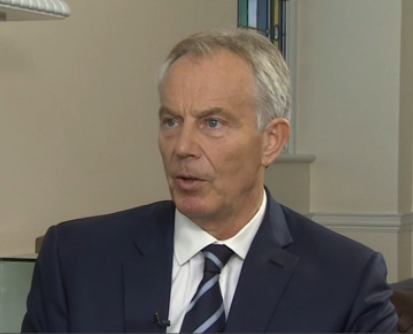 Tony Blair has issued a plea to those thinking about voting for Jeremy Corbyn in the Labour leadership election that doing so risks "annihilation" for the party. In a piece for The Guardian published online this evening, the former Prime Minister writes:
"The Labour party is in danger more mortal today than at any point in the over 100 years of its existence. I say this as someone who led the party for 13 years and has been a member for more than 40. The leadership election has turned into something far more significant than who is the next leader. It is now about whether Labour remains a party of government."
It is not the first intervention Blair has made in the contest, having already warned that Corbyn is the "Conservative preference" earlier in the campaign. But this is the first time he has written down his thoughts about the race,rather than answered questions off-the-cuff. Other prominent Blairites have also spoken out against a Corbyn victory – most recently Alastair Campbell earlier this week.
While Blair has not officially endorsed any candidate (just as he did not in 2010) he asks those voting in this contest, who now number more than 600,000, to "save the party".
"This is directed to longstanding members and those who have joined but without an agenda. They're still a majority and they have to exercise leadership now to save the party. It doesn't matter whether you're on the left, right or centre of the party, whether you used to support me or hate me. But please understand the danger we are in.
The party is walking eyes shut, arms outstretched, over the cliff's edge to the jagged rocks below. This is not a moment to refrain from disturbing the serenity of the walk on the basis it causes "disunity". It is a moment for a rugby tackle if that were possible."
He makes explicitly clear that he sees electing Jeremy Corbyn as a mistake, and suggests that while there could be a short-term popularity boost after he becomes leader, the long-term consequences will be a "rout" for Labour at the next election, and even "possibly annihilation":
"If Jeremy Corbyn becomes leader it won't be a defeat like 1983 or 2015 at the next election. It will mean rout, possibly annihilation. If he wins the leadership, the public will at first be amused, bemused and even intrigued. But as the years roll on, as Tory policies bite and the need for an effective opposition mounts – and oppositions are only effective if they stand a hope of winning – the public mood will turn to anger. They will seek to punish us. They will see themselves as victims not only of the Tory government but of our self-indulgence."
Value our free and unique service?
LabourList has more readers than ever before - but we need your support. Our dedicated coverage of Labour's policies and personalities, internal debates, selections and elections relies on donations from our readers.
If you can support LabourList's unique and free service then please click here.