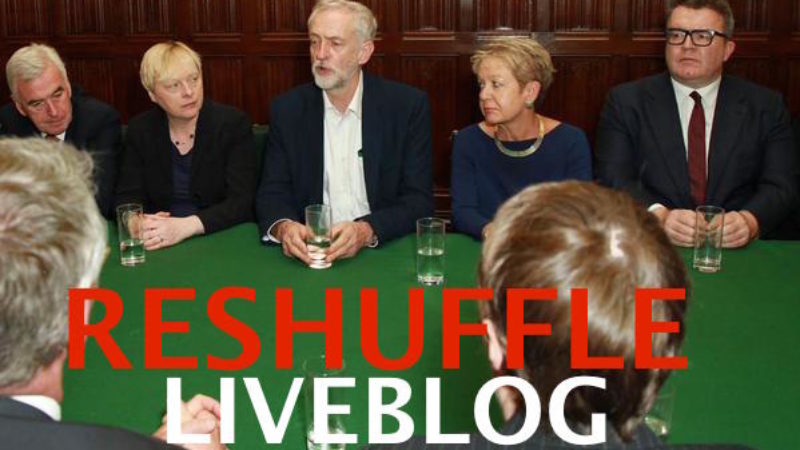 12.35: Cleared up: Osamor and Smith are both junior shadow minister for Women and Equalities – and Steve Rotherham is of course already Corbyn's PPS. It's day 11 of this liveblog.
Thursday, January 14th, 12.25: Yet more appointments! They do raise a few questions: does Kate Osamor's move mean Corbyn needs a new PPS, and will her role be alongside Cat Smith, or will Smith be moving too?
Imran Hussain MP (Bradford East) appointed Shadow Minister, Department for International Development;
Kate Osamor MP (Edmonton) appointed Shadow Minister, Women and Equalities;
Thangam Debbonaire MP (Bristol West) appointed Shadow Minister, Department for Culture, Media and Sport. 
There is also proper confirmation that Dave Anderson is now a Labour whip, as I reported on here last night (see 20.26).
23.51: It's over, I think.
Christina Rees takes, I understand, the Shadow Legal Aid and Courts brief in the Shadow Justice Team, while Naz Shah replaces her as PPS. Will do my best to do a round-up of the new frontbench tomorrow.
In the meantime, thank you for making this one of the most read LabourList posts ever, and it seems a good time, after nine days, seven hours and six minutes (and 5,356 words), to put the liveblog to bed.
20.26: I've just had it confirmed that Dave Anderson is indeed the new whip.
20.17: Drumroll please…. word reaches me that the Whips Office vacancy may have been filled. [Sound of crowd cheering] Sounds like Blaydon MP Dave Anderson may be Labour's newest whip. I think this will be his first frontbench role.
20.08: I'm told there is one space open on the Shadow Justice team that needs filling, with a current PPS being considered for the role – which would then mean they need replacing…
And, as far as I know, there's still a spot in the Whips' Office.
Wednesday, January 13th, 19.36: Jo Stevens has been appointed Shadow Solicitor General in the Shadow Cabinet, replacing Karl Turner, who was promoted to Shadow Attorney General on Monday.
In this morning LabourList email, I reported:
Will I be revisiting the liveblog soon? I'm hearing whispers that the Whips' Office vacancy may have been filled, while new Shadow Attorney General Karl Turner has a preference for the space in his team – but it would involve poaching them from another shadow department.
Stevens was the rumour I had heard last night, and delay in appointing her was that she was only promoted to the Shadow Justice team on Thursday – although I am told she will retain that role as well as her new brief. You can sign up to the daily email here.
15.12: Karl Turner has been promoted from within the Shadow Law team to replace Catherine McKinnell as Shadow Attorney General, and will attend Shadow Cabinet meetings. His promotion does presumably mean that he will now need replacing in his previous role.
13.46: A cursory reminder that the reshuffle never really finished last week – Angela Rayner still needed replacing in the Whips' Office.
12.42: The resignation of McKinnell means that there are now no North East MPs in the Shadow Cabinet. As has been pointed out, she is far from a Blairite – being one of the only North East MPs to back Miliband in 2010. But who will replace her?
The Shadow Attorney role needs a lawyer, and given they advise on the legality of military intervention, Corbyn will be keen for someone who broadly shares his views on foreign policy. It's also worth point out that he could promote a man to the role, and still have a majority woman Shadow Cabinet. Andy Slaughter, currently in the Shadow Justice team, could be a possibility, as could Corbyn ally Richard Burgon, currently Shadow City spokesperson. Perhaps Keir Starmer is a decent outside bet?
12.31: News has come through that Paula Sherriff has resigned as PPS to Jon Trickett, the Corbyn ally and Shadow Local Government Secretary. It is unclear why she has stepped down, but the delay in her announcing the decision is due to her being ill, and wanting to speak to Trickett personally before making it public.
Monday, January 11th, 11.30: Unbelievably, the reshuffle has now entered its second week, with the resignation of Catherine McKinnell from the Shadow Cabinet this morning.
McKinnell is Shadow Attorney General, a role in which she was invited to attend Shadow Cabinet meetings by Corbyn in September. She has published her letter of resignation on her website, citing "concerns about the direction and internal conflict with the Labour Party", which she says is taking the party down a "negative path".
You can read her letter below (click to enlarge):
09.00: Will this latest batch of announcements be the end of the reshuffle (and the liveblog)? Yesterday's further resignations failed to materialise, apparently after wavering junior shadow ministers were convinced to stay in the tent by Shadow Cabinet figures such as Tom Watson.
At Defence, Kevan Jones has been replaced by Blackburn MP Kate Hollern – who is not, as far as I am aware, particularly anti-Trident. It seems her colleagues in the Defence team, Toby Perkins and Don Touhig, have received assurances that they can continue to make pro-Trident arguments from the frontbench (it is party policy after all).
Fabian Hamilton, who spent years on the cross-party Foreign Affairs Select Committee, has moved in to replace Stephen Doughty in the Shadow Foreign Office team. Meanwhile Angela Rayner has gone to Work and Pensions, a position I understand they had some difficulty filling – does her move mean a vacancy in the whips' office?
Jenny Chapman moves into Education from Justice, where she is replaced by Jo Stevens, newly-promoted to the frontbench. Andy McDonald, replacing Jonathan Reynolds at Transport, is also newly-promoted.
Thursday, 08.45: Jeremy Corbyn has made the following appointments to Labour's frontbench:
Defence
Kate Hollern MP
Education
Jenny Chapman MP 
Justice
Jo Stevens MP
Transport
Andy McDonald MP 
Work and Pensions
Angela Rayner MP
Foreign
Fabian Hamilton MP
17.47: John McDonnell has accused those who have resigned today as part of "a narrow right wing clique", and attacked some members of Progress of holding "hard right views". Speaking to BBC Radio 4, he said of those resigning:
"They do all come from a narrow right wing clique within the Labour Party, based around the organisation Progress largely. I don't think they've ever accepted Jeremy's mandate really."
Asked about it on Channel 4 News later, McDonnell said:
"There's a group within the Labour Party who have a right wing conservative agenda. Within Progress itself, there are some who are quite hard right, and I think they've never accepted Jeremy's leadership."
However, he added that Labour was a "broad church" and there was room within the party for those views to be debated.
17.35: Labour grandees are at odds over how the reshuffle has affected Labour's electoral chances. Ken Livingstone has been on LBC to say that the it has improved the party's electability, while in the Financial Times Neil Kinnock has warned that "the public view hasn't changed" about supporting multilateral nuclear disarmament in the last 25 years.
Peter Mandelson, meanwhile, has penned a piece for Newsweek claiming that the reshuffle has taken Labour further away "from any prospect of winning a general election":
"In this position it is incapable of winning the next general election in 2020. It is too far behind, too far out of touch and too wide of the electoral mainstream to catch up and stand any realistic chance of replacing the Conservatives, however unpopular they will be in four years' time.
Corbyn's new year reshuffle should be seen in this context. It takes Labour even further away from any prospect of winning a general election."
17.19: While frontbench resignations are expected later today, a fact the leadership appear fairly sanguine about, there will be no announcements on moves within the frontbench, I understand.
The reshuffle will continue over the next few days, but a source tells me there is no urgency in moving junior shadow ministers around. Tonight shouldn't be a late one then.
14.50: What is the point of today's frontbench resignations? We've so far had three, with another rumoured for teatime. They are, quite clearly, linked to yesterday's reshuffle – Reynolds and Doughty in response to McFadden's sacking, and Jones seemingly as a response to a nuclear unilateralist being given the Shadow Defence role. They do not appear to be closely co-ordinated, but neither do seem totally unconnected.
Usually when something like this happens, we would expect it to lead to a potentially fatal leadership crisis, but no one is suggesting that Corbyn will not be leader come the end of the week – evidence of just how strong his position is. So what is the aim?
14.12: Kevan Jones has become the third frontbencher to resign today. He stands down after six years in the role. He has tweeted out his resignation letter (below), saying that he now feels the best way for him to make the argument for Trident renewal is from the backbenches.
At the end of the letter, he also thanks Corbyn for his work on mental health – which many have interpreted as a way of raising the issue of Ken Livingstone's remarks about Jones recently.
There are rumours that the rest of the Shadow Defence team (not including new appointment Emily Thornberry) could also resign. While I would say Toby Perkins and Lord (Don) Touhig are possibilities, I would be surprised to see 2015's intake Rachael Maskell step down from her role.
12.11: Stephen Doughty has resigned from the Shadow Foreign Office team live on BBC Two's Daily Politics, moments before PMQs begins. Doughty again has cited Pat McFadden's sacking as a catalyst for his decision.
Just a couple of minutes later, David Cameron begins PMQs quoting McFadden's Commons question about the Paris attacks.
10.47: I was told last night that there would be further reshuffling of the frontbench with junior shadow ministers moving around. It seems that we can expect a few more resignations today – some in response to the way the reshuffle has been handled so far.
10.24: We have our first junior shadow minister departure from the frontbench. Jonathan Reynolds, from the Shadow Transport team, as handed in his resignation this morning. Reynolds says that he wants to be part of the "wide debate" in the Labour Party, but feels that "the best way to do this is not as a member of the frontbench" given Corbyn's "need for a greater degree of discipline".
However, he also makes clear that Pat McFadden's sacking has played a role in his decision. He says he "cannot in good conscience endorse the world view of the Stop the War Coalition", and gives his backing to comments McFadden made about the Paris attacks.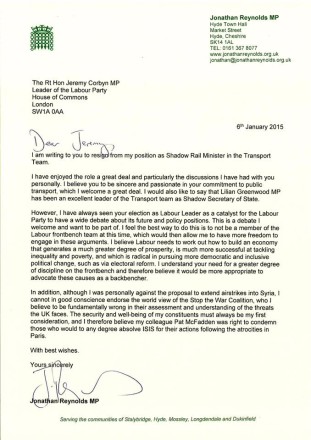 Wednesday, 08.00: The reshuffle ostensibly finished around 1am last night, although there will be some minor changes to junior frontbench roles over the coming days. You can see the new confirmed Shadow Cabinet here.
00.30: Looks like this could have been a sticking point for Pat McFadden on the frontbench:
00.14: One interesting fact about new Shadow Europe minister Pat Glass is that her husband was recently removed as campaign co-ordinator for North West Durham (her CLP), in what was seen as a Momentum-led threat against Glass herself.
However, Glass also signed a pro-trade union open letter from Labour MPs back in May.
00.10: This briefing has been handed around on Pat McFadden's behalf (click to enlarge):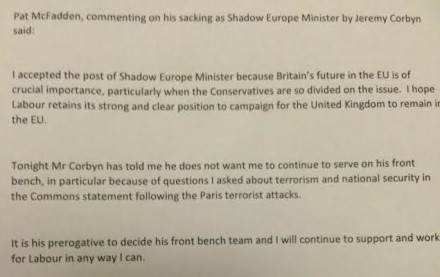 00.02: Maria Eagle has been moved from Shadow Defence – she moves to replace Dugher (who, sources tell us, was sacked for disloyalty and incompetence).
Emily Thornberry is the new Shadow Defence Secretary.
Emma Lewell-Buck has become a junior Shadow minister for Devolution and Local Government.
23.52: John McDonnell says that it is "all done", Maria Eagle is "happy" – but that we will find out more "in the morning". We'll wait a bit longer…
23.47: Here are the comments that Pat McFadden made in the House of Commons which we believe led to his sacking:
"May I ask the Prime Minister to reject the view that sees terrorist acts as always being a response or a reaction to what we in the west do? Does he agree that such an approach risks infantilising the terrorists and treating them like children, when the truth is that they are adults who are entirely responsible for what they do? No one forces them to kill innocent people in Paris or Beirut. Unless we are clear about that, we will fail even to understand the threat we face, let alone confront it and ultimately overcome it."
23.44: Just been told that more should come out tonight – hopefully about Defence, and maybe more – but it seems Pat McFadden made comments about the Paris attacks and "shoot to kill" that were seen as criticisms of Corbyn.
23.40: Jeremy Corbyn is heading home – we don't know yet whether that is the end of the news. His aides are still in his office, so could be a bit more yet to come.
23.31: Pat McFadden, Shadow Minister for Europe has been sacked. Sources say it is because of comments he has made about Jeremy Corbyn. McFadden is recognised as a Blairite, and as the second person to be relieved of their duties for speaking against the leader.
He has been replaced by Pat Glass, who has been up until now chair of the pro-EU PLP group Labour Yes.
23.22: We've now been told to hope for an update soon. This is the most promising thing we've heard since… well, since the reshuffle began.
On the other hand, aides say that if they go home we should all follow. We're expecting news, but there might be a couple of loose ends to tie up in the morning. With MPs expected for their last vote at 3am, I'm hoping for a solution soon – but given what we've had so far, I couldn't recommend staying up.
22.43: I'm sorry for the lack of updates… but those updates are still as elusive to me as they are to you. I am now stationed back at the stairwell, one floor down from Jeremy Corbyn's Westminster office. The latest piece of news (which you will already know if you have forsaken me for another liveblog) is that Emily Thornberry went into the leader's office.
She has just left, with no comment.
20.10: Corbyn has been in his office discussing matters with Tom Watson and Rosie Winterton. As Corbyn heads out for tea with an aide, a gaggle of newshungry journalists follow – only to see them return, moments later, with takeaways.
Stuck outside his office charging my phone however, I see his aides return, but no Corbyn. Has he slipped out somewhere? This is as exciting as it gets, folk.
19.53: This evening has brought a few interesting reactions to Michael Dugher's (unofficial) sacking. First of all, as you will all have seen, is Dugher's own Twitter bio, which says he was sacked for "too much straight talking, honest politics":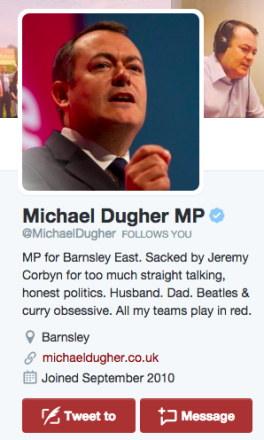 The Morning Star have dubbed Dugher "Incompetent, Disloyal, Dumped":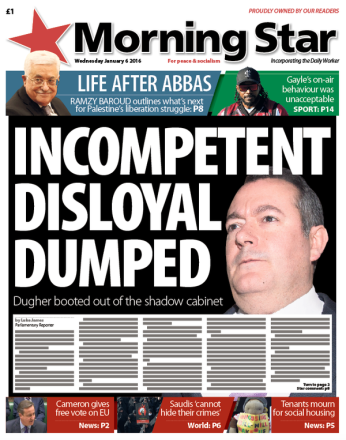 While the old right of the Labour Party, Labour First, who have Dugher down as a keynote speaker at their annual gathering next week, have circulated an email this evening that pulls no punches:
"The Hard Left clique around Jeremy Corbyn has thrown us into a sectarian, divisive and wholly unnecessary reshuffle. We are disgusted by the sacking of Michael Dugher from the Shadow Cabinet and proud that Michael will be keynote speaker at the Labour First Annual Meeting on 16 January. Michael was an excellent Shadow Culture Secretary and one of the most effective Labour spokespeople in taking the fight to the Tories. He agreed to serve in the Shadow Cabinet in the interests of party unity. His sacking by Mr Corbyn seems to be for the "crime" of speaking out against the pernicious influence of Momentum and defending hard-working colleagues from threats of deselection."
19.37: I have been skulking around Westminster bars (all in the name of journalism, reader, I assure you) and there remans little to report. Corbyn's aides will answer no questions about the reshuffle – they even refused to confirm to me earlier that Michael Dugher has been sacked. When I asked one whether I should expect to be home by 2am, which is when MPs are expecting to stay until, I was told simply: "It depends where you live."
Hilary Benn is now speaking in the Chamber, so he is still Shadow Foreign Secretary. At the moment.
I've spoken to a few people linked with new roles – none have so far been formally offered any roles, and some have not even spoken to Corbyn (note: Corbyn, not his staffers).
Shadow Justice Secretary Charlie Falconer was rumoured to be for the chop yesterday. For a long time today he was unseen and unheard, but the BBC have tracked him down:
18.46: Here's everything we know so far: ¯\_(ツ)_/¯
17.18: Corbyn has just returned to his office following the EU debate in the Commons. Give today's statements and Urgent Questions, the Housing debate has been pushed back, and MPs are likely to have to hang around and vote until 2am tonight. That's along evening with available Shadow Cabinet ministers to get some reshuffle work done…
16.07: So Nandy has not been formally offered the Defence role – but nor have others that have sparked speculation and rumours, seemingly confirming what I said below about them being hesitant to offer jobs about.
15.43: Corbyn has now gone to the Chamber – he is due to respond to Cameron's statement on the EU. That means that we can actually properly say that nothing will happen for a while, rather than just expecting it to be the case.
I do think that Defence appears to be the problem position, just as it was for Corbyn's original reshuffle in September. We've no confirmation, but it seems very probable that Eagle has gone, while others who could fill in are not keen on taking on the mantle. However, jobs are not being offered around willy-nilly as far as I can tell.
15.07: Lisa Nandy turned down Defence, I understand. Could that have been the spanner in the works that has stalled the process?
Meanwhile, Clive Lewis appears to say privately what he said publicly yesterday – he doesn't want a job, but will accept one if Corbyn really wants him to.
14.17: Sympathetic sources advise that going for lunch will not lead to missing anything noteworthy, as we approach a full 24 hours of this liveblog. Jeremy Corbyn is due in the Chamber in an hour and a half and we're now unlikely to get anything of substance before then.
Clearly, something is up.
This was supposed to be a small reshuffle, with a few conversations this morning and everything sorted by 12.45. What's changed?
Well, the rumour mill has kicked back into action with bad news for Hilary Benn – the word is now that, unlike this morning when he seemed safe, his position is once again up for discussion. Somewhere, discussions broke down and conversations have not gone as planned.
Could it come down to the reaction to Michael Dugher's sacking? The outpouring of support for him seemed to take some by surprise and made the Shadow Cabinet appear polarised.
Could it have stiffened resolves on both sides? Those reshuffling may have decided that, if they are going to get a reaction like that anyway, they may as well bite the bullet and get rid of Benn. On the other side, those who had thought about threatening to resign if Benn goes may now believe they needn't worry about going it alone. Have we reached a stalemate in the top table power struggle?
13.02: As Corbyn's staffers troop downstairs for lunch, they indicate that we're not likely to get anything soon (news, not food).
Currently, we're not sure whether it's Hilary Benn or Angela Eagle upstairs in the leader's office. Or possibly both, which would bring excited and fevered speculation about a job swap. Or they might both have left, which leaves us with little to go on.
There are some statements due in the House this afternoon, which will need Labour frontbenchers to respond to. At 3.30, Corbyn will need to go against Cameron on the EU – will we be done by then? And at 5.30 a statement on Saudi Arabia will need the Shadow Foreign Secretary – so that will need to be confirmed by then.
12.32: I'm back in Westminster, lurking and looking for news. A latest rumour is that Nia Griffith, currently Shadow Secretary for Wales, could move to Defence. She is a unilateralist, so that would have major repercussions for Labour's stance on Trident.
11.24: Has the lunchtime Shadow Cabinet meeting now been cancelled? Sky's Sophy Ridge has suggested that it might be. That means that there is now no obvious deadline for the reshuffle to be completed, but almost certainly means that it being finished in the next hour and a half is deeply unlikely.
Oh, when will it end?
11.07: Andy Burnham has weighed in to praise Dugher now, too – interesting, as he has been assiduously loyal to Corbyn so far. He said:
"Michael is Labour to the core and I have no doubt that he will continue to serve the best interests of our Party in whatever way he can. We face a big challenge in winning back the trust of our traditional supporters in the North and Midlands, and Michael is one of the authentic voices who can do that. I thank him for all the support he has given me and wish him well. He has served Labour with distinction & can leave the front-bench with his head held high."
Gloria De Piero and Jon Ashworth both stress their long friendships with Dugher in their quotes about him. The outpouring of support for him seems significant. De Piero says that it is "always sad to lose someone from an ordinary background from the Shadow Cabinet".
10.55: Dugher is receiving support from Shadow Cabinet members. His close ally Tom Watson said "Michael is a formidable campaigner who has provided an important and authentic voice to the shadow cabinet. Him going is a loss."
He has also received supportive tweets from Luciana Berger and Lucy Powell, while Andy Burnham (whose leadership campaign Dugher ran) is unlikely to be over the moon. Some have said to me that they believed people like Dugher would be safe with Tom Watson's "protection" – this move seems to be a sign that Watson and Burnham's influence in the leader's office is limited.
The most interesting tweet so far is from Jon Lansman, one of the directors of Momentum – whom Dugher criticised.
10.38: Dugher, who was apparently given the news of his sacking over the phone, says that Corbyn was unhappy with some of the things he had been writing.
This seems to be a reference to the article Dugher wrote over Christmas criticising the possibility of a "revenge reshuffle". This has earned him credit among Corbyn-sceptic MPs, who believe that this framing has made it harder for Corbyn to sack Winterton and Benn, even if it means it made it easier to sack Dugher.
10.13: We have two and a half hours before the Shadow Cabinet meeting, and Dugher's departure is the first movement. We're told it will only be a small reshuffle, but you should still expect a flurry of activity to fit everything in.
10.05: The first move of the reshuffle. Michael Dugher has revealed on Twitter that he has been sacked this morning. That means that there is now room at Shadow Culture, Media and Sport. Dugher is no Corbyn ally, and this could potentially be a chance to bring in a younger Corbynista into the Shadow Cabinet.
09.38: There has been some excitement for a while now about Barry Gardiner's Twitter bio, with claims that he has recently changed it to 'Shadow Minister for Energy and Climate Change'.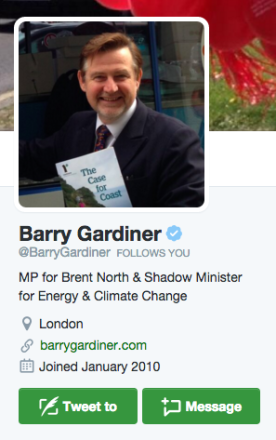 However, there's a slight snag: I don't think he has changed it. He is already Shadow Minister for Energy and Climate Change – he's just not Shadow Secretary for Energy and Climate Change, which is still Lisa Nandy (as far as we know, and she certainly hasn't been moved yet). Stand down, people.
Tuesday, 09.18: We're back! Here's the latest.
Jeremy Corbyn will carry out further discussions about the reshuffle with Shadow Cabinet ministers this morning. The Shadow Cabinet are due to meet at 12.45, with expectation yesterday that everyone would be in their new position by then. That meeting is followed at 2.30pm by Health Questions in the Commons – you would expect Heidi Alexander to still be Shadow Health Secretary for that.
The narrative now seems to be suggesting that Hilary Benn will more likely than not stay as Shadow Foreign Secretary, which makes it more unlikely that Maria Eagle will hang on. Rumours persist that Shadow Energy's Lisa Nandy could move to replace her, but sources have played that down to me. I think she is happy in her current brief and would be reluctant to move.
21.56: Those still on the Westminster stairwell beneath Jeremy Corbyn's office have just been told that there will be no announcements tonight. Seven and a half hours after the reshuffle, and this liveblog, started, there is nothing solid to report. I'll pick this up again in the morning (unless anything does come out tonight), but so far this is all we know:
Jeremy Corbyn has met with Rosie Winterton, Hilary Benn and Maria Eagle, in that order.
And, er, that's it. See you in the morning.
21.43: As reshuffle liveblog veteran Mark Ferguson noted, at a certain point it becomes clear that nothing will be confirmed until after 10pm. I took Maria Eagle's departure from the office as a cue to make my own dash away from Westminster. Stationed in slightly more comfortable surroundings than a staircase now, I'm ready to cover whatever comes out tonight.
20.29: Maria Eagle leaves the office, rushing off and refusing to comment – would not confirm whether in Shadow Defence or Shadow Cabinet. "I have nothing to say." Given speculation earlier that appeared to strengthen Benn's position, and wide belief that Winterton is staying put, it seems she is likeliest to have moved – or been sacked.
20.19: Maria Eagle is the third Shadow Cabinet member we know Corbyn has met with today, after Chief Whip Rosie Winterton and Shadow Foreign Secretary Hilary Benn. All three have been tipped to be moved on over the last fortnight.
The likelihood right now is that Winterton is still in position, while a lengthy conversation with Benn suggests that he may have been offered a different position – but they could have been trying to sort out their differences. It seems plausible that a similar conversation would be happening with Eagle right now.
20.00: Shadow Defence Secretary Maria Eagle has just gone past. Is she going to see Jeremy? "That's obvious isn't it?" she laughs. And will she hold on? "I don't know. We'll have to see."
19.33: The source from the last update said they would let us know soon if there was news or no news. Latest from them is that there will be no briefing… But that doesn't mean there's nothing to say.
19.12: A source from Corbyn's office has just remarked that there will hopefully be some news soon, and will let us know soon if there is nothing to say. Hilary Benn has just left his lengthy meeting with Jeremy, refusing to comment to journalists on what was discussed.
Having just nipped across the parliamentary estate to pick up a phone charger, I saw members of Benn's office making a similar journey – I expect they are off to hear from him before any announcement is made.
We'll wait and see if that news comes out any time soon. I imagine if that does come out tonight, it will be the only noteworthy news before a full announcement tomorrow morning.
18.36: I'm going to be honest: there's no news yet.
We think Hilary Benn is currently in Corbyn's office, and may have been in there for around 40 minutes. But given the several entrances and exits to the leader's office, it is understandably difficult to confirm.
So, having been told that we could get news soon, I am now sat in a stairwell one level below Jeremy Corbyn's office – there is a member of staff stationed upstairs to move people away.
Ken Livingstone said on television earlier that he did not expect much before 10 o'clock tonight, leaving us is something of a limbo conundrum. Unable to confirm people going in and out, is there much use being here when it now looks likely that the Shadow Cabinet announcements will be made tomorrow morning? On the other hand, the last reshuffle saw a flurry of post 11pm announcements.
Your intrepid reporter will be doing everything it takes to keep you up-to-date.
17.09: Always worth looking at the next day's parliamentary business when a reshuffle takes place – whatever's on the agenda, those are the places you would look to fill first. Tomorrow sees business on Health and Housing, and I would presume both Heidi Alexander (certainly) and John Healey (probably) are safe.
17.03: We've a few hours yet to go in this "small" reshuffle.
A couple of place have reported that Shadow Justice Lord (Charlie) Falconer is on his way out. That's an interesting move, if true: while he is widely considered a Blairite, he has been a useful operator for Corbyn over recent months, present at some of the smaller discussions between the leader and confidantes. But, as Corbyn begins to shape his Shadow Cabinet in his image, it makes some sense to move him on.
Who would replace him? A promotion for Andy Slaughter? Is he making room to shuffle the deck?
…Or could we see a triumphant return for LabourList favourite Lord (Willy) Bach?
16.11: The Staggers has rumours that Shadow Culture Secretary Michael Dugher could both lose and keep his job (now you know how hard it is to run a liveblog). Dugher is very much not a Corbynista, having said he took the job in order to allow a breadth of opinion around the top table, and has been outspoken on several issues so far (such as Momentum). Around a month ago I spoke to a backbench ally of his who said that they would not be surprised if he was one of the first to go next time a reshuffle occurred.
15.43: Journalists camped outside the leader's office (I am in a slightly more comfortable position downstairs) say that Barry Gardiner, a Shadow Energy and Climate Change minister, has just left a meeting with Corbyn. He's a junior minister to Lisa Nandy…
15.39: I understand we are not to expect a major reshuffle, which should make it easier to complete by tomorrow lunchtime – when the next Shadow Cabinet meeting is due to take place.
Latest news so far is that Hilary Benn has yet to be given a time for his meeting with Corbyn, and there is still some speculation that he could stay in position, which would be a remarkable situation given the level of briefing against him over the last fortnight. It could yet depend on how others react to job offers.
There are rumours that Trident-sceptic Lisa Nandy could move to replace pro-Trident Maria Eagle at Shadow Defence, but at the moment I think that is unlikely. Eagle could well be moved to make Labour's Defence review more favourable to Corbyn's own Trident stance, but Nandy is widely thought to have done well in the Shadow Energy and Climate chance role, and enjoys the job.
15.09: "Exciting first day back!" a Corbyn staffer said to me as I arrived in Westminster, who was otherwise tight-lipped about the events unfolding. Upstairs, journalists were given rather shorter shrift by Jeremy Corbyn, who came out of his office to shoo away the gaggle of loitering hacks.
Given that the last reshuffle was overheard through a thin door, that's not altogether surprising…
Monday, 14.44: It looks like the reshuffle is now getting underway, with Shadow Cabinet members being called into Jeremy Corbyn's Westminster office. For a full preview of what to expect, read our primer from this morning.
Reports suggest that first in is Chief Whip Rosie Winterton who, after several weeks of speculation that she could face the chop, is now thought to be safe. Winterton helped Corbyn put together his first Shadow Cabinet back in September but, for obvious reasons, has been a more absent figure from discussions ahead of this reshuffle.
Winterton is popular, and viewed by many Labour MPs as a unifying figure in the Parliamentary Labour Party – when rumours first surfaced that she could be sacked around a month ago, there was a vocal show of support for her at one PLP meeting.
Some junior shadow ministers only accepted roles three months ago after arm-twisting from Winterton that it was important to try and make Corbyn's leadership work, and they would take a very dim view if they felt she was treated unfairly.
More from LabourList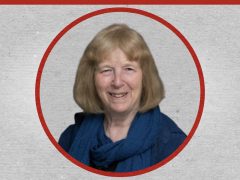 Comment
Labour's ruling national executive committee (NEC) met in the party's new headquarters at 160 Blackfriars Road, further from…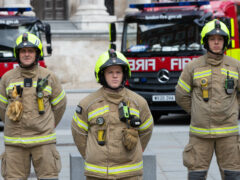 News
The Fire Brigades Union has announced that firefighters will take strike action following a ballot that saw 88% vote…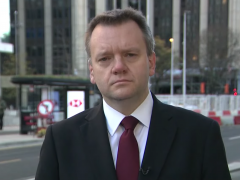 News
Nick Thomas-Symonds has declared that Rishi Sunak has "very serious questions" to answer about what he knew about…