With hundreds of thousands, if not millions of voters, undecided over which way to vote on Thursday, the endorsements of Britain's biggest newspapers could prove vital to the winning side. LabourList summarises the major declarations.
The Times – Remain
"Remain should be a vote for continued access to the single market and more British influence over it. For most this would be a pragmatic rather than enthusiastic choice, made despite the behaviour of Brussels rather than because of it. "Leave" would be a vote of no confidence in the European project so shattering that it would rock it to the core, with unknown and possibly alarming consequences."
The Daily Telegraph – Leave
"A world of opportunity is waiting for a fully independent Britain. This country is a leading economic power, its language is global, its laws are trusted and its reputation for fair dealing is second to none. To say we cannot thrive free of the EU's constraints is defeatist and flies in the face of this country's great mercantile traditions."
The Guardian – Remain
"The EU is not just the least bad of the available options. It is also the one that embodies the best of us as a free people in a peaceful Europe. Vote this week. Vote for a united country that reaches out to the world, and vote against a divided nation that turns inwards. Vote to remain."
The I – Neutral
"Some media like the sound of their own voice before a big vote, trying to claim afterwards that they swung the result. Here at i we have a rather shocking opinion: the public are capable of making up their own minds."
The Independent – Remain
"This timid, insular vision is not one we can share. A vote to remain in the EU is not a vote of cowardice but of confidence; it is not a vote to cede control but to get things done collaboratively in a globalised world."
The Financial Times – Remain
"A vote to withdraw would be irrevocable, a grievous blow to the post-1945 liberal world order."
The Daily Mail – Yet to officially declare.
Like the express, the Mail has not explicitly urged voters to reject membership of the EU on Thursday, but has run a series of anti-EU editorials over the past few weeks, echoing it's generally anti-EU stance.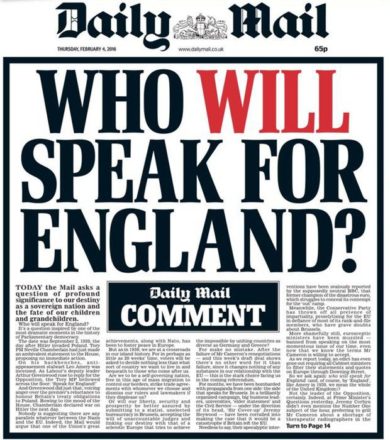 The Daily Express – Leave
"GET BRITAIN OUT OF EUROPE."
The Mirror – Remain
"Common sense reinforces the economic experts' warning of a cost, perhaps enormous, in jobs, incomes, prosperity and growth of ripping our nation out of the huge market that is the family of 27 neighbouring states."
The Sun – Leave
"Outside the EU we can become richer, safer and free at long last to forge our own destiny — as America, Canada, Australia, New Zealand and many other great democracies already do."
The Sunday Times – Leave
"We are sceptical of our partners' project of political union, not because we are little Englanders, but because we have seen where such utopian thinking has led before."
The Sunday Telegraph – Leave
"On balance, however, we believe the Leave campaign has articulated an ambitious vision for Britain as an independent nation, once again free to make its own decisions."
The Mail on Sunday – Remain
"The single-minded leaders of the Leave campaign contend that the issue is not, in the end, economic, but that they value independence so highly they are ready to pay any price for it. So eager are they for a divorce that they are prepared to sacrifice a large chunk of our income, and trade down on living conditions, in order to walk out into a rose-tinted future of 'freedom'."
Sunday Express – Leave
"On Thursday, the power rests firmly in your hands and we urge you to seize the opportunity and vote wisely to leave the European Union. This paper has long highlighted the problems associated with the EU and has never been scared to tell our readers precisely what is going on behind closed doors. And you, our loyal readers, have responded in your thousands by telling us that you overwhelmingly reject the status quo."
The Observer – Remain
"Despite its many flaws, this paper believes the EU has, without question, been a force for good. It has succeeded in its aim of preventing another European conflict. It has established the world's biggest single market while preventing a race to the bottom on employment rights. It has brought former satellite states of the USSR within the European fold, nurturing nascent market economies and democracies."
Sunday Mirror – Remain
"We've pooled our sovereignty with NATO because an attack on one is an attack on all and no one suggests we leave that. We've pooled our sovereignty with the United Nations because our
decisions are subject to Vladimir Putin's veto and no one suggests we leave that. No international organisation is perfect, but we have yet to find a better way than the UN to maintain relative peace."
The Sun on Sunday – Leave
"Of course leaving the EU won't solve it at a stroke. But full border controls will allow us to regulate the flow as well as to pick and choose the migrants with the skills we need. Staying in ends any chance of control … forever. And poorer countries soon to join the EU will virtually ensure our immigration numbers rise even higher."
More from LabourList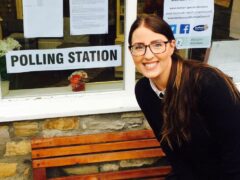 News
Laura Pidcock, the former Labour MP for North West Durham, has resigned today from the party's national executive…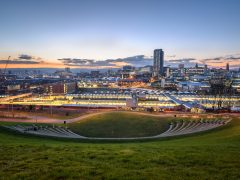 News
Labour has selected Oliver Coppard as its candidate for the South Yorkshire mayoral election taking place on May…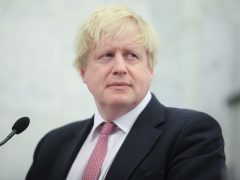 Video
Boris Johnson lied when he claimed that he had not intervened personally in the evacuation process in Afghanistan…