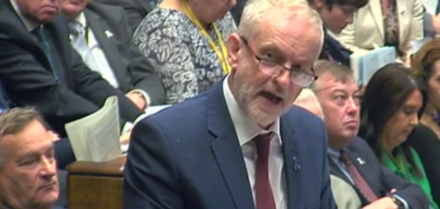 Theresa May offered a shaky performance, light on substance, while Jeremy Corbyn gave an assured display in today's Prime Minster's Questions.
However, though the Labour leader's questions weren't bad they could have been more topical – he did not mention either of the day's biggest stories – showing his refusal to change his priorities to meet the popular media narrative.
The fact that the Tories' already slim majority being further reduced by Zac Goldsmith's resignation was not mentioned at all in the forty minutes was slightly bizarre. Such an opportunity to lay the boot in seems too good to pass up. Indeed the only mention of Heathrow – which was dissenting – came from a Tory MP who passionately expressed her fears on the issue of air quality.
When questioned by Corbyn for clarity on the fate of the single market, May responded with a soundbite of "I have been clear and will continue to be clear" to groans from the chamber, setting the opposition leader up for a memorable quip on May's meaningless catchphrase, stating that he feared that "Brexit means Brexit" might have been her answer. He added sarcastically that "I'm sure she'll eventually clarify what that means". Yet he declined to mention today's leaked tape of the PM's private views on leaving the EU.
May's response was that it is her Government that is listening to the British people and the referendum result, and that the Labour Party is not. It is ridiculous to try and deflect all criticism from the Opposition on Brexit strategy by characterising it as Labour not listening – one of the most important tasks of any opposition to question the government's strategy on something that has the potential to rip up various legal codes, seriously harm the economy and undermine the Good Friday Agreement. Indeed, this is acting in the best interests of all – Remain or Leave supporting.
It is good to hear the phrase "shambolic Tory Brexit" become Corbyn's norm, with "hard Brexit" having the potential to leave May appearing as though she is taking a strong line as a leader.
But Corbyn missed an opportunity to push May even further though when questioning her on the potential relocation of banks following the Brexit decision, given how such fears chime with her own views expressed in a leaked recording of a Goldman Sachs talk. To miss such a crucial link, when a free shot was there for the taking is frustrating. Though the comparison of the lack of plan to Baldrick's famous line "our cunning plan is to have no plan" was amusing.
When pushed by Corbyn on the Saudi bombardment of Yemen, whilst UK arms sales are ongoing, May misspoke, referring to "the Yemen" on multiple occasions. The PM appeared flustered, which seems to regularly be the result of questioning outside of her favoured policy area: home affairs. She recovered to give passable response, though not one entirely satisfying to those of us concerned by the unfolding human rights disaster – but the length of time taken to get to it after a clumsy start was telling.
Interestingly, Labour MPs Karl Turner, Alison McGovern and Luciana Berger appeared to have coordinated in their questions to the Prime Minister, and in doing so pushed her into a corner over the government's failings on mental health care. In response to the first question, May gave merely platitudes on what an important issue mental health care is. However, by the final question she seemed visibly rattled when Berger pushed her on the specifics and referred to funding shortcomings. Perhaps this is a sign of those who previously have fought against Corbyn's leadership showing that they will not not let up their focus on the other side of the chamber.
Value our free and unique service?
LabourList has more readers than ever before - but we need your support. Our dedicated coverage of Labour's policies and personalities, internal debates, selections and elections relies on donations from our readers.
If you can support LabourList's unique and free service then please click here.