On Monday the government published Improving Lives, its long awaited work, health and disability green paper. It makes big claims about creating "a country where a disability does not dictate the path that a person is able to take in life". 
However, these admirable words hide a very different reality. From 1997 to 2010, Labour in government steadily reduced the employment gap suffered by disabled people. That progress came to a halt in 2010. Acknowledging that something had to be done, the Tories' 2015 manifesto promised to halve the gap. Now, the green paper has effectively dumped that promise.
The Conservatives' general election manifesto promised "we will aim to halve the disability employment gap". Since this was a manifesto for 2015-20, the natural interpretation was that this was to be achieved by 2020. So, for example, in a recent report, the National Autistic Society said: "The UK Government has made a very welcome pledge to halve the disability employment gap by the end of this Parliament, meaning that they have to shift the disability employment rate from 47 per cent to 64 per cent." 
And ministers had good reason to commit to an ambitious pledge on disability employment. They used it to buy off Tory rebels who were unhappy about deep cuts to employment and support allowance (ESA), the benefit which replaced incapacity benefit. The rebels were persuaded to back off their rebellion in exchange for promises that the money saved would fund an ambitious package on disability employment.
It became clear yesterday, however, that there is no chance of the aim being achieved by 2020. And there is no commitment to achieve it by any other date either. In the House of Commons yesterday I asked Damian Green, the new secretary of state, how long he expected it to take to halve the disability employment gap. He replied: "It would be premature of me to try to set targets". 
Premature? The target was set in his party's election manifesto 18 months ago! Disability organisations took the government at its word. And the government has let them down.
In 1998, as a new minister, I took on responsibility for the New Deal for Disabled People. We knew that the great majority of people out of work on health grounds wanted a job. For the first time our government committed itself seriously to finding new ideas to help. Many of the ideas were bold and experimental, but they worked, and the disability employment gap was steadily reduced. 
In 2011, the coalition scrapped the New Deal, and its successor Pathways to Work, and introduced its Work Programme. This dealt with all jobseekers, whether available for work and claiming jobseekers allowance or out of work on health grounds and claiming ESA. The Work Programme was hopeless for people claiming ESA, as the graph below produced by the Commons library shows. Progress on reducing the disability employment gap halted. Yesterday's green paper acknowledges that the disability employment gap "has not changed significantly in recent years". 
The Work Programme outsourced the delivery of disability employment support. The green paper proposes that it should be brought back in house, with recruitment into job centres of hundreds of disability employment advisers – whose number Iain Duncan Smith steadily reduced. The change of direction is welcome, and may well lead to improved outcomes. 
But its nowhere near enough to deliver the target of halving the disability employment gap by 2020. The Tories have betrayed disabled people once again.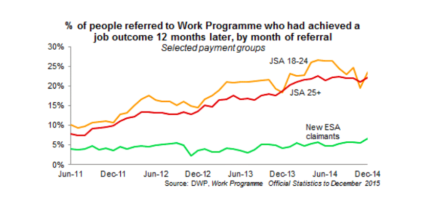 Source: House of Commons Library.
Stephen Timms is chair of the Parliamentary Labour Party backbench work and pensions committee
More from LabourList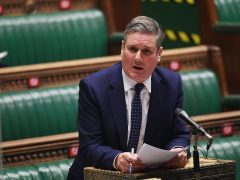 News
Keir Starmer has been urged in an online meeting of the parliamentary party tonight not to ditch the…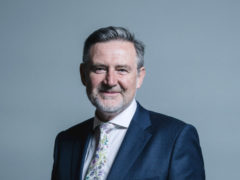 Comment
Tonight will be like old times. The lobby correspondents gathering outside Committee Room 13. Ears pressed to the…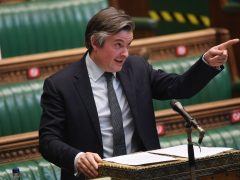 News
Jonathan Ashworth has said the spread of the Indian variant in the UK could have been avoided while…