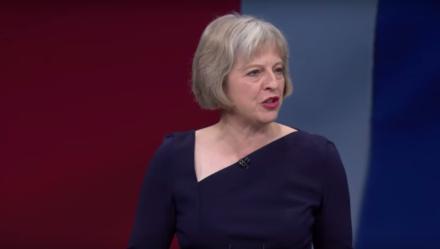 Theresa May probably had a whole host of reasons for calling an early general election on June 8 but a wish to cash in a 20-point lead in the opinion polls and gain another two years in power for free was no doubt the clincher. She's banking too on the current situation delivering her a majority so large she can do anything she likes during the next five years.
The superficial strength of her position and her acceptance of the temptation it has provided might not seem like much of a weakness but it is precisely that.
May's refusal to be challenged on Brexit has developed over the past few months. It began when the government refused to accept amendments to the article 50 bill as it passed through parliament.
Now the PM has astonishingly cited Westminster's failure to come together on Brexit as the reason why an election is required. She wants a mandate from the country that allows her to force through the Brexit wanted by the right of her party, without dissent, debate or scrutiny.
No doubt once Brexit is assured she will carry on in the same way with undermining the NHS, education, and welfare. The weakness in going for an election is that she could very probably have got her hard Brexit anyway. Roughly two months ago the article 50 vote was passed by 498 to 114. Now she has given her opponents one last shot at thwarting her – a chance they previously didn't possess.
May has vulnerabilities. She is not a smooth public operator in the mould of Blair or Cameron. She is an awkward public speaker and, like anyone who's not interested in what their opponents' views are, she is not great in a head-to-head debate. If this isn't at least partly why she doesn't want to take part in television debates, self-awareness is another of her failings. 
John McDonnell this week made the point that the Tory opinion poll lead will close as the campaign goes on. More public exposure of Corbyn through the election could help. He isn't the flavour of the month even in his own party but the idea that he is so much worse an option than  May is nonsense.
Television debates would help if May can be coaxed from her hiding place. It will help too that Labour MPs seem to have fallen into line overnight since May's shock announcement on Tuesday morning. The sight of Labour MPs all pulling in the same direction will make a dramatic difference.
The problem for Labour is that, to use a football metaphor, you can't turn on your form for the big games. If you don't perform as you should all the time you won't be able to do it when it really matters. Voters may be suspicious still of a party who so recently were in disarray.
Now May has given her dissenters the opportunity to oppose. A progressive alliance could help but at this stage it's not going to happen officially.
Locally, at constituency party level, it is a different matter. In marginals, the prospect of tactical voting and local parties declining to field candidates, in order to concentrate the progressive vote, could deprive the Tories of seats. A progressive alliance might seem a bad idea when Lib Dem leader Tim Farron is plainly considering a coalition with the Tories but the difference with 2010 is that this time round his party won't be kingmakers. The Lib Dems would take some Tory seats with a clear run but starting from nine seats it would be ambitious for them to hope for more than 30. The SNP will probably finish with 50-plus MPs again so they are more likely to be able to bring their influence to bear.
When it comes to reducing an opinion poll lead there is a silver bullet for Labour. Theresa May owns Brexit right now. Labour looks like it wants to avoid the issue, focusing as best on anything else. If May wants a Brexit election that's exactly what Labour should give her. She is in some ways asking for a second referendum and an anti-Brexit Labour could narrow the polling from a 20-point gap.
Voter opinion on Brexit may have narrowed further than the 52/48 of last year considering the emerging reality and some home truths about what leaving the EU would entail. It is a position from which Labour can make their points about the economy, the NHS, education and public services – and go on to win.
Mark Brophy is a writer and trade unionist who lives in Newcastle.
Value our free and unique service?
LabourList has more readers than ever before - but we need your support. Our dedicated coverage of Labour's policies and personalities, internal debates, selections and elections relies on donations from our readers.
If you can support LabourList's unique and free service then please click here.