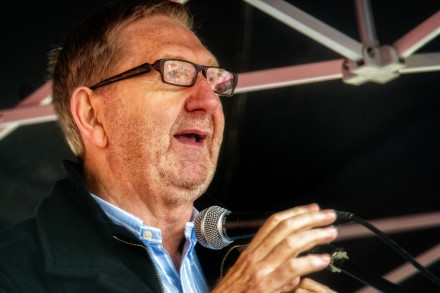 Len McCluskey has said he does not expect Jeremy Corbyn to win the general election and believes that retaining around 200 seats would make a successful campaign.
The general secretary of Unite said it would be "extraordinary" if Labour came out on top on June 8 but said the party was fighting for every seat.
McCluskey is one of Corbyn's strongest trade union backers and his interview came as speculation intensified that the Labour leader could seek to stay in post if he loses the election but matches the 30.4 per cent of the vote achieved by Ed Miliband two years ago.
Yesterday Corbyn launched Labour's manifesto in Bradford with a surprise pledge to nationalise the water industry, as well as plans for a raft of other state interventions, and curbs on high pay.
McCluskey criticised the "media bias" against Corbyn and struck a sober note about Labour's prospects of getting into power despite backing many of the policies unveiled in West Yorkshire.
"In terms of the imagery of Jeremy, that's a huge task," he told Politico.
"He's got now just under four weeks to try to see if you can break through that image and it's going to be a very, very difficult task. We are sending messages out to our members saying, this is a decent, honest man, who is on your side, what have you got to be afraid of, what have you go to lose?
"Labour's policies will make Britain a better and more equal society so we're trying to pump out that message. Whether that breakthrough can happen, we'll wait and see. I'm not optimistic, but we'll wait and see."
McCluskey highlighted the challenges facing Labour, including having to fight a general election just two years after the last national vote, and the extra leadership contest last summer. Polls have put the opposition between eight and 21 points behind the Tories.
"The scale of the task is immense. People like me are always optimistic … things can happen. But I don't see Labour winning. I think it would be extraordinary," McCluskey said.
"I believe that if Labour can hold on to 200 seats or so it will be a successful campaign. It will mean that Theresa May will have had an election, will have increased her majority but not dramatically."
10.30am update: Len McCluskey has just spoken to the BBC outside Unite House in London. He said:
"My comments were part of a conversational piece which have been taken slightly out of context because it was done on the basis of 'if the polls are to be believed'. The reality of course is that Labour has launched their manifesto, a fantastic manifesto, a manifesto for workers, for ordinary working people and a manifesto which will change Britain for the better.
"We are getting constant feedback from our members and there's been an incredible response, a very positive response. I think therefore it's going to be interesting to see what happens over the next few weeks. I feel full of confidence now that the opinion polls can start to change.
"The Labour Party campaign has outshone the Tories' comfortably. Jeremy Corbyn has come across as a man of the people and real leader. I believe these next three weeks will throw up something that is quite extraordinary. I'm full of optimism for what Labour can achieve.
"There is everything to play for now and we'll be fighting for every single vote."
Value our free and unique service?
LabourList has more readers than ever before - but we need your support. Our dedicated coverage of Labour's policies and personalities, internal debates, selections and elections relies on donations from our readers.
If you can support LabourList's unique and free service then please click here.