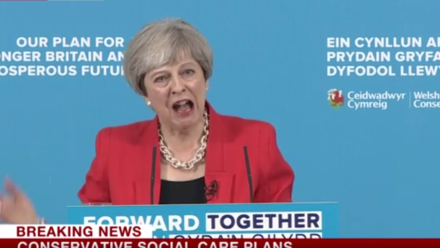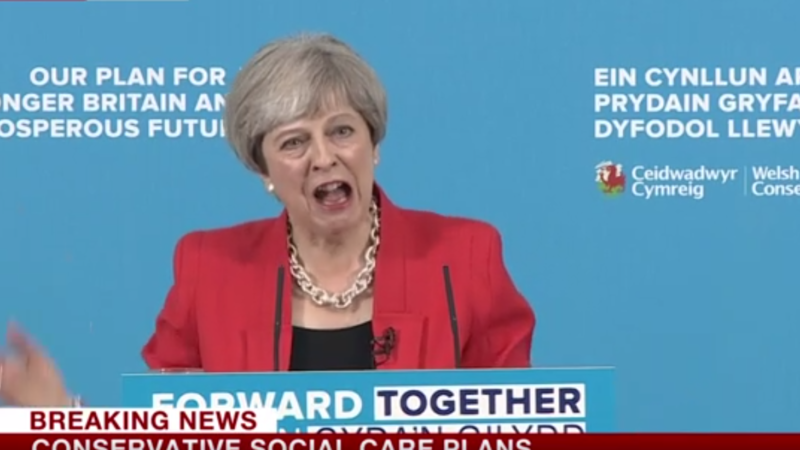 Labour MPs laid into Theresa May today as she performed a humiliating u-turn over her flagship proposals for a dementia tax.
Backbencher Wes Streeting derided the prime minister as "weak and wobbly" as she announced a surprise cap on social care costs after days of criticism.
Streeting, who aims to be re-elected in Ilford North, was among the first from Labour to speak out as May dropped her core manifesto pledge just four days after it was announced.
The PM repeatedly grimaced, waved her arms and raised her voice at journalists as she "clarified" there would be an upper limit on the costs paid by older people for their care.
It marked an awkward press conference for May who, bizarrely, tried to blame Jeremy Corbyn by accusing him of spreading "fake claims" about the Tory proposals and insisted: "We have not changed the principles we set out in the manifesto".
Corbyn, who was at a campaign event in Hull, responded by saying the initial policy was "very dangerously ill-thought out".
A u-turn would be "extremely welcome because I want this country to face up to its responsibilities for those that need care", Corbyn said, in comments reported by the BBC.
Streeting said the Tories were asking voters to write them a "blank cheque".
"The Conservative policy on social care is a complete shambles and has caused millions of pensioners to worry," he said in a statement.
"Theresa May is now asking pensioners to write her a blank cheque on the promise that she'll let them know the bill after the election. This isn't a u-turn, it is a fudge and people shouldn't fall for it."
"The Tories now owe it to pensioners and their families to publish a detailed and fully-costed plan for social care, so that they know what they're voting for."
Vernon Coaker, the former shadow cabinet minister standing again in Gedling, wrote on Twitter: "Theresa's #manifesto meltdown changes nothing – an unspecified cap on the amount ppl will have to pay? Watered down but still a #DementiaTax".
Andrew Gwynne, Labour's election co-ordinator, said: "Theresa May has thrown her own election campaign into chaos and confusion. She is unable to stick to her own manifesto for more than four days. And by failing to put a figure for a cap on social care costs, she has only added to the uncertainty for millions of older people and their families.
"This is weak and unstable leadership. You can't trust the Tories – if this is how they handle their own manifesto, how will they cope with the Brexit negotiations?"
Len McCluskey, general secretary of Unite, showed life under the Tories was "chaotic and cruel".
"It is astonishing that with a little over two weeks to go the Tory policy on social care has collapsed.  For those caring for their elderly parents or for retirees worrying about their future, the Tories have brought further worry and little hope of secure, quality care in old age.
"The dementia tax is a sorry echo of those other hated Tory taxes – the poll tax and the bedroom tax – and  is a reminder that under the Tories, life is always tougher for working people. Only Labour offers any clarity now on social care, pledging to create a national care service to deliver dignity for all our elderly."
Rehana Azam, GMB national secretary, said: "Theresa May's social care policy is now a total shambles. "It's caused chaos – they haven't even said what the cap will be.
"She can't be trusted to give dignity and fairness to the elderly and the sick. This unbelievable volte face really does leave the Conservatives line about being 'strong and stable' in tatters – it shows a wobbly Theresa May and a weak government."
More from LabourList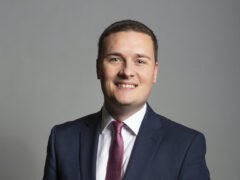 Comment
This weekend, I marched through the streets of Tredegar to celebrate the memory of Nye Bevan. It was…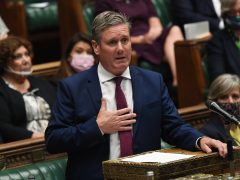 Daily email
"It's realistic." That was Emily Thornberry's assessment of Keir Starmer's announcement yesterday that a Labour government would not seek to…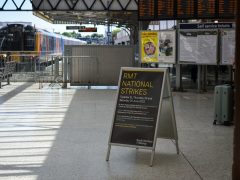 News
Labour metro mayors have argued that the cost-of-living crisis is "forcing" people into industrial disputes and that striking…