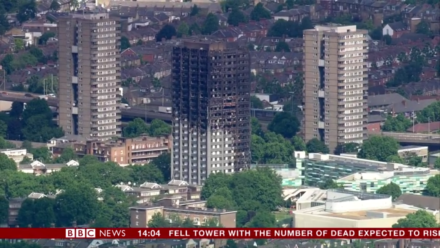 The failure of Theresa May and her government to mount a coherent or compassionate, response to the Grenfell Tower tragedy has appalled the nation.
While some have focussed on how the prime minister's mistakes have weakened her politically – coming so soon after a botched general election campaign – it is the impact on the bereaved, the survivors and the west London community that is the most important factor.
These are just 10 of the serious errors made by May since the blaze swept through the 24-storey tower block:
The great no-show: May's decision to avoid meeting residents on her first visit to the community set the tone for the week that followed. While she was right, of course, to speak to firefighters and thank them for their heroism, it is inexcusable that she initially failed to meet to the people directly affected by the tragedy.
Security questions: The PM was ridiculed for allowing aides and one of her ministers to say that she had not met residents because of "security concerns". During the same week, a well-known 91-year-old great-grandmother had the wherewithal to walk around the community and provide comfort to the distressed. Perhaps May could take a few lessons from the Queen.
The car: Arriving for the second visit in a blacked out 4×4 which is more akin to the vehicles used by out-of-touch celebrities rather than a prime minister who is visiting a neighbourhood to comfort its people. It was as she was driven away that several protestors shouted the accusation of "coward". Meanwhile several of the stars, like Adele and Rita Ora, did make the effort to go to visit and help out with the relief effort.
No leadership: In failing to deliver a speech in Grenfell Tower she missed the opportunity to make a clear and public statement of her support for the grief-stricken community.
Late night TV: Her appearance on BBC Newsnight – which the show made clear was at her initiative rather than theirs – was too little too late. Residents needed personal reassurance rather than a television appearance days after the blaze while any survivor who was well enough to watch the news was unlikely to have been awake at nearly 11pm.
A robotic response: Repeating monotone answers about the formalities of the government response when Newsnight presenter Emily Maitlis asked if her if she had "misread the public mood" over the disaster.
Funding: Announcing £5m of support late on Friday, rather than in her first visit, making the money look like a mere afterthought. Several residents of the tower have subsequently reported their anger at received just £500 so far or, in some cases, simply being handed £20 notes.
Silence: Allowing Garvin Barwell – her new chief of staff and a former housing minister – to avoid answering questions about a key safety report which he allegedly "sat on" while in government.
Hiding behind a junior colleague: Sending Andrea Leadsom, leader of the House of Commons, to west London to speak to residents, when the cabinet minister has just been demoted from environment secretary and is a much-diminished figure following her botched leadership bid last summer, made the fire look like a lesser priority.
Sending survivors away: May reneged on a pledge to re-house Grenfell Tower residents in the local area. Alok Sharma, the housing minister, had issued a "guarantee" that survivors would be found new accommodation in the local area but it emerged that some could be forced to move to boroughs up to nine miles away.
There may well be other serious mistakes that May has made. If so, then point them out in comments below. And please forward this article – the world must know that whatever half-apologies and admissions she makes about support that was "not good enough" – one thing stands clear: the prime minister walked away from the Grenfell Tower community in their hour of need.
Value our free and unique service?
LabourList has more readers than ever before - but we need your support. Our dedicated coverage of Labour's policies and personalities, internal debates, selections and elections relies on donations from our readers.
If you can support LabourList's unique and free service then please click here.