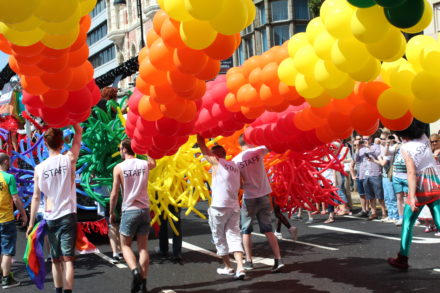 This month has seen great celebrations of the 50th anniversary of the partial decriminalisation of homosexuality in 1967 and rightly so.
But for people in Northern Ireland that date is a reminder of justice delayed until the European Court stepped in and homosexuality was decriminalised in 1982, thanks to those brave LGBT activists of the time, including Jeff Dudgeon.
Now, as Belfast Pride takes place today, we are reminded that LGBT people in Northern Ireland are again waiting, this time to join the rest of us in Britain and Ireland who can get married regardless of our sexual orientation.
Let's be clear: this is a failure of politicians, not the people. Every poll shows that there is a clear majority of support for equal marriage in Northern Ireland. The good folk at the Love Equality campaign have done great work mobilising the public to speak out for justice.
So what is the reason for the delay? Put simply, it is Theresa May's new best friends – the Democratic Unionist Party.
That's the same DUP who were the prime drivers of the delay in decriminalising homosexuality through Ian Paisley's infamous "Save Ulster from Sodomy" campaign and who now continue to deny LGBT people in Northern Ireland their rights at every possible step of the way.
Specifically, the DUP has consistently abused a procedural device, known as "the petition of concern", to block equal marriage legislation – even when a majority of Assembly members have voted for it.
When it was created, the petition of concern was intended to protect minority communities from legislation that would discriminate or disproportionately affect them. Instead, the DUP has consistently used it to block equality efforts.
Using the petition of concern, 30 members of the Northern Ireland Assembly could block legislation unless it gained 'cross-community assent' from MLAs (Members of the Legislative Assembly) across the traditional divide.
The good news is that there was a breakthrough in this year's Assembly elections when Pat Catney of our sister party, the SDLP, gained a seat from the DUP in Lagan Valley and broke their stranglehold on the legislature with a clear commitment to support equal marriage.
Sadly, due to the ongoing machinations between them and Sinn Fein, the Assembly has not sat since those elections and so Northern Ireland's politics are on hold.
Now is the time for the parties to come together and show they can govern not just for LGBT people but everyone who wants to see a Northern Ireland that embraces the future and stands up for equality, diversity and justice, as those marching on Saturday demanded.
It is worth noting that civil partnerships came in only during a period of direct rule – with every DUP MP voting against them, needless to say . Be in no doubt, the preferred outcome is to see the institutions back up and running and taking these decisions themselves.
But the government should not be afraid to say that if Northern Ireland can't govern itself, then the UK parliament will have to act to ensure equal marriage for all our citizens. This is just one worry about Theresa May's deal with the DUP. We can't have our rights sacrificed simply to keep the Tories in power.
Just as the DUP is unrepresentative of broader public opinion in Northern Ireland on Europe, so too they are on equality. For the first time, the police service of Northern Ireland will take part in Belfast Pride in uniform – a sign of the new era that will also be marked by Leo Varadkar, Ireland's first openly gay taoiseach, attending the event.
I welcome the fact that the Northern Ireland secretary, James Brokenshire, has agreed to fly the rainbow flag this weekend. But it means nothing when the government is in reality waving the white flag of surrender to the DUP.
It is high time for all our citizens to share in the equality we now enjoy, thanks to that first step in England and Wales in 1967 and the further changes made since 1997.
So in our celebrations of 1967, let us not forget the battles still going on within our own country. Fundamental rights in one part of the United Kingdom should exist in all parts and there are Unionists in Northern Ireland who agree. Ulster Unionist Party MLA Steve Aiken recently described marriage equality as a British value.
If the Tories are the nasty party, then the DUP is the really nasty party and it is to Theresa May's shame that she thought they were a suitable partner in government.
Let's hope the whistles and shouts on the streets of Belfast this weekend will echo not just in the ears of Northern Ireland's politicians, but the corridors of Downing Street too. Otherwise LGBT people in Northern Ireland will continue to pay the price for May's dirty deal with the DUP. They deserve the same equality that their brothers and sisters across these islands now enjoy.
Michael Cashman is a founding member of Stonewall and a Labour peer. 
Value our free and unique service?
LabourList has more readers than ever before - but we need your support. Our dedicated coverage of Labour's policies and personalities, internal debates, selections and elections relies on donations from our readers.
If you can support LabourList's unique and free service then please click here.