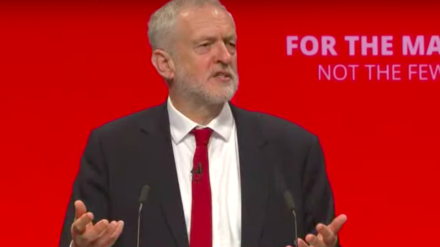 These are extracts from the speech Jeremy Corbyn is due to deliver at the Confederation of British Industry's conference in London today.
We have seen the terms of economic debate shift dramatically. It is a measure of the essential pragmatism of business people that so many have changed their outlook too. Business people across the country have expressed to me a growing awareness – and acceptance – that things need to change. The London Chamber of Commerce recently called for councils to be allowed to borrow freely to build housing.
We all know an economic model that allows a few to grow very rich while the majority face falling incomes and rising indebtedness, that leaves too many people in unfulfilling and insecure work, that is overly reliant on one sector in one region of our country, is neither stable nor sustainable.
And in this Living Wage Week, of all weeks, we have to be clear that Britain needs a pay rise. When too much of household income is going to pay debts or rent then that's less money for consumers to spend on productive businesses. That's why Labour backs a real living wage and sensible controls on rents and debts.
Building an economy for the many will mean making some big changes. But it will also mean an economy that is stronger, fairer and, more productive and more stable, and business people know more than anyone how important that is.
Common ground on Brexit, common ground on investment, training and industrial strategy, and a government that embraces its responsibilities and carries them out for the common good. That's what Labour offers you. That's what Labour offers Britain.
On the "common ground" between many businesses and Labour in the desire for a "jobs-first" Brexit, he is expected to say:
Watching chaos and confusion grow at the heart of government and Brexit negotiations stuck in a stalemate, many of you probably feel that the situation is more uncertain and more precarious than ever. Time is running out.
A few weeks ago, you joined forces with Britain's other major business organisations – the Engineering Employers Federation, the Chamber of Commerce, the Institute of Directors and the Federation of Small Business – to ask the government to heed the needs of business as they negotiate our exit from the European Union.
We agree we need a Brexit that puts jobs and living standards first – it is Labour that has common ground with you on putting the needs of the economy front and centre stage.
We have common ground on the need for transitional arrangements to be agreed immediately, so that businesses know they won't face a cliff-edge Brexit when the two year negotiating period is up.
Because, let me be clear, to delay a transition deal until a final deal is agreed, as the prime minister says she wants to do, is simply not good enough. The prospect of sudden changes in the legal and regulatory environment in which people do business is affecting your decisions right now.
And we have common ground on the threat of "no deal", which, contrary to Secretary of State for International Trade, is potentially a nightmare scenario – one that involves tariffs on our food imports and our manufacturing exports, queues at our ports, and a hard border in Northern Ireland, with all the dangers that could bring.
The fact that some in the cabinet want "no deal" to re-launch Britain as a race-to-the-bottom deregulated tax haven on the shores of Europe only adds to the risks.
And we agree on the need to signal that the UK remains open to the rest of the world – that Europe is not the "enemy," but our partner in a strong cooperative relationship for the future.
Corbyn will call on Philip Hammond, the chancellor, to use his Autumn Budget to "change direction" and spend more on infrastructure.
A bad Brexit deal risks exacerbating existing weaknesses in our economy: low investment, low productivity, low pay.
It couldn't be clearer: our productivity crisis is making our country poorer. The answer to our productivity crisis lies in investment: in infrastructure, in new technologies and in people.
Business investment is being held back by creaking infrastructure and a shortage of skilled workers. So government must take the lead and act first. Yet under the Conservatives, crucial infrastructure investment has been delayed – from rail electrification to the Swansea Tidal Lagoon. The adult skills budget has been slashed. They even went into the election promising to cut schools funding per pupil in real terms.
The chancellor should use his Autumn Budget to change direction, and invest for long-term growth. That is what Labour has already pledged to do with a National Transformation Fund – to upgrade our country's infrastructure and reverse years of under-investment in the regions, investing in transport, energy and digital infrastructure right across the country.
On the need for employers to act on sexual harassment, Jeremy Corbyn will say:
Faced with the ongoing revelations about sexual harassment, we should make this a turning point and a moment of real change. We must no longer allow anyone to be abused in the workplace.
Such abuse, sexism and misogyny, is, sadly, very far from being confined to Hollywood and the corridors of power, but is also widespread in our schools and universities, in our businesses and workplaces, in our newspapers and on our TV screens. It is all around us.
That must change – and business has an essential role to play. All of you need to look hard at yourselves, as we in the Labour Party are doing ourselves, to see how your processes and procedures can be improved, how it can be made easier for women to speak out and for victims to get the support they have a right to expect.
Businesses can have a vital partner in rooting out injustice in the workplace – trade unions. They are crucial to taking on and rooting out sexual harassment and discrimination. And I would encourage each and every business serious about improving your workplace culture and tackling sexual discrimination at work to engage with trade unions.
Value our free and unique service?
LabourList has more readers than ever before - but we need your support. Our dedicated coverage of Labour's policies and personalities, internal debates, selections and elections relies on donations from our readers.
If you can support LabourList's unique and free service then please click here.