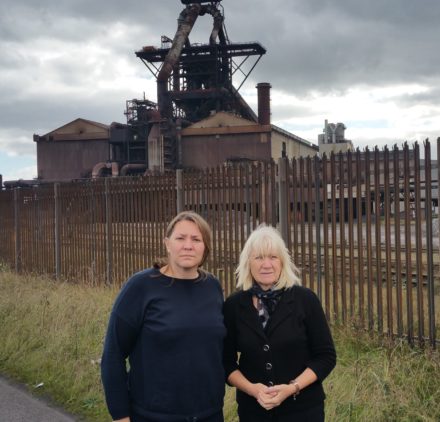 To read the ConservativeHome article penned this week by Simon Clarke, MP for Middlesbrough South and East Cleveland, you might be mistaken for thinking that his government had not been in office for the past eight years. They would like us to believe the election of a Tory mayor for the Tees Valley last May is Year Zero for Teesside, conveniently ignoring the devastation wrought by his party colleagues in the seven years before.
They also fail to acknowledge the work local Labour councils have been doing to drive regeneration and growth. It was Labour who did the spade work to secure Tees Valley's devolution deal. It was Labour who led the SSI Task Force, helping steelworkers to retrain and find new work. It was Labour who pioneered the Mayoral Development Corporation that will bring 20,000 new jobs to the SSI site.
Compare that to what the government has done. Let us start with the devastating decision ministers made to support a hard closure of our steelworks in 2015. It was an act of industrial vandalism, which swept away 3,000 skilled jobs and created an economic shock that has taken out many more. Many families are still struggling to recover, on lower wages, having to travel away to work and with increased personal debt. Local businesses still feel the effects of their customers having less spending power.
The Tories now expect us to be grateful that they are fulfilling their basic legal responsibility to keep a COMAH (Control of Major Accident Hazards) site secure, offering the bare minimum of funding to prevent threat to life. Mothballing the blast furnace until the steel market recovered and keeping the profitable coke ovens going would have cost a fraction of the clean-up bill, as we argued passionately at the time. They are not even prepared to fund the purchase of the site – this is having to be being bankrolled by the five Tees Valley Labour councils.
Our public services have also been decimated under the Tories. Our local councils have lost millions of pounds, forcing them to make staff redundant and scale back the vital public services residents rely on. Redcar & Cleveland alone has lost £67m and over 1,000 jobs. Again it is Labour local government that is responding to this crisis and maintaining services.
The local police force has been cut to the bone, with 500 fewer offices keeping our streets safe and residents being pushed into the arms of private security firms in desperation. It is our Labour Police and Crime Commissioner who, despite having to manage these cuts, has secured a 'good' rating for the force for a second year.
In our NHS, local walk-in centres have closed, GP practises have collapsed under financial pressure, patients are waiting hours for an ambulance and waiting times in A&E have rocketed. Mental health services, especially for children and young people, are under so much pressure that they are being forced to consider staffing cuts when demand has never been higher.
Education has been hit too with schools facing real terms funding cuts despite the promise of protection. Sure Start centres have closed, free school meals have been cut back, and university bursaries scrapped.
More working families have been forced to visit food banks to put a meal on the table, and disabled people have seen vital support withdrawn.
This is the reality that Labour councils are dealing with – battling to maintain key services, protect the vulnerable and deliver growth.
To draw attention to the realities of Tory austerity isn't to talk our area down but to make them take responsibility for the impact of their policies. Instead they would prefer to turn their backs, and only celebrate the good news stories. It's easy for them to point to the green shoots of recovery now when they were responsible for burning the forest to the ground.
In last year's general election Teessiders had their say, voting out the former 'Northern Powerhouse' minister after his abysmal performance standing up for our steel industry. Five of the six parliamentary seats are now held by Labour, and every council in the Tees Valley is Labour-led.
On general election day, people came out in the rain to vote for hope and to vote for change. They spoke loudly that they wanted things to be different. They rejected an economy that has seen food banks flourish and the pay in their pocket shrink. They have had enough of cuts to police, to schools, to the NHS, to local street services. It was Labour who offered the hope that a postcode won't define their chances of getting a job or a decent income for their family. And it is a hard Tory Brexit that threatens the industries on which we rely, from chemicals to manufacturing.
The Tees Valley is proud of its role in helping to build the world in the last two centuries, and is ambitious to achieve a new industrial renaissance. We have not sat idly by, letting austerity take us backwards. We recognise the skills and determination of local people and we want them to benefit from new investment.
There are some great opportunities already taking shape and more on the horizon. With government support for carbon capture and storage, we could be Europe's first clean industrial zone. This would not only create thousands of jobs in a new industry, but also protect existing jobs in industries under pressure to reduce their carbon emissions.
We all want to champion our enormous potential, and we are working locally to deliver new growth. But there is no use burying our heads in the sand over our challenges, or overselling small gains. Optimism for the future is important, but the Tories cannot hide away from the damage done on their watch.
Anna Turley is MP for Redcar and Cllr Sue Jeffrey is leader of Redcar & Cleveland Council.
Value our free and unique service?
LabourList has more readers than ever before - but we need your support. Our dedicated coverage of Labour's policies and personalities, internal debates, selections and elections relies on donations from our readers.
If you can support LabourList's unique and free service then please click here.