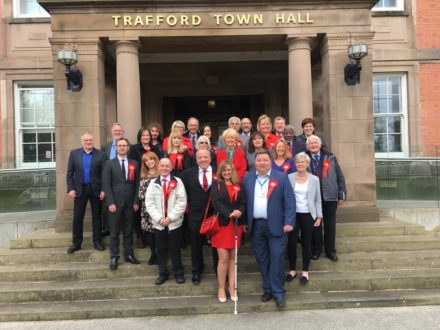 After a fantastic result in May's local elections, this week marked 100 days since the formation of the first Labour administration in Trafford since 2004. Whilst only a minority administration at the moment – determined to finish the job next May – local councillors have hit the ground running to bring about positive change for residents.
We all know how tough things are for councils in difficult financial circumstances and Trafford is no exception. Almost £150m has been stripped from the council's budget since 2010 due to government cuts, with a complicit Tory council locally happy to slash key services and privatise much of what remains. As things stand, we have another £30m to take out of the budget over the next three years but after such a fantastic effort to wrest control of the Tories' northern flagship we are absolutely focused on putting Labour values into practice and improving the lives of local residents.
Winning in May was the result of years of hard work by hundreds of party members in Trafford, with much appreciated support from comrades across the North West in the run up to May too. That hard work wasn't just about getting the Tories out, so I wanted to set out some of what we've been up to in our first 100 days so that members can see the difference a Labour council can make even when there isn't much money to spend. Here is just some of what we've done in a few key areas since May:
Environment:
Committed to phasing out single use plastics in council buildings within two years, and encouraging schools and businesses to follow suit
Increased air quality testing in the borough
Published air quality monitoring statistics on the council's website in the interests of transparency and so these figures are readily available
Created an Executive (cabinet) post with named responsibility for air quality and climate change, recognising the importance of these key issues
Opposed the fast tracking of fracking planning applications in the current national consultation on the subject
Withdrawn a council planning application for green belt development at Turn Moss, and removed council support for Tory plans in the Greater Manchester Spatial Framework to build homes on Flixton's green belt
 Participation, accessibility and transparency
Appointed an Executive Member with responsibility for Equalities, and an Executive Member for Resident Engagement
Made council meetings more accessible to the public by adding a hearing loop to the public gallery
Opened up Health and Wellbeing Board meetings to the public and allowed public questions
Developing proposals to allow questions at all committee meetings in future
Bringing forward plans to webcast not just full Council meetings as currently happens, but all Council committee meetings in future
Reviewing the number of petition signatures required to reduce the threshold at which a petition triggers a council debate by more than 80%
Housing
Established a £1.5m Trafford Council Affordable Housing Fund to deliver social and affordable homes in the borough – with a strong emphasis on social housing and £2m more in the pipeline
Bought a site in Hale (the wealthiest part of the borough) on which we will directly develop affordable housing
Bringing forward a landlord licensing scheme to drive up standards in the private rented sector
Social care and support for the most vulnerable
Developing plans for the reintroduction of council-owned and council-run care homes, all of which were closed under the Tories
Committed to signing the Unison Ethical Care Charter which we will sign by the end of 2018
Launched a consultation on our Council Tax Support Scheme to increase the support provided to those eligible, and treat applications for Universal Credit as an automatic application for Council Tax Support
Establishing a Refugee Readiness Taskforce so that Trafford stands ready to make refugees welcome
Children and young people's services
Reversing the outsourcing of the Council's Youth Service and bringing this back in house to provide a universal youth service to our young people
£50k of funding secured for a careers hub supporting school leavers in some of the most deprived parts of Trafford
Established a Children's Services Scrutiny Committee, scrapped by the Tories previously
Investigating the use of licensing powers to restrict takeaway opening hours within 400m of schools, and promoting the Daily Mile to tackle child obesity
Piloting a project to improve school readiness in areas of deprivation
Taking legal advice on potential judicial review of government funding for SEND, which is woefully insufficient at present
Procurement
Signed up to the Cooperative Party's Modern Slavery Charter
Bringing forward proposals for an Ethical Procurement Strategy looking at issues such as blacklisting, tax arrangements, living wage employment, use of apprentices, and with an overarching focus on supporting local suppliers wherever possible
We've taken action in other areas – this is just a flavour of some of our work so far. There's an awful lot still to do and huge challenges ahead, but I'm incredibly proud to lead a Labour council showing the difference Labour policies can make at a local level. Our first 100 days have been a learning curve, but I'm really excited for what lies ahead.
Andrew Western is leader of Trafford Council and Labour's prospective parliamentary candidate for Altrincham and Sale West.
More from LabourList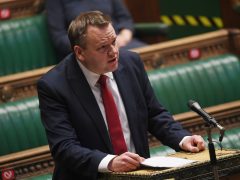 News
Labour's Nick Thomas-Symonds is set to blame the four-week delay to the next step of the Covid unlocking…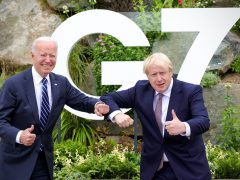 Comment
Boris Johnson and G7 leaders had a chance to save countless lives this weekend by agreeing a comprehensive…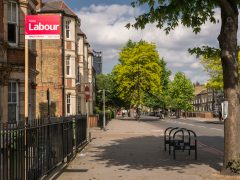 Daily email
Keir Starmer faces another tough by-election on July 1st – and today a new poll has piled on…