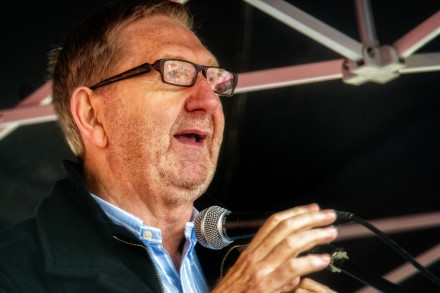 Below is the full text of Len McCluskey's speech to Labour North West conference.
Comrades, it is a pleasure to be here today, at a conference so full of optimism and campaigning spirit. It reflects the new times in our Party – a party that is more united and more confident in its values than for decades – not to mention with more members than all other parties in our country put together.
So it is an honour to bring you greetings from Unite, which is proud to be a key affiliate of our party and a one hundred per cent supporter of our leaders Jeremy Corbyn and John McDonnell. We live in dramatic political times.
Across the world the far right is stirring. Right-wing authoritarian leaders are coming to power and challenging democratic values. They are seeking to benefit from the despair that has gripped so many communities in countries like ours, after ten years of slump and stagnation.
As the right-wing always does, it seeks to channel anger and frustration away from the legitimate targets – the greedy bankers and unscrupulous bosses, and towards the weak and vulnerable. It peddles the politics of hate when people need the politics of hope.
That is where our Labour Party comes in. We offer working people a REAL alternative. Not just the choice between the discredited neo-liberal establishment on the one hand and puffed-up would-be Mussolinis on the other.
We champion the politics of change – radical change. Challenging the status quo which has failed millions, offering a new path for Britain based on public investment, public ownership and renewed public services.
A vision of eliminating inequality, ensuring every family has a home, of rights in the workplace and secure, stable jobs, of an NHS no longer starved of resources. We saw last year how popular our manifesto was, against the miserly, miserable offer from the Tories.
***
Nothing has changed since. For all the talk of an "end to austerity" from the Tories, the squeeze is still on for all except the already well-off. Councils going bankrupt. Police forces on the edge of collapse. Teachers buying school books for the children in their classrooms. Homeless families while flats in luxury blocks are deliberately left empty by their owners.
And we can see this all too clearly in the north-west., which has been hit as hard as anywhere by this government's policies. Look at the delays to the Royal Liverpool hospital – a victim of the contracting-out culture which led to the bankruptcy of Carillion.
I know the government is taking steps to get this project back on track, but let me make it clear that Liverpool's new hospital must be built by directly-employed labour, without blacklists or scams, with proper union representation.
Nor is austerity ending at Cammell Lairds, where nearly 300 workers are facing the sack just before Christmas., in clear breach of commitments given. Given the yard's dependence on government orders, ministers should step in to save these jobs.
And what has happened to the "Northern Powerhouse" and the investment this region desperately needs? Without serious cash to tackle infrastructure and social problems, this looks like cynical Conservative rhetoric.
So none of us should buy the new Tory narrative. It will take more than a few gimmicks by Spreadsheet Phil to convince us that the Conservatives have changed their spots. And we should be grateful to George Osborne for popping up this week to remind us just what we are up against – unrepentant about the suffering he has caused, arrogant and condescending.
The budget we needed would have pumped billions into regenerating left-behind areas, would have offered a real cash injection for the NHS and, if there was still a genuine worry about the public finances, might have raised taxes on the very richest.
Instead, we were warned that austerity might well come back full-blast if there is a no-deal Brexit. As if this was some natural calamity which might befall Britain, rather than something that is absolutely the responsibility of this government.
It is their bungling – and their desperate appeasing of their own hard right wing – that has made a no-deal Brexit even a possibility. I want to say a few words here about how Brexit should be handled by our movement.
First, we must recognise that the British people voted to leave the European Union. We did not want that, but it is how the referendum result went, and democrats have to accept that decision. I was not on the march for a second referendum, although I can understand the feelings and frustrations of many of those who were.
Yes, the Tories are backing the country into a corner. And I agree that we cannot rule out under all circumstances going back to the people if all we are being offered is a disastrous crashing out of Europe without any arrangements at all.
But we cannot go back and ask the 2016 question all over again without shattering the faith of millions in the integrity of our democratic system. That way lies the danger of civil disorder and even more openings for the far right to pose as the people's champions.
The Tories should, however, have recognised at least no later than June 9 last year, when the election results rolled in, that they have no mandate for the sort of hard Brexit their own right-wing fringe dream of.
The last year and a half have been wasted waiting for Theresa may to come to terms with that fact. All the British people – however they voted in 2016 – want a Brexit that protects jobs and defends social standards. Only a few free-market fantasists believe that we actually voted for a race-to-the-bottom in terms of taxes, social services and workers' rights.
Rather than recognise this reality, the Tories have taken the country to the brink. As ever, right from the moment David Cameron called a referendum very few were clamouring for, they have put their own party interests above the nation's future.
Labour's job now is not to seek to speak for the 52 per cent who voted leave, nor for the 48 per cent of Remainers. It is to speak for the overwhelming majority that want a new course for our country, and who can be won to the understanding – if they don't share it already – that Britain can prosper if we act to put our society on a new more equal foundation.
As my friend – our Chair in Unite – Tony Woodhouse has often said – in or out of the EU it doesn't make much difference if the Tories are still in charge here. That is an important truth. It was not the EU that imposed austerity on Britain – our own government did that all for themselves.
On the other hand, Brussels is not going to tackle the utility rip-off merchants, allow us to support our steel industry or take the railways back into public ownership. In fact, following their rules would make all that harder.
Whatever deal Theresa May comes back with is not going to face up to those issues. She is at the mercy of the Rees-Mogg fundamentalists and the Boris Johnson opportunists. Her hesitations are already prejudicing jobs across the country, in manufacturing industry above all. Her agenda is not the close trading relationship with the EU that we need, but keeping the Conservative Party and its bigoted DUP allies in government.
So I can only see it as monumentally unlikely that her deal could possibly attract Labour support. The Tories might try to terrify MPs into backing the plan by the threat of a non-deal exit.
We cannot accept a choice between the disaster of crashing out of the EU on the one hand and accepting a plan that does not protect jobs and secure workers' rights on the other.
So Labour should meet the prospect of no-deal with a simple demand – general election now.
As Jeremy has said – if the Tories can't protect the interests of the country and negotiate a constructive jobs-first Brexit they should make way for a party that can.
***
Earlier this week, I introduced a screening of the new film about the Peterloo massacre, an event local to this region of course. I urge you all to take the opportunity to go and see it.
It is of course about a landmark even in our history, and in the story of British working people's struggles for dignity, freedom and democracy. The film performs a real service in ensuring that Peterloo – the sort of thing the ruling class would like to sweep under history's carpet – remains alive in our memories.
But as I watched the film I had an uncomfortable feeling. This is not just history. I spoke earlier of the resurgence of the right-wing across much of the world. It is now true beyond doubt that we cannot take democracy for granted. Even in Britain, where it has deeper roots than almost anywhere else, there can be no grounds for complacency.
Let us not forget that just two years ago an MP was murdered on our streets. We have politicians like Boris Johnson carefully tweaking prejudice and inflaming division when they can.
We have a government doing what it can to manipulate our electoral processes and procedures to its own advantage, learning lessons from the right in the USA. It is clear that the Atlantic is now barrier to the poison of Trump spreading.
Under these circumstances we have to be true to the spirit and struggle of the Peterloo Martyrs. And mere declarations of virtue are not going to be enough. The lesson of Peterloo was that it was the working class which stood up for democracy.
It was the working class which really powered the fight for the rights which are now enjoyed by all. Without the working class movement there would be no democracy in Britain. No social rights at work and in the community. No equality for women and for ethnic minorities. No National Health Service. No care in old age or support in hard times.
There is more to be done in all these fields of course. But let there be no doubt – without the struggles of the heirs to those who stood their ground at Peterloo we would have little or nothing.
And those heirs are to be found above all in the trade unions, the Labour Party – the united labour movement. Stronger trade unions are the best guarantee of keeping what we have secured over the last 200 years. When the Tories are in power they are the best and often the only defence we have.
When unions are weakened, inequality widens, the welfare state is degraded, the workplace becomes a workhouse, democracy risks being hollowed out and the vulnerable are at the mercy of the powerful every days of their lives.
And of course a Labour government is the vehicle not just for sustaining what we have achieved but for building on it further. Not just for building a world-class health service once more. Not just for restoring the public realm, or righting the balance between the community and individualism. But for creating the real democracy, of the sort for which the Peterloo martyrs fell.
One where working people have control over their lives at work and in society, and enjoy rights which are secure because they rest not on favours from on high but on our own organised power.
In all my 47 years in our party, that society has never seemed to be so closely within reach. Comrades, let us not let this historic chance to vindicate our past and grasp our future slip. Let's unite behind our leaders, defeat the Tories, put Jeremy Corbyn in Downing Street and open the path towards socialism.
More from LabourList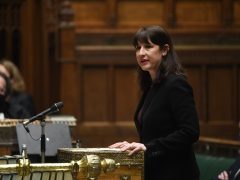 News
Labour has urged the government to close a "major tax loophole" in the windfall tax ahead of a…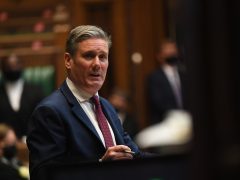 News
The Labour Party is preparing to make several significant policy interventions on the economy to combat the rapidly…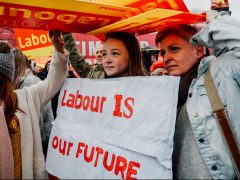 Comment
This summer marks the rebirth of a national Labour students organisation. Its predecessor, marred by factionalism and disagreement,…