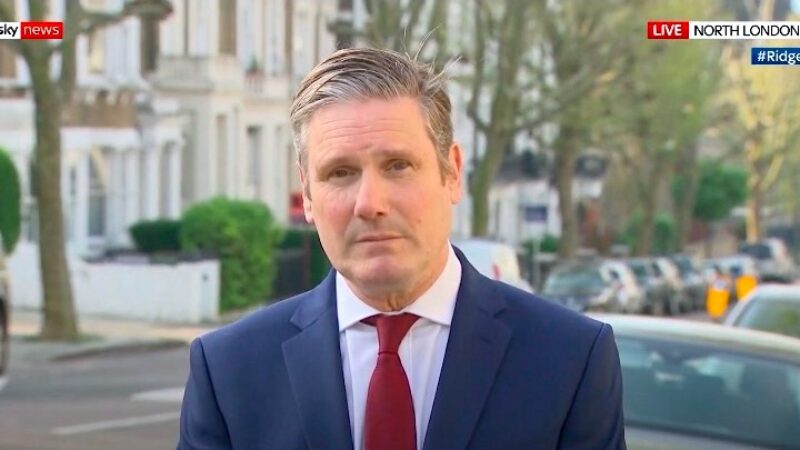 Ridge on Sunday
New Labour leader Keir Starmer said there was a "mismatch" between what the government and frontline health workers have said about the supply of personal protective equipment. He also called for parliament to be recalled as soon as possible. But he acknowledged that he was "trying to resist calls for apologies or criticising past decisions".
On the high figures recorded over the weekend in relation to the number of Covid-19 deaths: "The whole nation desperately wants those figures to go down."
On support for the government: "Whatever measures are necessary now for the government to take… to get those figures down, we will support it."
Asked if the government acted quickly enough: "There are questions about whether the government was too slow, but now is not the time for those. The national effort has to be about reducing those numbers."
On parliament being recalled: "It is very important at a time like this that parliament is sitting… Parliament must be recalled as soon as possible."
He added: "The sooner we can scrutinise decisions the better. You've seen just this weekend a real issue about protective equipment, with the government saying one thing and the frontline saying another."
On this lack of PPE: "The Health Secretary said on Friday that there was enough equipment, the frontline says otherwise. There's a mismatch and that's the sort of thing that parliament needs to pursue… we need accountability in this."
Asked if the government should apologise: "It would be smart of the government to acknowledge that their ambition for the equipment to be where it should be… isn't being matched and probably just to apologise for that."
But he added: "I'm trying to resist calls for apologies or criticising past decisions. What we need is: what's the problem, where are the real issues, and what can we do to fix it?"
On what he is changing about Labour as leader: "The first thing I did was to be absolutely clear about things like antisemitism. And that's why I issued an apology in my acceptance speech, the first opportunity that I had, to our Jewish communities."
On the shadow cabinet appointments: "I put together a very talented, diverse shadow cabinet from across the whole of the UK to demonstrate that we've got the strength and talent in depth across the Labour Party to take this forward."
On whether Corbynism is dead: "I've never accepted these labels, based on an individual… What I say to my top team now is: don't look to the past for people to cling to."
Asked about Alan Johnson's comments last week about the need to purge Momentum: "I want to hear all the voices in the Labour Party… I will talk to everybody within our party."
On the aftermath of Covid-19: "We can't go out every Thursday and clap for our key workers who are keeping us going in this period and then at the end of this return to business as usual."
Asked whether taxes would need to be increased after the crisis: "We may well have to raise taxes, of course, but you're asking a question that nobody can realistically answer. We don't yet know what the damage to the economy is going to be."
Business Secretary Alok Sharma also appeared on the show this morning. He refused to apologise to health and care workers for the shortfall in personal protective equipment.
The Andrew Marr Show
Lisa Nandy, who unsuccessfully ran for the leadership but was appointed Shadow Foreign Secretary, talked about the coronavirus response. Her comments were in line with Starmer's approach of not highlighting past failures of the government and instead emphasising support for government measures during the crisis.
She called for more funding for charities, and for an interim Foreign Secretary to be appointed while Dominic Raab is deputising for the Prime Minister. She confirmed that Labour would support a further five-month lockdown if the government said it was necessary.
Asked whether the government handling of coronavirus is still a "shambles" as she told Marr last month, Nandy noted that the daily press conferences began after her criticisms of their approach to communications, adding: "It's really, really important that we continue to make sure that we get clear advice out to the public."
On whether the UK was too slow to lockdown and to test: "To be fair to the government, this is quite unprecedented for Britain. We're a country that has always taken civil liberties very seriously… But I think it's also right to acknowledge that there have been areas where we haven't been able to act quickly enough… We were in quite a weakened state as a country."
On the funding of public services and the financial insecurity of families, she added: "All of these things are questions for later. They're important questions. Labour is determined that we answer them. But at the moment we're really, really focused on supporting the government in order to get through this."
Asked for reflections on how long the lockdown goes on: "We're all worried about this, and people are worried about the financial impact. There's a real problem with that, and people just getting to the point where they feel it's very hard to go on. There's also the flip-side of this, which is that people aren't in lockdown. I have constituents who are working going into work and are very worried about the implications of that."
She added: "I think what the government needs to do is set out its strategy to get us out of the lockdown. This may change, they may revise it as the science changes… But public confidence is everything. You have to be as open and transparent as possible."
Asked whether Labour would support the lockdown enduring for another five months: "We'd be led by the science. The key thing here is to save lives… But we'd also be calling for more measures in place to protect people during that period."
Nandy called for more funding for charities to support older people in particular.
On the PM being ill, Nandy said she understood that Dominic Raab was deputising, but added: "My big concern about that is twofold. Firstly that parliament is not sitting. So there is very little ability to scrutinise the government… Secondly, this is a global crisis and we need a Foreign Secretary and we need to make sure we're in the room when we're formulating a response to it."
Nandy urged the government to name an interim replacement for Raab as Foreign Secretary.
On Rishi Sunak spending 16% of our GDP on our business rescue plan, she welcomed the action but added: "Those schemes currently aren't working quickly enough or comprehensively enough for people and businesses."
On the implications of the crisis for what the UK should look like post-crisis: "It means better funding of our public services, far more support for our workers on the frontline, far more listening to our workers on the frontline… I think we need a global response as well. What we've seen in the last few years is Britain take a profoundly isolationist turn, and we're seeing the very many pitfalls of that now."
More from LabourList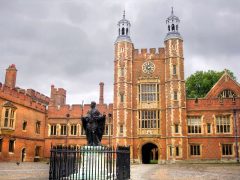 Daily email
No turn? Good morning. The i reported last night that Labour would ditch plans to remove charitable status from…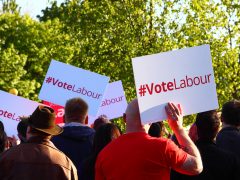 News
This year's Labour Party conference in Liverpool is one of the most hotly anticipated yet under Keir Starmer's…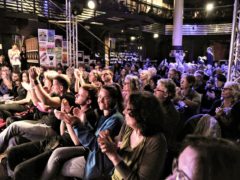 Comment
The rollback of Labour Party democracy continued this week with activists and unions now blocked from using conference…