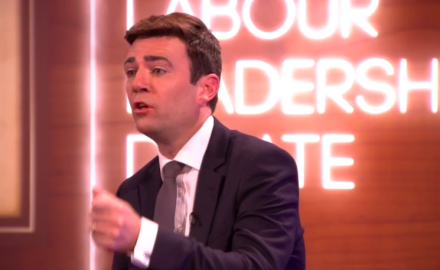 UCATT became the first trade union to have endorsed a first preference vote for Andy Burnham today. The construction union, which has around 85,000 members, said they were particularly impressed by the Shadow Health Secretary's plan for housebuilding.
They also endorsed Angela Eagle for deputy, and suggested Tom Watson be given second preferences. The decision were made by UCATT's executive committee following interview with all the candidates.
Brian Rye, UCATT National Secretary of UCATT, said:
"UCATT have chosen Andy Burnham as he can lead the Labour Party, understands the concerns of workers and has all the credentials to be Prime Minister." "UCATT is particularly impressed by Burnham's policies on housebuilding, vastly increasing the number of genuine apprenticeships and insuring that wage rates in industries such as construction are not undercut."
Unite has previously endorsed second preference voting for Burnham, but the introduction of left winger Jeremy Corbyn into the race has seen him pick up most official union support.
Of their nomination of Eagle, Rye said: "Angela Eagle has the experience, knowledge and maturity to make an excellent Deputy Leader. She is respected and liked throughout the Labour Movement."