By Luciana Berger / @lucianaberger
In 1997 I wasn't quite old enough to vote. I didn't get to put a cross in the Labour box. I'm of a generation whose entire adult life has been under Labour. The Labour Youth Conference is an apt time to look for some fresh, new ideas that are relevant to younger members of our society. This is also a time to reflect on what has been achieved, what it was like pre '97 under Tory rule, how our country has been transformed and why we need to talk about it more often and louder.
We don't remember the bad times as much, because we were children and teenagers. We have enjoyed the good times and take them as the status quo. But I do remember how miserable people were. How our country was run by a Government which deliberately abused unemployment as an economic tool during a decade of economic difficulty, which saw up to 5 million people out of work and a society which was racist, sexist, homophobic and skewed against the poorest people. It was in 1996 that the head teacher of my local school remembers having to decide which teaching positions to "consolidate" while the roof leaked. So much has changed since then. We now have unrivalled investment with the Building Schools for the Future programme, which sees children learning in modern, bright environments and teaching staff better paid and better resourced than they have been for generations. Because, as progressives, we believe in providing good education for the many, not the privileged few.
I've been to many party conferences and sat through many video presentations of the previous year's achievements, in advance of the Leader's Speech. Although sometimes cheesy, it's always been a bit of conference I've liked. Not (just) for D:Ream's "Things can only get better" theme tune, but for the reminder of all Labour's successes.
But our collective memory can be so short. I'm not oblivious to some of the challenges of the past eleven years; it hasn't been without some ups and downs; and now we're in the middle of a difficult downturn. But let's never forget – in fact, let's keep reminding ourselves and our communities – that despite David Cameron and his Tory party consistently voting over the past twelve years against progressive policy after progressive policy, women and carers do have the right to request flexible working, the balance of tax redistribution has returned from rich to poor, parents – of both sexes – have more rights and better provision; in the workplace, people have literally dozens of new rights; working families are supported by the tax system rather than penalised. And the list, the Labour list, goes on.
All too often we bank success like it's the norm, while dwelling on the mistakes, the problems, the bad. But it's the Labour party who moved the goal posts. It's the Labour party who introduced a national minimum wage, Children's Centres, civil partnerships. And not only can the Tories not take that back, they can never erase the shameful role they played in trying to stop it. During the committee stage of the civil partnerships bill, one Tory MP called a vote, and voted against, on every single clause "on principle". His is the real face of the Conservative party.
From the minimum wage onwards, the Tories have opposed every major social and socio-economic reform. They cloak themselves now in the rhetoric of social justice, but beneath that disguise they stand for the same things they always have: status quo, land, property, privilege, nation state; the few, not the many; the haves at the expense of the have nots. That's literally what being a Conservative means. It always has and still does. No amount of hoody-hugging weekend PR stunts in social housing projects can change that.
Let's stop apologising and get off the back foot. Let's Go Fourth with pride and start reminding people that it's the Labour government who has transformed the UK from a "me, me, me" to an "us, us, us" nation we can be proud of.
More from LabourList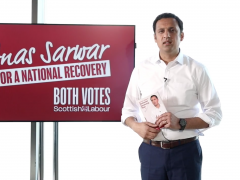 News
Scottish Labour leader Anas Sarwar has warned the 'Progressive Britain' conference today that his party's performance on May…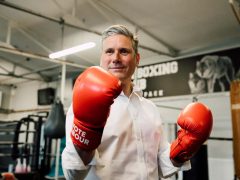 News
Keir Starmer has declared that Labour must "change our party to change Britain" and made the case that…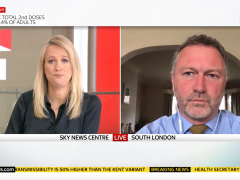 Video
Sophy Ridge on Sunday Shadow Communities and Local Government Secretary Steve Reed backed the easing of Covid restrictions…