By Rupa Huq
When New Labour came to power it was middle England that was said to dictate who won. This time round it's likely to be those areas seen as, well, a little naff, on the edges if our cities: the suburbs. If the 300+ strong packed-to-the rafters meeting I attended last night at Ealing Town Hall is anything to go by, suburbanites are not impressed by the Tories and we stand a fighting chance there.
Yesterday's shindig was organised by Save Ealing's Centre, a pressure group of local residents' associations in the borough once known as "queen of the suburbs" but now suffering creeping dilapidation under a Tory administration since 2006.
The meeting had an election rally type significance. Labour, Conservative and Lib Dem General Election candidates gathered from the new Ealing Central and Acton seat, which is theoretically a three way marginal, although on the evidence of the European and Mayoral elections, it looks like Labour may be ahead and the Lib Dems imploded. The Green candidate, who'd lost her voice, sent an emissiary to read a statement that seemed contrary to what everyone wanted, i.e., "no more shops".
Some observations then:
1. The Ashcroft-funded Angie Bray seemed a jolly hockey sticks type who deferred to Councillor David Millican alongside her on the platform on just about everything. Understandable, as she lives in Chiswick.
2. There was a very "anti-developer" vibe in the room. The chair, News 24's Stephen Sackur rephrased one question as "it seems the developers are a fat puppy and Ealing Council are prepared to let it roll over and say 'tickle me'."
3. Lib Dems seem to contradict themselves on everything, well brought out by the Forensic Sackur.
4. Labour's Bassam Mafouz and group leader Julian Bell did well to expose the difference between what Angie Bray was saying and what Boris has actually done.
The biggest jeer of the night was directed at the Tory council, when my fellow council candidate Wiktor Moszczynski asked for an assurance that they would block all future high rise development – an assurance they wouldn't give. I also got a laugh for pointing out that on the day that Poundland declared itself as the "winner" of the recession, with a new store opening per week, the one in west Ealing had closed down. Boris might think he's got the suburbs sewn up, but last night told a very different story – I got the sense that the suburbs are, well, revolting!
Anyway to follow all this up further I'd like to invite every LabourList reader over to Ealing and more specifically Walpole ward, where I am a candidate, on Saturday. It's one we need to win back after the '06 debacle in which Labour lost the council. Details of our mass canvass are at the inevitable Facebook group.
Finally, seeing as I didn't take a camera along last night, instead here's a photo of Hilary Benn (current Ealing borough resident and Walpole councillor 1979 – '99) with myself and the other two advising us on campaign tactics. I can't promise he'll be there on Saturday as his constituency is in Leeds, but a lot of other interesting people will.
For more details on our campaign, please e-mail [email protected] or telephone Paul Conlan on 07808 930917. And join our Facebook group here.
More from LabourList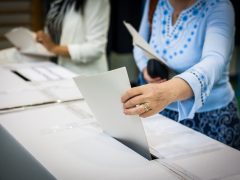 Comment
Labour Party conference looks set to debate and adopt a commitment to introducing proportional representation (PR). This is…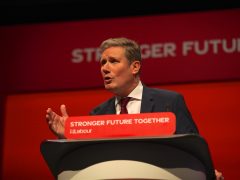 Comment
As Labour leaders always do, Keir Starmer faces two audiences at Labour's conference in Liverpool: the one that's…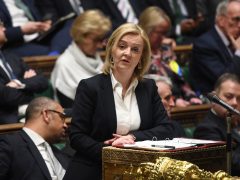 Daily email
The 'mini-Budget' was an unfiltered and shocking act of class war. Kwasi Kwarteng went out yesterday to bat…