The forthcoming Scottish referendum on independence has thrown up a new angle on the debate over Trident replacement. The home of Britain's Vanguard submarines is the Faslane naval base west of Glasgowand the Royal Armaments Depot that stores the submarines Trident nuclear warheads is a few miles away at Coulport.
Should Scotland choose independence in a referendum, an SNP administration would force the Ministry of Defence to seek a new base for Trident south of the border in England or Wales.  This would take years to develop at an unknown cost. That is if a site can be found at all. A new report argues it would be more difficult to switch now to one of the alternative sites that were discounted back in 1963, when the government chose Faslane. If the Ministry of Defence has done more research in recent years, it hasn't said so. Could a Labour Government afford to build a new submarine base and armaments depot inEngland? Anyway, aside from the referendum result, Labour has some real thinking to do.
The independence issue is only one of a number of reasons to question Trident, as the former Labour Chief Whip Nick Brown raised in a defence debate last week, when he said "The arguments, which were never that strong, are now moving away from Trident renewal."
Nick Brown is right, raising the obvious economic question: do we continue to support other defence and public spending cuts – and of course the tuition fee hikes he specifically noted – when billions are spent on Trident? With the main decision on building the new submarines due in 2016, could a new Strategic Defence and Security Review following an election in 2015 be the opportunity to change course?
Before Christmas there was growing disquiet from MPs when the MoD announced it had no plans to publish the Trident Alternatives Review – the Cabinet Office review ordered to fulfil the agreement in the coalition agreement that Lib Dems could continue to argue for alternatives. The terms of the review are narrow, they don't challenge nuclear weapons, more the delivery system and its costs.  But Lib Dem unease within the coalition over Trident is now coupled with consideration of the implications of Scottish independence. Meanwhile any discussion about public spending always raises the question why spend billions on Trident rather than our public services? Opposition to Trident is going to have a loud airing in the next few months and years, and Labour needs a policy for the manifesto.
Jim Murphy has himself stated that Labour's defence policy review covering Trident is "parked until we see what the government's evidence" in the Trident Alternatives Review and that he is "really not wedded" to a particular weapon system.  Whilst he is clearly committed to maintaining some sort of nuclear weapon system, this is something of a change of emphasis, and is a more flexible approach to the policy area than the traditional position of the Labour right which has been to close down debate on nuclear weapons by simply assiduously confirming that Labour is as committed as the Tories to nuclear weapons. Cheerleaders for nuclear weapons need to demonstrate the public want to keep Trident, as the polling suggests otherwise.  Ed Miliband clearly has an open mind: during the leadership election he said a defence review "should look at the totality of our conventional and nuclear capabilities, considering both our defence needs and what our priorities are in the changing economic climate. Defence should not be exempted from the tough spending choices we need to face." Since being elected, although his public comments have only been occasional they have confirmed that open minded approach to the policy area – notably welcoming the Trident Review at last year's Labour Party Conference.
Whilst they are saying different things, whether it is Nick Brown's backbench intervention, Ed Miliband welcoming the Trident Review or Jim Murphy waiting for Nick Harvey to report, Labour is adopting a more open-minded approach to Trident. The previousWestminsterconsensus on Trident – that it is a non-negotiable facet of the politics of the centre ground – is dead.
Daniel Blaney is the Vice Chair of CND
More from LabourList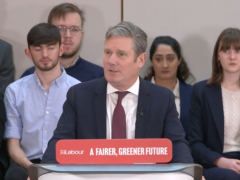 Comment
Below is the full text of the speech delivered by Labour leader Keir Starmer at the launch of…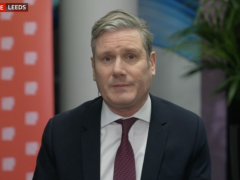 Video
Keir Starmer has said that NHS workers find the claims made by Matt Hancock in an excerpt of…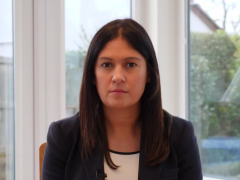 News
Lisa Nandy has described the House of Lords as "unelected and unaccountable to the public" and argued that…