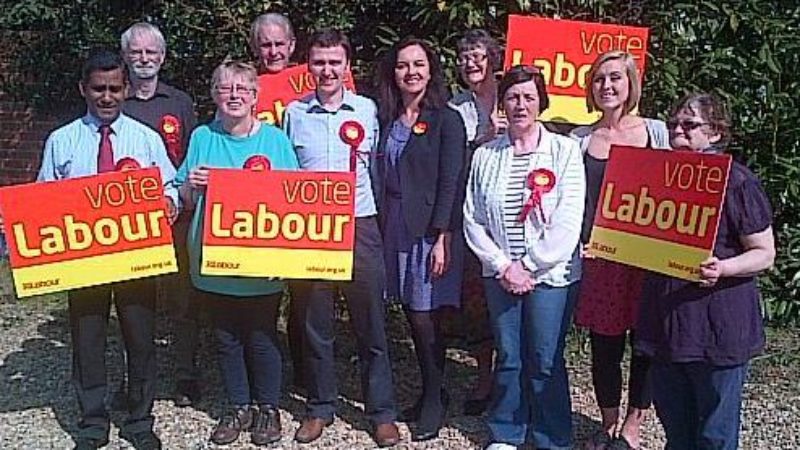 My tour of the south continues in Cambridge for the regional launch of Labour's Action Plan for Family Budgets.  I do an interview for Look East in Cambridge Market in which I am able to talk about some of the action Labour would take to support families, including our team's policy of putting the over 75's on the cheapest energy tariff.  Next stop Arbury with Daniel Zeichner, Cllr Paul Sales and Cambridge Labour on the doorstep.  A neighbourhood traditionally white with a growing Bangladeshi community.  The Labour Councillors have a good reputation and are known by residents I meet which is always good to hear.   As with any household we need to ensure that we speak to each voter and not take the person we see and what they say as proof they all vote one way. This is brought home to me when I am told by one resident all the household vote Labour, but it clearly isn't the case when I manage to speak to some of them individually.
David, from the Eastern Regional office, drives me over to Milton Keynes.  It is a lovely day and as we pass green fields and canals I am almost sold on a barge holiday by the time we arrive.  Andrew Pakes is Labour's PPC for Milton Keynes South and works closely with our DECC team as he is Mary Creagh's political adviser covering DEFRA. The local Labour Party in Milton Keynes are lucky to own such a god building, left as a legacy from a strong supporter. Unlike some labour properties it is in good nick and fit for purpose.  It even boasts off-street car parking and a garden which reaches to a water's edge, ideal for a summer barbeque or garden party.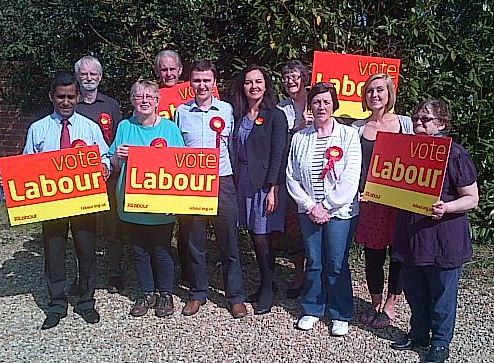 Rae Martin-Smith is the South East Organiser based here and she is great.  Milton Keynes Labour Party is very lucky to have her.  After photos with council candidates we hit the doorstep in Stantonbury with our candidate in this year's elections Margaret Burke. Margaret has been a community activist for some time and also runs a wildlife hospital and as you can imagine is very well known.  Relatively new to the Labour Party she has taken to knocking on doors like a duck to water. Out in groups but also alone, Margaret is clocking up her target vote.  She is an inspiration to those who avoid the doorstep.
I love the doorstep you never know what you will find.  I meet one lady who tells me about how she was waiting to fill her car with petrol and saw the prices at the Tesco in Wolverton go up in front of her.  She was so annoyed she wanted to do something about it.  Andrew contacted the local press and by the time we finished canvassing an interview had been arranged.
Later in the sunshine Andrew and I visit the United Sustainable Energy Agency at the National Energy Centre, where Brian White, the former MP for North East Milton Keynes, is a trustee. The USEA is a not-for-profit organisation which helps families and businesses to reduce their energy consumption. Like many organisations I've met, while they want the Green Deal to help householders cut their energy use, they are concerned that important parts of the scheme are still yet to be finalised. Their points chime with the arguments Luciana Berger and I have been making to the Government. So far they seem to have fallen on deaf ears. The Minister Greg Barker accuses anyone who raises concerns about the Green Deal as scaremongering, when in reality, we're only listening to what local firms and organisations around the country are telling us, and trying to get a scheme that works for the public.
After the visit, we have some downtime at Rae's place before a fundraising curry at Mohammed Khan's restaurant.  Earlier in the day Mohammed, a keen canvasser, was out with us in Margaret's Ward.  He is standing in his own ward but he's only too willing to come and help where it's most needed.
During the course of the day, I have been fielding calls from the office about Newsnight wanting me on to discuss the decision by Eon and RWE to pull out of nuclear in the UK. Some hasty rearrangement sees me reorganising my schedule, rebooking trains and rearranging a constituency event in the morning as I will need to stay in London overnight rather than heading home to Doncaster. My office spends the afternoon getting the latest information on what is happening. Just before leaving for dinner though, the office ring to say that Newsnight have changed their mind only want academics and environmentalists for the item. This is not an unusual event for Labour politicians. Back to Plan A. On the upside, I get more time at the dinner, where the food is delicious, and after three hectic days on the campaign trail, I will be going home to Doncaster tonight. No chance of a rest though – James, my political adviser, has got me up in the morning to discuss the latest twist in the Government's fuel fiasco on Daybreak.
Before my speech at dinner, I welcome the party of three who thought they were out for a quiet midweek curry.  They seemed to enjoy the speech and the jokes, which only the two party members who attended the South East Conference and Rae would have heard before.  Photos are taken with candidates, as well as one for their restaurant, which sees me joining Harriet Harman on their wall of fame.
A party member kindly drives me to Peterborough where I pick up the Doncaster train.  I arrive home near midnight – exhausted so it's straight to bed.  I have a film crew in the garden at 06:30.
Caroline Flint MP is Labour's Regional Champion for the south-east
More from LabourList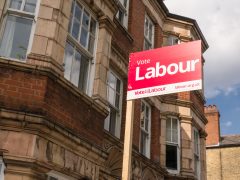 Comment
A decade ago, the writer Julian Baggini used demographic data to pinpoint the heart of England, before moving…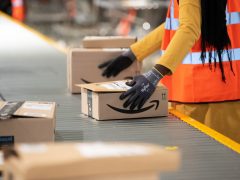 Comment
Our brilliant NHS and GP staff, scientists, lab technicians, nurses and volunteers are giving the whole country some…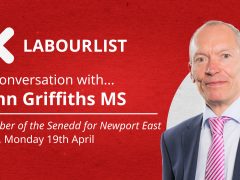 Video
Join us at 5pm on Monday, April 19th, for our latest 'In conversation with…' online event with LabourList…