03.24: You're probably all asleep now (or you should be) as I'm wrapping up the liveblog for tonight. I'm off to write up what this by-election means now (which I'll be posting in a few hours, along with a short interview from tonight with John O'Farrell).
Thanks for sticking with the liveblog for what was certainly an…eventful…evening. Goodnight (and here's the final result):
Mike Thornton (LD) 13,342 (32.06%, -14.48%)
Diane James (UKIP) 11,571 (27.80%, +24.20%)
Maria Hutchings (C) 10,559 (25.37%, -13.96%)
John O'Farrell (Lab) 4,088 (9.82%, +0.22%)
Danny Stupple (Ind) 768 (1.85%, +1.56%)
Dr Iain Maclennan (NHA) 392 (0.94%)
Ray Hall (Beer) 235 (0.56%)
Kevin Milburn (Christian) 163 (0.39%)
Howling Laud Hope (Loony) 136 (0.33%)
Jim Duggan (Peace) 128 (0.31%)
David Bishop (Elvis) 72 (0.17%)
Michael Walters (Eng Dem) 70 (0.17%, -0.30%)
Daz Procter (TUSC) 62 (0.15%)
Colin Bex (Wessex Reg) 30 (0.07%)
02.47: Absolutely bizarre scenes at the end of the night as Maria Hutchings is bundled out of the count by Tory bouncers who were tryong to keep her away from the media. A huge photographer scrum ensued (below). New MP Mike Thornton was left standing on his own on the stage with just a single photographer for company….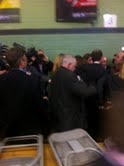 02.36: The Loony Party candidate is singing Mac The Knife
02.34: All of the candidates are getting a speech, but they're getting diminshing returns, as the hall is being packed up!
02.32: There's barely a Tory left in the hall now….
02.20: Not a single cheer for the Tory total. They are distraught…
02.18: Looks like Labour got 4088- that's 9.8%. Up 0.2%
02.11: Moments from a result now…
02.03: You all think I'm playing for time right now, because there's no news from Eastleigh, right? Well that's true. Alas, we called the result ages ago and were (perhaps) the first to do so. BUt I do have (non Eastleigh) news for political anoraks. And if you're reading this…you're an anorak. So…
Labour won a council by-election in Wirral West tonight – a marginal held by Tory Minister Esther McVey. The ward (Penby) was won by Labour with a majority of nearly 600 votes. Nice to see we won something tonight…
01.55: Twitter and an amusing number of texts suggest that I've been glaring at Nigel Farage and Diane James the UKIP candidate. Not intentionally, dear friends. But what can I say? I have a face that can't hide its emotions…02.00: I'm definitely coming to more by-election counts in future…the aimless milling about is far more fun in real life than it is on TV…
01.50: Not much of a cheers for Maria Hutchings when she came is was there? I just spotted a Tory press officer having to stop her from giving a TV interview. Both she and the Tory campaign staff look exhausted…
01.38: The Lib Dems sat behind me at the count are talking about how important it is to bombarb people with multiple leaflets even if it annoys them. Their campaign strategy – same as it ever was…
1.34: And now O'Farrell is here. Loud and well organised cheers from the Labour supporters. Here's a slightly trippy pic I managed to get:
1.23: Cheer's for UKIP's candidate nearly as loud as those for the Lib Dem (is it bad that I can't remember the new MP's name? Mike something…).
1.21: I will save the blushes of the senior Lib Dem who said to me, in reference to their candidate being a bit less exciting than they might be "You can't always Lembit Opik's all of the time"
1.18: There was a brief corex board war there between the Lib Dems and UKIP – won convincingly by the Lib Dems. Their candidate is in the hall now and they know they've won this. The Tories look inconsolable.
00.58: I have wrested my seat back from Neil Hamilton…
00.32: John Denham is here for Labour. Tim Farron is here for the Lib Dems. But I haven't seen a single senior Tory here so far…
00.28: Official turnout is 52.8%
00.25: Bloody hell, Neil Hamilton is here, and I've just lost my seat to him. Never thought I'd say that…
00.22: Things are still a bit quiet, but the Tories don't look very happy – what do you think?
00.12: Ok, so we're now at the point when every party has completed the "sampling" process. And based on what we're hearing, Labour expect the Lib Dems to win, with UKIP second. Now that's only based on the sampling – I can't stress that enough. But Labour's sampling for by-elections has been good in the past. Although until the turnout figure is released (which is happening now, I think) we won't really know how accurate the sampling is.
00.10: This liveblog started in February, it's now March…
00.06: Some spectacular hyperbole from Tim Farron here – he says if the Lib Dems win (even on a coin toss) would be an unspeakable triumph. You've got to admire chutzpah like that…
23.55: Just had a very interesting chat with a few people from UKIP, who seem to think Labour's vote has held up better and that's squeezing the Lib Dems. Now if they are right AND Labour are right that the Lib Dems are only just ahead of the Tories – could the unthinkable happen and UKIP win the seat? Surely not…but 1-2-3 may be close run things.
23.53: Just went away for a quick wander and picked up a few interesting things on the floor of the hall…
23.38: A very credible Labour source tells me that UKIP could be as little as 2% behind the Lib Dems….
23.30: John Denham is up soon on 5live. He is of course the MP for Southampton ITCHEN not TEST (see 23.04)
23.22: It's not just the Tories who need to take the UKIP vote seriously – all parties need to. But it's clearly not just about individual policies, it's also due to a quite accurate sense that politics and politicians are too distant from the lives of ordinary people. There's anger in the country, for whatever reason UKIP seem to be channeling a great deal of that.
23.16: Tory Jo-Anne Nadler just said on 5live that there would be no way of spinning a Tory 3rd place. That's right, but to be honest, that shouldn't obscure the fact that coming 2nd would be pretty hard for Cameron to spin.
23.04: Lib Dem Evan Harris quite fairly brought up Labour's 2nd place in the 1994 Eastleigh by-election on 5live a few moments ago. It's not an accurate comparison with tonight though – because the seat boundaries have changed (many Labour voters in that seat are now in John Denham's Southampton Test seat. There are other reasons, but that's by far the most significant.
23.03: Brace yourselves for a looooong night. We're hearing the result might not be announced until 4am
22.59: The other guests on 5live are unsurprisingly trying to dump on Labour – obviously we need to win in the South, but Labour's route to government will need to go through places like Thurrock and Reading…not Eastleigh…
22.54: There's a real quandry for all Tories if the UKIP vote has surged here and cost them the seat. The Tory Right can't argue in favour of UKIP-lite candidates, as Maria Hutchings is exactly such a candidate. But Cameron has still – presumably – lost a seat that's on his target seat list…
22.46: As I said on 5live a moment ago – the only party with the real smiles on their faces tonight are UKIP. Their supporters think they're going to see something special tonight.
22.40: As well as liveblogging tonight, I'm also on the Stephen Nolan show on 5live. You can listen by clicking here.
22.37: Want to keep canvassers away from your doorstep? One Eastleigh voter had a unique "loony" method:
22.33: Interestingly, the foodbank in Eastleigh was closed last week. They ran out of food…
22.18: We're unlikely to have much information in the next half an hour, so here's some things I've learned while I've been in Eastleigh today…
22.16: That said, the Tories came 5th in Rotherham and 4th in Middlesbrough and no-one batted an eyelid…
22.10: A couple of weeks ago I mused on the idea that Labour could cause an "upset" on the South Coast. For me, that wouldn't have been winning the seat – that was never on the cards, but I hoped the party might achieve a strong third place or perhaps even squeak second. But any such optimism soon drifted away as soon as it became clear that Labour were facing an almighty 2 way squeeze (and eventually, a 3 way squeeze). 4th will be a disappointment though.
22.04: The percentage of the vote that Labour got in 2010 was 9.6%. So anything over and above that will have seen an increase in the Labour vote (but that's only small consolation if the party come 4th).
21.58: Call this a hunch, but I'm pretty sure Labour are going to be coming 4th in Eastleigh this evening. The feeling in the counting hall is that the Lib Dems are going to hold onto the seat, but the real interest is likely to be who comes second. It's probably going to be the Tories – but it could be UKIP…watch this space….
21.55: And to erm….reward…those of you who are here early – here's a photo of the counting hall:
21.50: Evening everyone. As usual for by-election results there's a LabourList liveblog. You didn't think we'd miss this one did you? And as a special treat, I'm live at the count this evening. As well as liveblogging all of the latest news from the count, I'll also be appearing on the Stephen Nolan show intermittently between 10.30pm and 1pm.
More from LabourList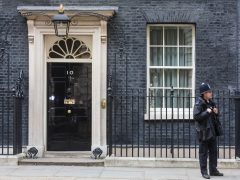 Comment
Low-paid cleaners in East London came together in 2001 with their churches, mosques and community institutions and began…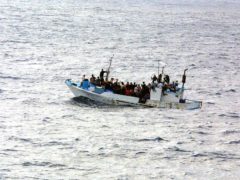 News
Civil service union leader Mark Serwotka has said union members are "sick of clearing up the mess" caused…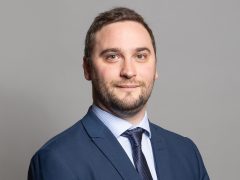 News
Former Conservative MP Christian Wakeford, who defected from the Tory Party earlier this year, has joined Labour's frontbench…