Losing an election should always make us re-examine our policy positions, to understand if and how the country's needs and concerns have changed, and why our solutions didn't strike a chord. There are no easy solutions to the problems Britain has faced since the global financial crisis, so it is exciting to see that the party is actively listening to voters, members and experts in shaping the next manifesto.
While the One Nation policy seminars that have been taking place could be more widely promoted, those I have attended have been interesting and stimulating. They have explored big issues such as one of my particular concerns, contributory welfare, in detail, and demonstrated a thoughtful, considered approach as to how Labour should express its values.
However I've become concerned that not all the seminars have had women on the panels, and I have noticed that of those coming up, even where women are featured, they are mostly in the minority. Fabian Women's Network has been campaigning against all-male panels for a while, and it's been great to see support for this growing in recent weeks, particularly amongst think tanks. Diversity of experience and perspective as well as opinion should be valued, and understanding how policy affects and appeals to women differently – and shaping policy accordingly – is key to winning in 2015. Selecting panels that only feature (generally white, able-bodied) men – from the Westminster village or academia means that those issues that most immediately affect women are likely to be overlooked. Assuming that most 'thinkers' are white middle class men overlooks a wealth of talent amongst politicians, researchers and campaigners.
Women and men are often affected differently by policy. Excluding a specific gendered focus, and omitting the voices of those worst affected by the status quo, can have serious consequences for women's lives. Pension policy, being discussed at an ON event with an all-male panel next week illustrates why this is important.
In September 2010 only 48% of women pensioners got a full state pension compared to 87% of men. Women generally have smaller private pensions and the shift to a single tier state pension will leave 430,000 women worse off. Women's pensions disadvantage raises fundamental questions about social insurance and contributory welfare, and if we don't seek out women's views we risk missing the full implications of pension reform.
Similarly, an event on immigration last year featured an all-white panel and audience, overlooking the effect of immigration on BAME groups and the experiences of non-white immigrants in particular,
If we want to build a more powerful movement, we need to consider whose voices we are listening to, to notice when we're only talking to people just like ourselves, and urgently and positively rectify the situation. This means holding ourselves to account and thinking about how best to promote events so they reach a diverse audience. I've focused on the One Nation seminars here not because they are the worst culprits but because of the central and positive role they are playing in shaping Labour's future direction.
The policy review offers an important opportunity for Labour show leadership by pledging to ensure women are properly represented on all panels, and in seeking out greater diversity in shaping the manifesto.
More from LabourList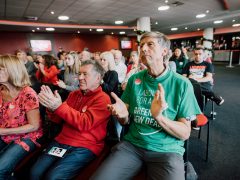 News
Delegates at the Labour Party's annual conference have backed a policy motion calling on the party to back…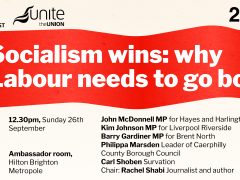 Video
Join us at 12.30pm today for our first Labour Party conference fringe event, sponsored by Unite the Union.…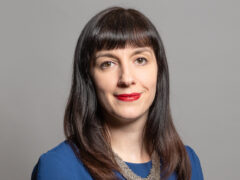 News
Progressive Britain, the organisation formerly known as Progress, is set to unveil a new 'politician's panel' including members…