Recently I met two prisoners, Nick and Lee. Both are in their thirties and both are in prison because they were involved in armed robberies. In Nick's case someone died in the course of the robbery and he is serving a 25 year sentence. Lee's sentence is 15 months and he will be out soon. Both men have been in and out of prison for the last 20 years. As of last Friday, there were 84,500 prisoners in the UK, over 80,000 of them men. The reason I visited Nick and Lee is because they were in care as children and wanted to talk to me about what happened to them in care and how it led to them ending up in prison. The sad reality is that many thousands of prisoners who were in care as children have stories like Nick and Lee. Nick and Lee told me they want to stop other children who are in care now ending up in prison like them and following a life of crime.
Nick and Lee both have serious mental health problems. Lee also has brain damage and both can trace their problems back to their treatment in care homes and in the lack of support they received. Nick and Lee told me a harrowing account of the abuse, which they suffered in their early years. Nick and Lee have committed serious, violent crimes and have harmed other people. There is no doubt about that. And there comes a point when everyone has to take responsibility for their own actions and for the choices they take. But when I listened to Nick and to Lee, I realised why so many children end up in a life of crime because that is the only way to survive when they leave care. Both Nick and Lee were left to fend for themselves when they left care with no idea how to survive. The people who helped them survive were drug dealers so both found support from criminals and found a way of life where no other option appeared to be available.
The abuse of children which happened in childrens' homes 20 and more years ago has left scars which are still visible today in the behaviour of those who lived through the hell which their lives were. We are told that the children's homes of North Wales are no longer places of systematic abuse of children in care. But still far too many looked after children leave care with few qualifications, with poor prospects of work, of finding a home, of building stable relationships and all too often suffering from mental health problems. And when we hear about the abuse of children who were in children's homes in Rochdale, we can start to wonder just how much has changed since Nick and Lee were in care.
The Children and Families Bill is in the committee stage in the House of Commons and contains a number of positive proposals to help children and young people in care. These include plans to speed up adoption, increasing the number of foster for adoption placements, better information for adoptive parents about the support available post adoption and virtual head teachers in every local authority to help with the educational attainment of looked after children. These proposals have been given a cautious welcome by many professionals, foster carers and adoptive parents and most importantly by children who have experienced the care system.  But concerns have also been expressed that while it makes sense to speed up adoption the most important factor is the right match been children and prospective adoptive parents. The delays in the courts and from social workers having excessive case loads are unacceptable but the challenge should be to sort out these specific problems rather than run the risk of rushing into placements which if they break down do far more damage to children than if the placement had not been undertaken to start with. And the government has made a great deal out of the importance of speeding up adoption but has said very little about improving support for foster carers or boosting the quality of residential care where often unqualified and low paid staff are given the responsibility of looking after some of the most disadvantaged and often troubled children in our society.
That is why I have tabled a series of amendments to the Children and Families Bill. One amendment is  to improve the support for foster carers as well as adoptive parents in the long term once a child has been placed with them. A further amendment would require local authorities to do all they can to ensure when a child is placed that it is for the long term to reduce the damage done by moving children often many times to different families or children's homes. That is regardless of whether the care is through adoption, fostering, kinship care, special guardianship or in a children's home because permanence and the building of stable, caring attachments is more important to children in care than whether they are adopted or fostered. And it my amendments are based on the crucial principle that the interests of the child must come first. A further amendment is designed to improve the status and qualifications of all those who work with our children in care. Because, the 75,000 children in care are the responsibility of us all. Their birth families cannot care for them so we all have a responsibility to these children and that means making sure the people who care with these children for us have the support they need, the best support possible.
The government has made many positive noises about supporting children who are in care and some of the measures in the Children and Families Bill will help but of course at the same time as the bill creates new responsibilities for local councils who care for these vulnerable children, the government has cut its funding. My borough, Sefton has lost £107 million alone. More responsibilities are  going to councils without the cash to deliver in practice in fact without the cash to deliver pretty much any services beyond the bare minimum.
And then of course there are the bedroom tax, the cuts to benefits and the cuts to tax credits. If the cuts to local government were not enough, foster carers, prospective adopters, families with disabled children and many families with children with special educational needs have a spare room or more than one spare room. They need the space either to accommodate the children they want to care for or for equipment or because siblings cannot share because of the needs of a child. Yet these same families who we need to care for vulnerable children are going to be penalised by the government for trying to help. The government also has suggested cutting housing benefit for under 25s. That is going to be another barrier in the way of care leavers.
Much has been written about the harm that is being done to people in this country by welfare reform. But when it comes to children the government has made such a mess of its reforms that it hasn't even noticed that they undermine the efforts by one department at least to introduce half decent legislation.
All of which brings me back to Nick and Lee. I started this article with the end in mind, thinking about how we prevent lives being ruined and damage being done to individuals and to society. Children in care now still have very much lower life chances than other children, are still far more likely to end up in prison and with mental health problems. I would like the Children and Families Bill to make the changes that will improve the life chances of those children and I would like to see much better support for care leavers as well as those in care. The bill is an opportunity to make sure there are fewer Nicks and Lees in future. The trouble is that however well intentioned ministers with responsibilities for children and families might be, the actions of their colleagues in other departments might just mean the opposite happens unless there is a massive u-turn on council funding and on the bedroom tax just for starters.
Bill Esterson is the Labour MP for Sefton Central, a member of the Education Select Committee and has two adopted children
More from LabourList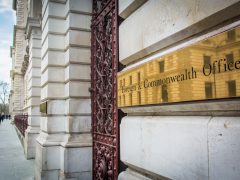 Comment
In under two weeks, world leaders will meet in Glasgow for the latest attempt to address the global…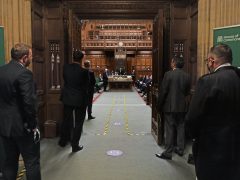 News
Labour has approved the renewal of the Coronavirus Act and allowed it to pass without a formal division…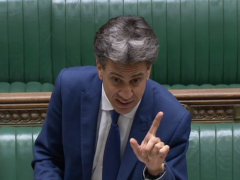 Comment
Full text of Ed Miliband statement in the House of Commons on the government's net zero strategy. Let…