Jim Murphy MP grew up in South Africa in the time of apartheid, he reflects on the life and impact of South Africa's greatest son, Nelson Mandela.
Songs, poems, plays and books have been written about him. Sadly but unavoidably it's now time for the obituaries. Nelson Mandela was born in the tiny village of Mvezo on the banks of Transkei's River Mbashe.
Perhaps apartheid South Africa should have sensed the radical future of this young boy born into the fringes of Thembu royalty; for he was born with the name Rolihlahla meaning 'troublemaker'.
A man born before the close of The Great War, he was to become the biggest global campaign of early the digital age. Streets, city squares and hospitals changed their names to match his.
He was the recipient of over 250 awards worldwide. Glasgow led the way. It was the first city to grant him it's Freedom at a time when he was denied his own. Poignantly, he was recognised with the Nobel Peace Prize alongside FW De Klerk the man with whom he negotiated and navigated the sometimes painful demise of apartheid.
But one of Mandela's greatest achievements was to defeat that modern day phenomena of where we only grant hero status to those who die young; where those who are lost are missed not because of their achievements but for their unfulfilled and uncompromised promise. So rare is it for anyone to enjoy simultaneously a long life and a near universal love and respect. But Mandela captured and kept that sense of Camelot normally only gifted to those who are denied a life beyond middle-age. The star appeal that President Obama fleetingly felt has stalked Mandela every day of the past four decades.
I became aware of Mandela from a young age. I first arrived in South Africa when I was 12. My family left Glasgow unemployment behind us and I lived under apartheid all of my teenage years. I became bilingual in Afrikaans and marched in cadet army uniform on parched rugby fields every week in preparation for two years compulsory service in the South African Defence Force in Angola and Namibia, but returned to Scotland after refusing to serve in that apartheid army.
To the extent that Nelson Mandela had mainland neighbours in the 1980's I was one of them. Our home was a 15th floor flat in what was probably the third closest building to the Island where Mandela spent so much of his 27 years of imprisonment.
He was a 'banned person' all those years I was there; his picture never appeared and his name rarely mentioned in the media. But he was always in our minds. Every weekday morning as I waited in my whites only area for my whites only bus to take me to my whites only school, South Africa's future and first legitimate President was already hard at work in the lime quarry.
Revered by his clan name of 'Madiba' he was given the name Nelson on his first day at school. His father died when he was nine. Having escaped an arranged marriage in his youth he committed to the real thing three times. He reflected later in life that it was hard to be Father of the Nation and be an active father to his own children.
Mandela was a character of considerable complexity. In his earlier career he had portraits of both Churchill and Stalin staring down at him from his office wall; a man who saw no contradiction in being both an anglophile and anti-imperialist, avowedly an African nationalist of the non-racial Freedom Charter but never for him the Africanist agenda of the Pan Africanist Congress. He went from youthful suspicious reticence about communists within the ANC to on his first speech after his release celebrating the South African Communist Party's undoubted contribution to the struggle, much to the surprise of the world media and quite a few liberals internationally. Perhaps most controversially as an admirer of Ghandi's non-violence this keen amateur boxer persuaded the ANC to take up arms against the State.
It was Mandela who in 1961 in response to violent Government crackdowns did more than anyone else to cajole the ANC into an armed conflict. He persuaded an initially unconvinced ANC leadership that 'Sebatana ha se bokwe ka diatla' or 'The attacks of the wild beast cannot be averted with only bare hands'. He went on to lead Umkhonto we Sizwe (Spear of the Nation).
Under his tutelage they embarked on a campaign of violence against State targets with the aim of avoiding human injury; an aim on occasion they horribly failed to achieve. It was this campaign that gave some in British politics permission to brand Mandela a terrorist. And for his international supporters it was his refusal to sanction a classic terror campaign that allowed them to celebrate his violent non-violence.
By the 1970's Mandela was already well known. But it was a 1980's decision by the ANC leadership coming to terms with the lack of progress decided to change tack. They decided to personalise the campaign and his was the personality they were to rally round. The ubiquitous Mandela was born. The 'Free Mandela' campaign took off to such an extent he joked that were people around the world who thought his first name was actually 'Free'.
It worked brilliantly. Because when it came to Nelson Mandela there was very little difference between the established myth and the lived reality. This was the man who six times refused to be released from prison until others were free. Sure he wasn't attentive enough towards Evelyn his first wife, he suffered from that human strength of occasional self doubt and invited arrest and imprisonment with a cavalier attitude towards his personal security. But the Mandela of the State's fabrication and the white supremacists imagination was the rallying point against majority rule. But when the time came for Mandela to cast his first vote at the age of 75 he was the bridge that most South African's tentatively stepped across into the liberation and enormous uncertainty of democracy.
Overnight his election as President rehabilitated his nation's international image. But to transform a country corroded by decades of racial discrimination and years of economic sanctions proved much tougher. He introduced radical laws introducing free health care for all children under six, bringing 1.5 million children into the education system, extending land ownership rights, introducing affirmative action at work. He did so much more than champion new legislation. He campaigned on AIDS and established the Truth and Reconciliation Commission chaired by Desmond Tutu and was the Cheerleader in Chief in support of the traditionally Boer Springbok rugby world cup victory and for South Africa's successful football world cup bid.
Until his last breath he was the keeper of his Nation's conscience. The freedom fighter who became everyone's revered grandfather that no-one ever wanted to disappoint. It was as if his six foot frame was gently perched on the shoulder of every South African; some stumbled under the weight but South Africa, the rainbow nation was forged in his image.
Years ago Mandela told a TV documentary something that has stuck with me. He said "Death is something inevitable. When a man has done what he considers to be his duty to his people and his country, he can rest in peace. I believe I have made that effort and that is, therefore, why I will sleep for the eternity." Today Madiba from a grateful world rest well, sleep long.
Jim Murphy is the Shadow Secretary of State for International Development. This piece was first published in The Scotsman
More from LabourList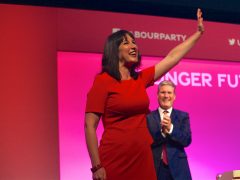 Comment
The Conservative leadership contest has shown the Tories' traditionally reckless and dishonest approach to the public finances. It…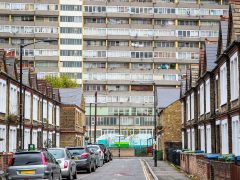 Comment
Whilst there has been much talk about the 'cost-of-living crisis' one of its key components, rent, has yet…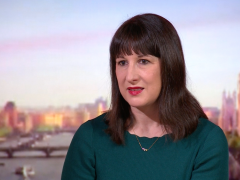 News
Rachel Reeves has warned that "people are worried sick about how they'll pay their bills and do their…