Apparently Nigel Farage is angry.
No surprise there, like any pub bore he's always angry about something, but over the last couple of weeks he's been angry at those campaign groups that are standing up to UKIP including us here at unionstogether. So what have we done to upset him?
Well, you may have heard of our "The Truth about UKIP" campaign, where we are telling a few home truths about what UKIP really stands for:
They want to abolish maternity leave in small firms.
They want to scrap the European employment right to paid holidays and breaks in the working day.
They believe those on permanent contracts should be paid less because they get greater employment protection.
They want to introduce a flat tax rate – a tax cut for the richest, a tax rise for everyone else.
All of these policies were contained in their 2010 manifesto. Yet since we started highlighting them just before Christmas, UKIP has mysteriously taken the document off their website. Nigel Farage has now also publicly disowned the manifesto, saying he "didn't put it together". What utter nonsense – the rules of political gravity apply to UKIP the same as any other party. It was the UKIP manifesto. It was their platform for government. Is he seriously suggesting he didn't support his own Party's manifesto?
Now UKIP is mounting a campaign against unionstogether and their former director of communications has attacked me directly. They aren't challenging what we say about UKIP policies, instead they are trying to raise complaints about the campaign work we do in conjunction with thousands of unionstogether volunteers up and down the country. Let me be clear – I am proud of the work we are doing. We will put their policies under the spotlight and take every opportunity to show what UKIP really stands for.
They are also complaining about leading anti-fascist organisation HOPE Not Hate (they were 'banned' at the last UKIP Conference) and claiming rather tenuous connections between that organisation and unionstogether. To save them a lot of time and effort, I'm very happy to point out that in my spare time I'm on the management committee of HOPE Not Hate. I look forward to reading a whole bunch of internet conspiracy theories about that.
One of the great joys of running unionstogether is being able to speak out on political issues knowing that you, the activists and campaigners from across the labour movement, support what we are doing. Now, perhaps more than ever, we need you to spread the word about UKIP really stands for. Please join our campaigning work through Facebook and Twitter, order our Truth about UKIP leaflets and get active – let's stand up and make ourselves heard.
Byron Taylor is the National Officer of TULO. Unions Together is the campaigning face of TULO
More from LabourList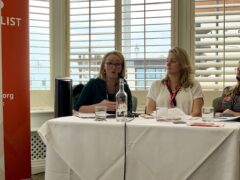 News
Rebecca Long-Bailey used her contribution to a LabourList fringe event this afternoon to back a Green New Deal…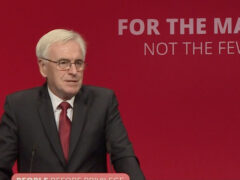 News
A four-day working week has become Labour policy today, as John McDonnell confirmed the party would back the…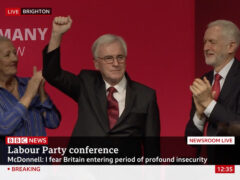 Comment
Below is the full text of John McDonnell's Labour conference 2019 speech. Thank you. All the warmth of…