It's fair to say that last Thursday did not go well for the Lib Dems. As the results for the local elections trickled out over the following day, it became clear that they'd lost an impressive 310 councillors. This included a total wipeout in places, including an especially bad night across London.
For instance, across Islington, Lambeth and Brent, councils which were all run by the Lib Dems in 2006, they now have a grand total of one councillor.
Name recognition of local representatives didn't seem to help either: the Lib Dems finished second in Simon Hughes' constituency, despite his duplicitous efforts to distance himself from the Coalition, and in Nick Clegg's own Sheffield Hallam constituency, finished third in the popular vote. Third.
Sunday's counts for the European elections brought them no respite, unfortunately. Halving their share of the vote, they managed to misplace ten of their MEPs and take their rightful place as the UK's joint sixth party in Europe.
As the Lib Dem bird has flown closer to the political sun of governance over the past four years, it's become clearer that its wings have been fashioned from wax. In fact, it has fallen so far that they have had to amend their website to reflect it, changing the "MEPs" page to something a little more accurate.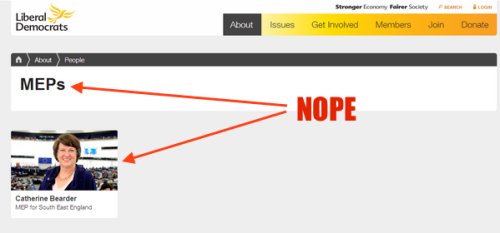 Obviously, it should worry any party to suffer such a resounding electoral defeat. But it should worry the Lib Dems even more that for most of the week it has fallen to Lembit Opik (CV: former MP, failed stand-up comedian, retired wrestler, once dated a Cheeky Girl) to point out just how bad things have got.
Others have tried to suggest all might not be well, but it has fallen on deaf ears. When it became clear that one of their peers, Lord Oakeshott, had commissioned polling to assess the severity of the situation, he had to resign in disgrace.
Let me say that again: he had to resign in disgrace for attempting to find out just how unpopular they really are. 
This is a party in such deep trouble that they force people out for asking voters their opinions. One Lib Dem insider apparently said of Oakeshott: "It doesn't matter if he's in the tent or outside the tent, he just pisses all over the place." By this point, it's amazing anyone would notice. Clue: if you're covered in yellow and people are avoiding you in the street, it's not because you're covered in piss; it's because you're a Liberal Democrat.
Oakeshott's hopes of getting rid of Clegg did not simply end with his departure though – his resignation letter noted that Cable had been aware of his polling activities, meaning Clegg's leadership crisis is not over yet. Only this morning, a caller on his radio show told him he brought to mind "downtown Tokyo after it's been destroyed by Nigel Farage's Godzilla."
To sort out this mess once and for all, Nick Clegg decided the best way to reconnect with the electorate would be to eat a bacon sandwich. How many bacon butties he'll need to publicly consume to win back the one million voters he lost since the 2009 European elections is so far unclear.
Still, at least there'll be someone on Question Time tonight to defend him.

Oh.
I suppose on a five guest panel, there isn't always room for the sixth party.
More from LabourList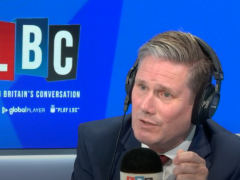 News
Keir Starmer has told an LBC caller who raised concerns over his recent comments on the Black Lives…
Daily email
Momentum is now chaired by a climate activist living in New York and a firefighter working for the…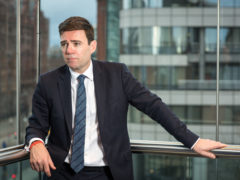 News
Andy Burnham has suggested that the government should consider introducing a universal basic income to "address health and…