Former Home and Education Secretary David Blunkett has announced that he's stepping down as an MP at the next election. Blunkett, 67, told his local Sheffield Brightside and Hillsborough Labour Party last night that he wouldn't be contesting the general election next year – apparently as he realises he won't be returning to the frontbenches. Blunkett's letter to his constituents pointedly notes that "it is clear that the leadership of the Party wish to see new faces in Ministerial office and a clear break with the past".
Blind since birth, David Blunkett has been one of Labour's most recognisable figures for over thirty years as a leader at both a local and national level. Responding to the news of his imminent departure, Ed Miliband released the following statement:
David Blunkett is a man whose commitment and determination have carried him to the highest positions in politics with one purpose: to serve the people of our country. He will be hugely missed.
David can take great pride in all he has done to improve the lives of people in this country. He has been an amazing asset to the Labour Party and to Britain and I know he will continue to serve the country and the Labour Party with great distinction.
And here's David Blunkett's statement to his local party in full:
In making the decision as to whether to step down at the next General Election after what will be 28 years in Parliament (and 45 years in total as an elected representative in the area), I have done my best to balance my own personal considerations with those of both our local party and the electorate of Brightside and Hillsborough.
This has been by far the most difficult political decision I have ever made, in a lifetime of extremely difficult decisions.  Not least because members (and it is true of the majority of local people) have always given me unconditional but not uncritical support.  I owe so much to so many people who have made it possible for me to play a significant part in public life and to have the privilege of eight years in the Cabinet of a Labour Government, of which I remain extremely proud.
Next year will see ten years on the backbenches, five in opposition.  Whilst I have been able to use the experience and the clout which came from having been a Cabinet Minister for the benefit of the constituency in getting a hearing, contributing to policy and providing a voice for local people and for Sheffield at national level, it is clear that the leadership of the Party wish to see new faces in Ministerial office and a clear break with the past.
For me, being in a position to make decisions and thereby make a difference, has always been paramount, and I hope in future to continue to promote our success and values, and to make a continuing contribution to public service and the social and voluntary sector.
Working with people to enable them to change the world for the better and therefore to practise what I preach about participation and active citizenship has been fundamental.  It is the Labour Party working with and in the community that brings about lasting change.
Yet there does come a time when a fresh approach and the energy that goes with it outweigh other considerations, and I believe that for the Party and for the constituency, as well as for me personally, that moment has come. Whilst I still have the drive, enthusiasm and commitment I have always had, sustaining this for a further six years (and a year before the General Election and with fixed term Parliaments, that is what staying on would mean) would not only be challenging but could lead to a less effective service to constituents.  In simple terms, I would rather leave while I am still giving 100%.
I was privileged to be able to lead on ground-breaking policies, from the introduction of universal early years and nursery provision, to the transformation of education in our schools, and the security of the nation post the 11th September attack in the United States in 2001.
It was a privilege to enable young people to have a job, to access higher education frozen under the previous Government, and to be able to oversee the most substantial fall in crime in recent history.  All of us build on what has come before and learn the lessons that change often takes more time and greater patience than is acceptable to any Minister intent on immediate improvement and early outcomes.  Many of the seeds I was able to sow, from welfare reform to lifelong learning and from the new challenge of cyber security to the debate on values and citizenship, are only now bearing fruit.
Above all this is a moment when we need to offer hope, a belief in Government as a means of supporting people in making their own decisions and coping with unprecedentedly rapid change in an increasingly global political environment. Helping with the transitions of life, providing greater security and overcoming the fears generated by uncertainty, can only be achieved by a Labour Government committed to giving a voice to those excluded from the power which comes with wealth and privilege.
Ed Miliband is committed to leading Britain through the challenges ahead, to offering that hope and transforming our country in order to take on both the opportunities and pitfalls of globalisation, and to hear and respond to fears and concerns of men and women across the country. That is why all of us have an obligation to ensure that we elect a Labour Government and put Ed Miliband in Downing Street on May 7th next year.
More from LabourList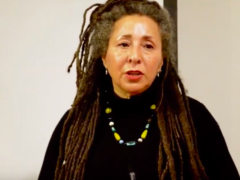 News
Jackie Walker's disciplinary hearing begins today. Over two days, a panel of three members from Labour's national constitutional…
Daily email
Has the House of Commons has finally come to the end of its tether and taken control of…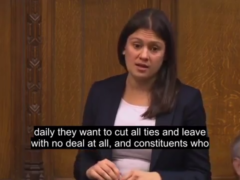 Video
Speaking in the Brexit debate on Monday, Lisa Nandy told the Commons that she had seen a "hardening"…