Tom Watson, Labour MP for West Bromwich East and Labour's former  Campaign Co-ordinator, has attacked the way the bill for the government's emergency surveillance law is going to be pushed through Parliament. The law itself, to be introduced through the Data Retention and Investigation Powers Bill next Monday, will mean the police and security services can continue to access people's phone and internet records.
Civil liberties groups have come out against the bill, saying that it it infringes the right to privacy 
On the Today Programme, Watson also lambasted the way the bill is being pushed through the Commons, saying:
"I've not seen the legislation and that's my concern. This is a secret deal between party leaders. There hasn't been a bill published and yet we find out this morning, when Parliament is on one-line whip and MPs are in their constituencies, that next week they will railroad emergency legislation to put right a decision made by the European Court of Justice that the current legislation was beyond human rights law. Now that doesn't seem right to me.
There are hundreds of thousands of people out there very concerned about this particular policy issue. They've not seen this bill either, but it doesn't really matter this year because there's been a deal done between the three parties and it'll be railroaded through. If you're an MP you probably shouldn't bother turning up to work next week because what you thinking doesn't really matter."
Meanwhile, in an attempt to address MP's concerns, Labour leader Ed Miliband and shadow home secretary Yvette Cooper have written following the announcement:
"Dear Colleague,
As a result of a recent judgement by the European Court of Justice, the police and intelligence agencies are in danger of losing vital information which is used in 95% of serious and organised crime investigations as well as counter terror investigations and online child abuse.
In order to prevent this, UK legislation needs to change to be compliant with EU law. If these changes are not made, the police are likely to suddenly lose vital evidence this summer.
 The Government has come forward with emergency legislation and in considering our response, we have been guided by our firm conviction that it is essential to maintain the security of our citizens and also ensure people's privacy is protected.
Serious criminal investigations and counter terrorism intelligence operations must not be jeopardised. That is why we are supporting this emergency legislation which we accept is designed solely to protect existing capabilities.
However, given the limited Parliamentary time to discuss emergency legislation we have ensured that the Government agree to make this legislation temporary – it will expire in 2016. That will require the Government and Parliament properly to consult on and consider longer term proposals next year.
We have also now secured agreement to our proposal for a major independent review of the legal framework governing data access and interception (the RIPA review we called for earlier this year) in the light of the huge changes in technology. As we have previously argued, in the wake of the Snowden leaks and the concerns raised about whether the legal framework has failed to keep up with new technology, we need a wider public debate about the right balance between security and privacy online, a review of powers and stronger oversight.
This review will enable longer term questions and concerns to be properly dealt with and debated in time for new legislation. Changes will then follow. We have also called for and secured further safeguards to restrict the ways in which communications data and intercept can be used to prevent misuse.
We have raised serious concerns with the Government about this rushed process and we will scrutinise the detail in Parliament next week. But we will support the temporary legislation with the safeguards we have secured as it would be far too damaging to the fight against serious crime, online child abuse and counter terrorist intelligence to suddenly lose these capabilities now, and our safeguards have secured a better process for longer term reform to make sure we have the right capabilities and the right safeguards in place."
More from LabourList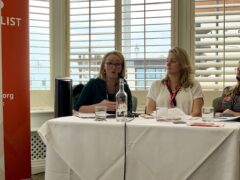 News
Rebecca Long-Bailey used her contribution to a LabourList fringe event this afternoon to back the ambitious 'net zero…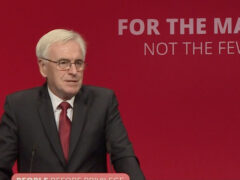 News
A four-day working week has become Labour policy today, as John McDonnell confirmed the party would back the…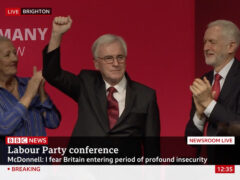 Comment
Below is the full text of John McDonnell's Labour conference 2019 speech. Thank you. All the warmth of…